Another Perez gem runs Twins' win streak to 4
SEATTLE -- Martin Pérez's shiny new cutter has been the talk of the veteran's career renaissance, and the left-hander flashed how its effectiveness has had reverberating effects across his repertoire again in the Twins' 7-1 win over the Mariners on Friday. Perez gave up just one run in 6 2/3
SEATTLE -- Martin Pérez's shiny new cutter has been the talk of the veteran's career renaissance, and the left-hander flashed how its effectiveness has had reverberating effects across his repertoire again in the Twins' 7-1 win over the Mariners on Friday.
Perez gave up just one run in 6 2/3 innings, Ehire Adrianza hit the longest homer of his career at 414 feet and the offense chased away Mariners starter Marco Gonzales, as Minnesota won its fourth straight and ninth of its last 12. The Twins did so on a night when the Indians lost to the Orioles, which gives Minnesota a 5 1/2 game cushion in the American League Central.
In seven starts since joining the Twins' rotation in mid-April, Perez is 5-1 with a 2.01 ERA. He limited the Mariners to five hits, but he also overcame four walks with seven punchouts, the fourth time this season that he's reached that many.
After going 43-49 with a 4.63 ERA over his first seven seasons, he could be pitching his way into the conversation for the AL Comeback Player of the Year Award, and perhaps an All-Star selection.
"How I've been pitching a few years ago, I changed everything," Perez said. "I throw a lot of strikes. I was starting to attack, trying to hit the glove, and I think my tempo during the game is good, too. What you guys saw tonight ... I always stay on my plan."
As May nears conclusion and the sample size grows, Perez's performance suggests that what he's doing is becoming more legitimate. One glaring pitfall during his first seven seasons was his struggles against right-handed hitters, who collectively had an .815 OPS against him. This year, that number was down to .647 entering Friday, and Edwin Encarnacion's single and double were the only two hits the Mariners' righties notched off Perez.
The addition of the cutter and a 2 mph increase in fastball velocity have been the most significant causes for Perez's rise -- but so has the confidence he's gained through results.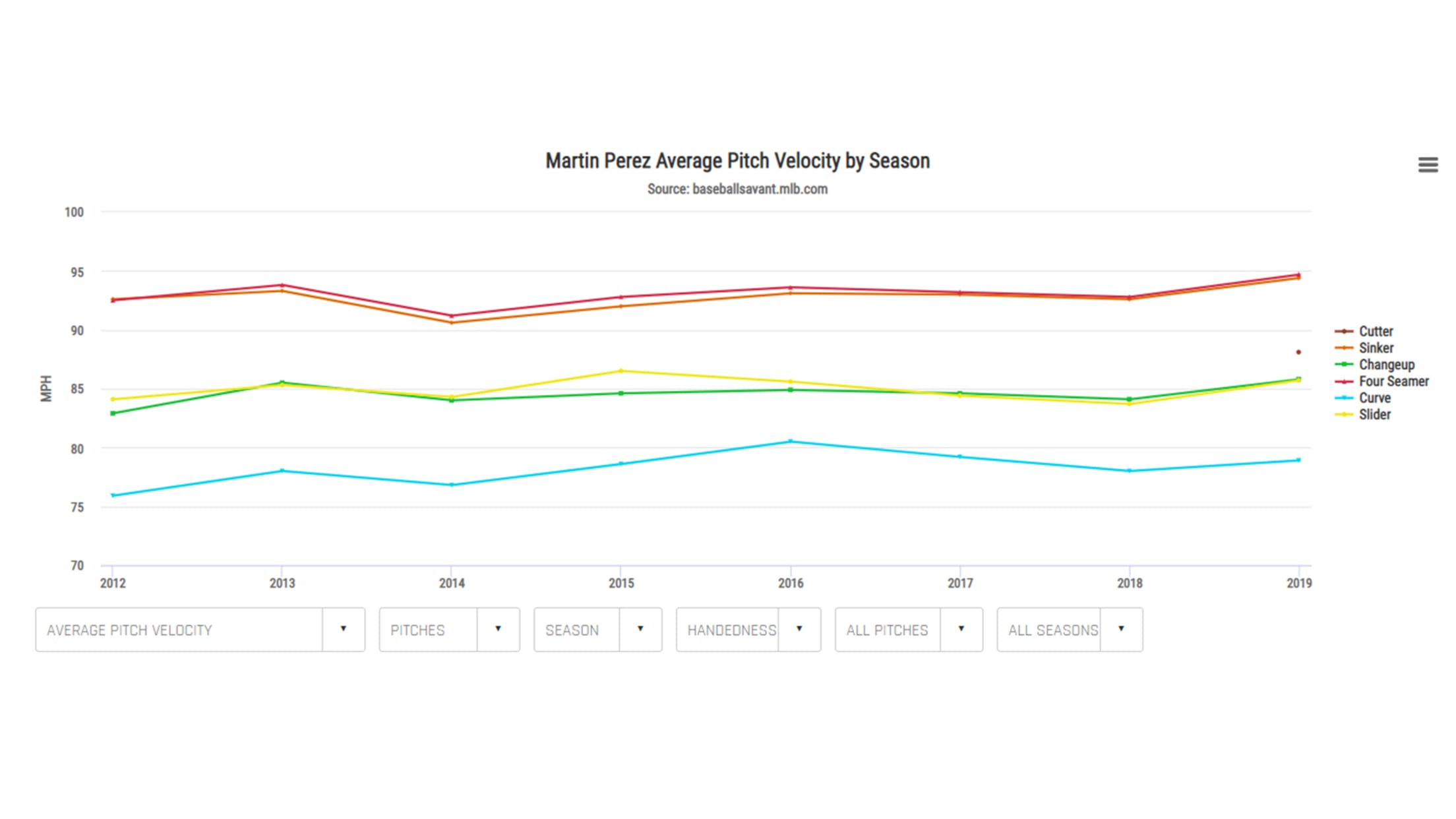 Friday marked the second time this season that Perez has stymied an AL West team; he also pitched eight shutout innings of four-hit ball against the Astros on May 1. The division he's pitched in for eight seasons now can't scout him the way it once did.
"I think that's a real thing," Twins manager Rocco Baldelli said. "There are a lot of guys that have faced Martin a lot over the years, but I think you know that experience probably doesn't come in as handy as it maybe would have against another pitcher who they might have a bunch of at-bats against. He is doing some things differently, so it's probably a different approach from the hitter's perspective."
Jake Odorizzi taught Perez a cutter grip mere months ago, and pitching coach Wes Johnson helped install more hip movement that led to a stronger delivery. Perez has embraced everything the Twins have thrown at him.
Where Perez would've once attempted to pitch righties to contact on two-seamers and curveballs low and away, he is now jamming them inside.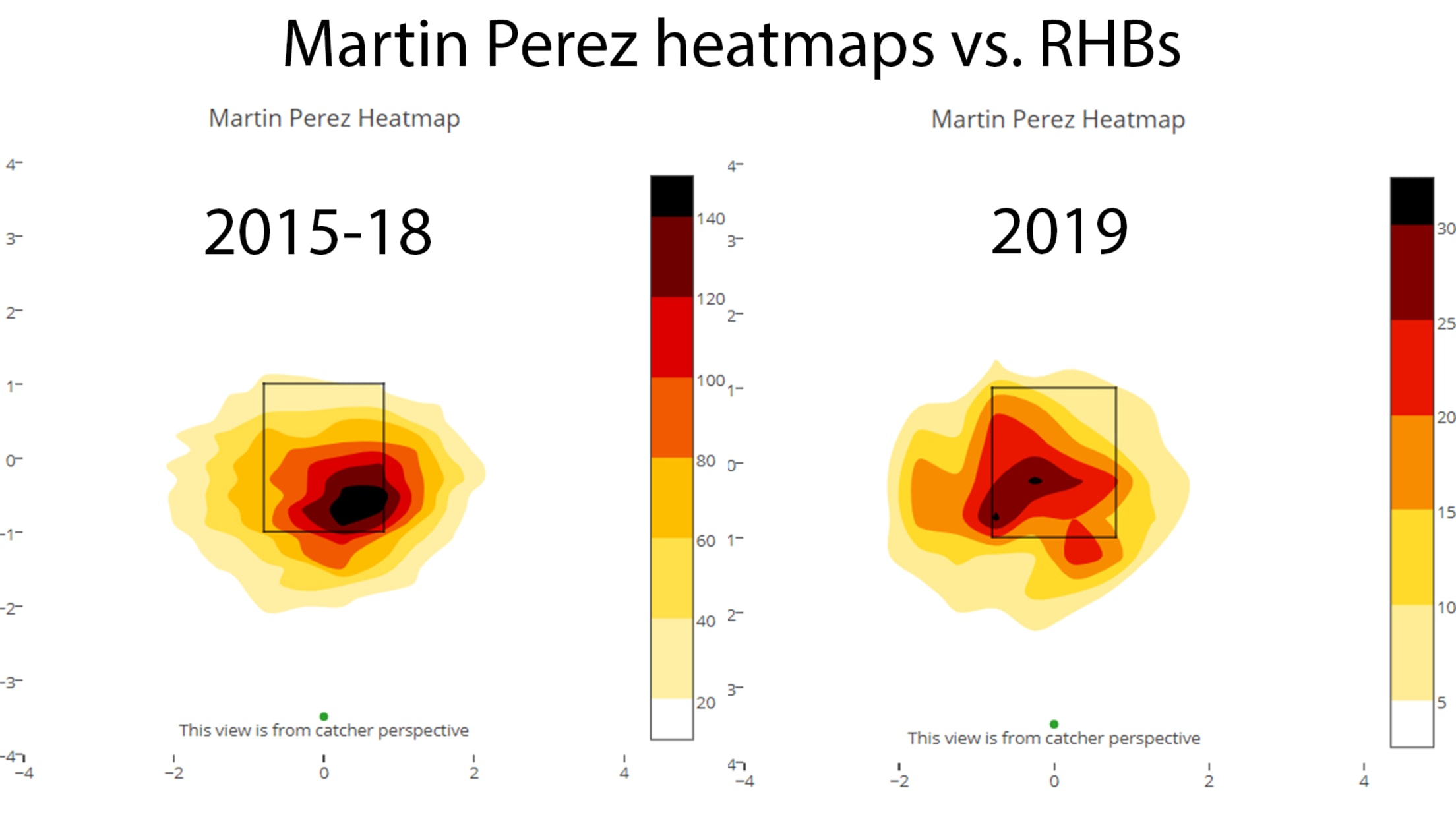 The cutter's movement allows Perez to start on a plane to the plate then cut last second to where righties are either swinging and missing or connecting on the bat handle, as Tim Beckham did on a groundout to first baseman C.J. Cron in the sixth.
The Mariners went 1-for-7 against the cutter, bringing Perez's season total against the pitch to 8-for-77 (.104), and only one hit has gone for extra-bases. By FanGraphs' pitch value, entering Friday, Perez's cutter was listed as the Majors' best. And against the Mariners, he gave credence why.
"It's a very effective pitch," Mariners manager Scott Servais. "And he's throwing harder probably than he has in certain points in his career. He did a good job. He executed very well and didn't give in with his changeup and that was kind of the story tonight."