Perez encouraged after sharp 'B' game start
Left-hander allows two hits, reaches 94 on radar gun during 38-pitch outing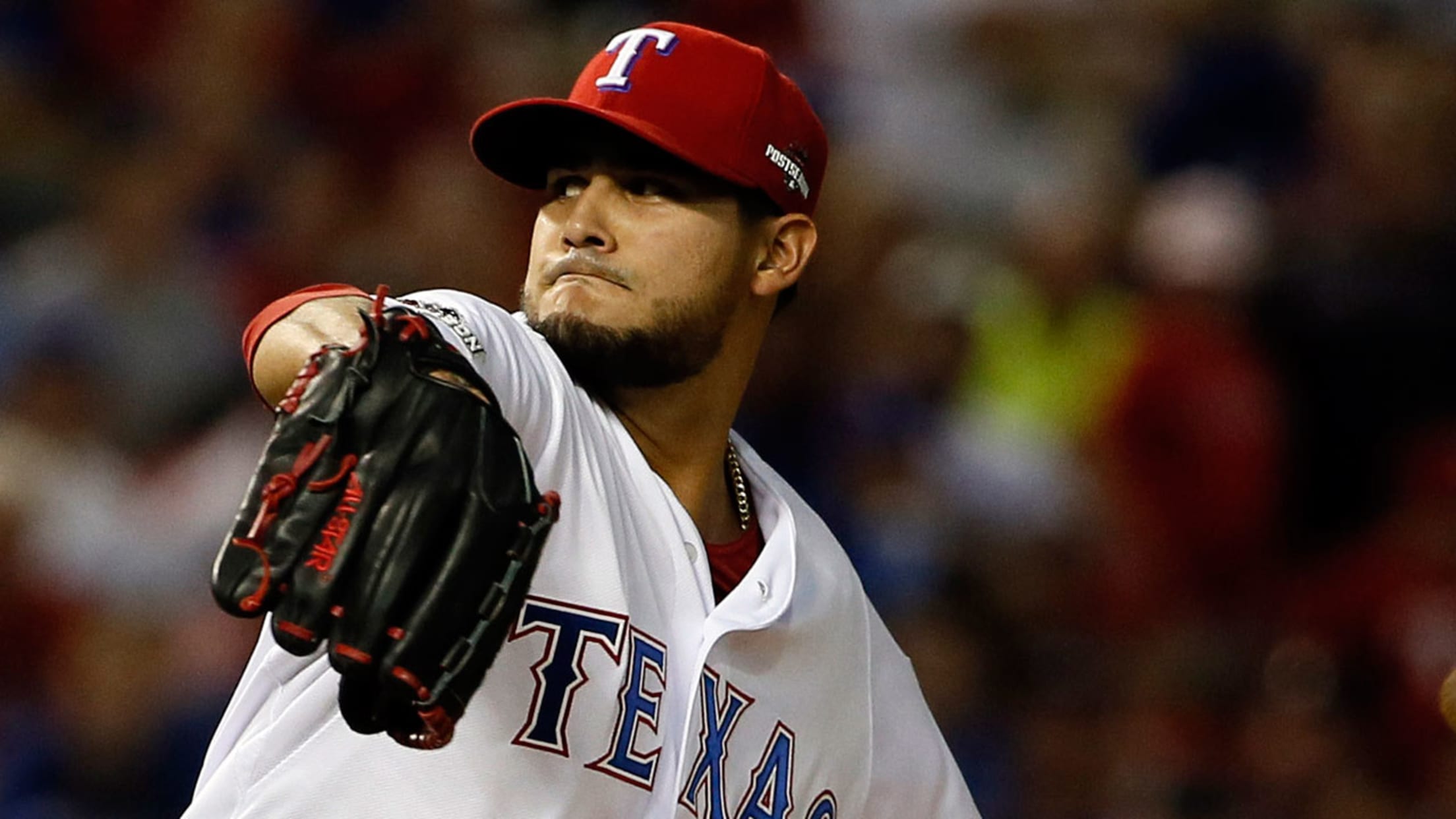 Martin Perez tossed three scoreless innings in a "B" game for the Rangers on Sunday. (AP) (AP)
SURPRISE, Ariz. -- Martin Perez didn't make it back to the big leagues from his May 2014 Tommy John surgery until July 17 of last year, and the rust showed. He had his share of rocky outings before finishing strong in September.The Rangers are counting on the left-hander to be
SURPRISE, Ariz. -- Martin Perez didn't make it back to the big leagues from his May 2014 Tommy John surgery until July 17 of last year, and the rust showed. He had his share of rocky outings before finishing strong in September.
The Rangers are counting on the left-hander to be a big part of their starting rotation this year and are hoping that he can build off of his last fully healthy season, 2013, when he went 10-6 with a 3.42 ERA as a 22-year-old.
Perez continued his progression on Sunday, throwing three scoreless innings in a morning "B" game on a Surprise back field against the White Sox. He gave up two hits and walked one without striking out a batter on 38 pitches. He also reached 94 mph on the radar gun, according to a scout in attendance. Perez said he used all four of his pitches (fastball, curve, changeup, slider) and was happy with the results.
• Spring:Tickets | Ballpark | 40-man roster | NRIs
"I feel good," Perez said. "I had good command. The ball was down and I was trying to get more comfortable on the mound, and I think today my fastball was consistent. My arm feels good, and I think that's the most important thing."
Worth noting
• Rangers righty Nick Tepesch, who's competing for the fifth spot in the rotation, struggled against Seattle in the afternoon A game, a 7-3 loss to the Mariners. He gave up three runs on four hits and two walks in two innings, throwing 45 pitches. The Mariners stole four bases while he was in the game.
"I was trying to mix my looks up and hold the ball, and I guess I wasn't doing a very good job of that," Tepesch said. "It just wasn't good enough. I was falling behind a lot of guys, walked two guys, so it's kind of hard to be successful when you're constantly falling behind and you're trying to get back into counts."
Tepesch didn't pitch at all last year and underwent thoracic outlet syndrome surgery last August, so he was at least encouraged about his health.
"I feel great," said Tepesch, who went 5-11 with a 4.36 ERA in 23 appearances (22 starts) for Texas in 2014. "That's the biggest positive for me right now. But at some point I've got to start worrying about the results a little more, too."
• It's also been a long road for righty A.J. Griffin, who won 14 games for the Oakland A's in a breakout 2013, but hasn't pitched in the big leagues since then because of elbow and shoulder surgeries.
Griffin, who signed a Minor League deal with Texas over the winter and could conceivably be in the mix for the fifth spot in the rotation, made his Cactus League debut with a perfect seventh inning. He struck out one batter and threw eight of his 12 pitches for strikes.
"I thought Griffin threw the ball well," Rangers manager Jeff Banister said. "He was down, [threw] strikes, knee-high, mixed his breaking ball in. Interesting."
• Outfielder Justin Ruggiano had never played first base in his life, not even Little League, before Sunday. Then he put on his teammate Pat Kivlehan's first baseman's mitt and played the position for eight innings in the morning B game against the White Sox. He didn't get too many ground balls but got one on a backhand short hop and fielded his position without any errors.
"It's kind of fun, actually," said the veteran, who could fit in well at first as a right-handed bat to platoon with left-handed Mitch Moreland. "A little bit of a challenge. It's exhausting compared to the outfield because you have to be involved in every play. You've got to be ready for everything and knowing where to go on every play.
"Honestly, it was a good time. It was entertaining. There are things I have to work on. Just getting comfortable around the base, and taking throws will be one of them."
• The Rangers hosted a free-throw shooting contest on Sunday morning on the basket behind the clubhouse exit, and Shin-Soo Choo was the star. Not only for his shooting, though.
"Choo had Houston Rockets shorts, a Yao Ming jersey, an NBA headband and the shoes to match," Banister said. "It was classic. And he was actually pretty good. I was impressed."
Banister also was impressed by Ian Desmond, who Banister said has "a pure stroke."
• Closer Shawn Tolleson (lower back spasms) played catch without incident on Sunday. The team will continue to evaluate him.
• Starting rotation candidate Jeremy Guthrie (lower back stiffness) came out of his Saturday bullpen session in good order and was cleared to pitch. He'll most likely appear in the Rangers' game on Tuesday against Oakland.
• It was another day, another hit for spring sensation Nomar Mazara. The outfielder drove in a run with a single in the sixth inning of Sunday's game against Seattle and is now 7-for-11 with a homer and six RBIs this spring. Including an intrasquad game, he's 10-for-14.