Yanks 'punched in the mouth' in Oakland series
NY drops 4th straight despite Gleyber's 2-homer, 4-for-4 night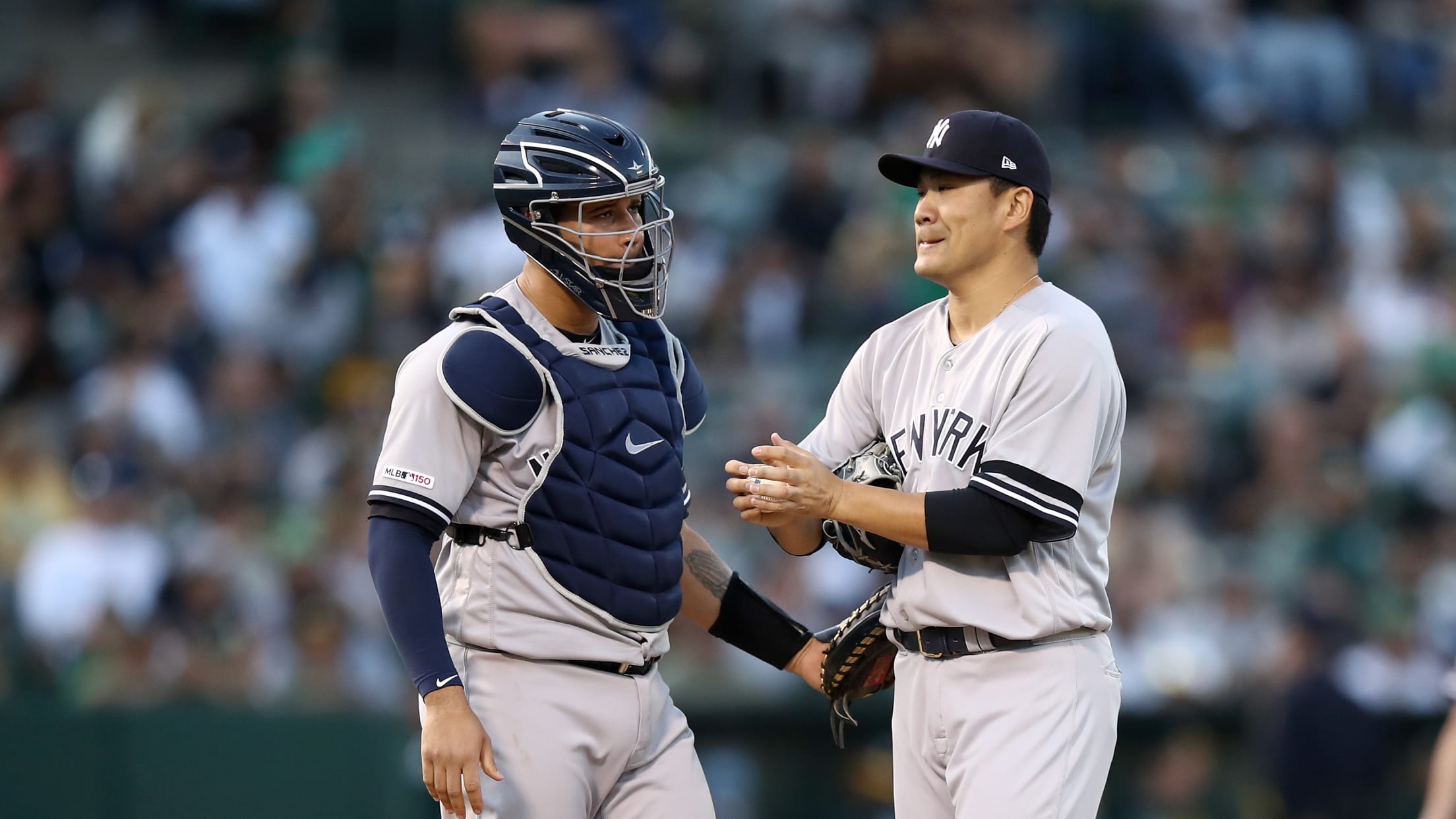 OAKLAND -- The moment finally came Thursday night. Here were the Yankees at their sharpest. Unfortunately for the Bronx Bombers, this event did not occur until manager Aaron Boone's media briefing following the Yankees' 5-3 loss Thursday to the A's, who completed a three-game series sweep. • Box score Summarizing
OAKLAND -- The moment finally came Thursday night. Here were the Yankees at their sharpest.
Unfortunately for the Bronx Bombers, this event did not occur until manager Aaron Boone's media briefing following the Yankees' 5-3 loss Thursday to the A's, who completed a three-game series sweep.
Summarizing the state of his club, which begins a three-game series Friday against the MLB-best Dodgers, Boone employed imagery that was as vivid as it was accurate.
"Over the course of a long season, you're going to take one in the mouth," Boone said, "and we just got punched in the mouth right here in Oakland. But we move on and enjoy the challenge of going and facing a great National League club."
Regaining their season-long efficiency also will challenge the Yankees, whose four-game losing streak matches a season high. During that stretch, they haven't executed any aspect of baseball particularly well.
Their starting pitchers have compiled a 9.32 ERA.
The offense is hitting a creditable .273 but has scored just 14 runs, due largely to a .214 batting average (6-for-28) with runners in scoring position.
Thursday, the Yankees delivered their offense in one-run bursts, as Gleyber Torres homered twice to push his team-best total to 31.
Torres initially felt uncomfortable with the hitters' background at the Coliseum.
"The first couple of days, I didn't feel really comfortable at home plate [with] the view," Torres said. "Everything's different. But today I felt very good. I just tried to stay focused and forget about it."
However, Torres also made a high relay to second base on a potential double-play grounder, helping Oakland score a fifth run off starter Masahiro Tanaka (9-7).
"I think I got a little lazy and I didn't prepare myself very well in that situation," Torres said. "I didn't feel good about that. But baseball always gives you another opportunity."
Tanaka, who surrendered all of Oakland's runs while lasting six innings, shouldered blame for the immediate deficit.
"It's more on me," said the right-hander, who owns a 6.58 ERA in 12 road starts and a 5.82 ERA in three outings at the Coliseum. "I just wasn't able to control the ball well enough. You never want to give up two base hits starting off a game. Obviously that hurt, but the two walks after that, you never can do that. I feel I wasn't able to control the ball, and it's on me."
Tanaka added that his subpar first inning spoiled the Yankees' chances for the rest of the evening.
"At the end of the day, you have to believe in yourselves and just keep moving forward," Tanaka said. "As far as today goes, obviously you want to go out there and get the 'W' just to kind of stop the slump that we're in. It's on me. I shouldn't have let that happen in the first inning. That was a bad start for the game."
Chris Haft has covered the Major Leagues since 1991 and has worked for MLB.com since 2007. Follow him on Twitter at @goodforball.