Sweeps prize to make fans part of WS clinch
'This Could Be You' offers chance to join on-field celebration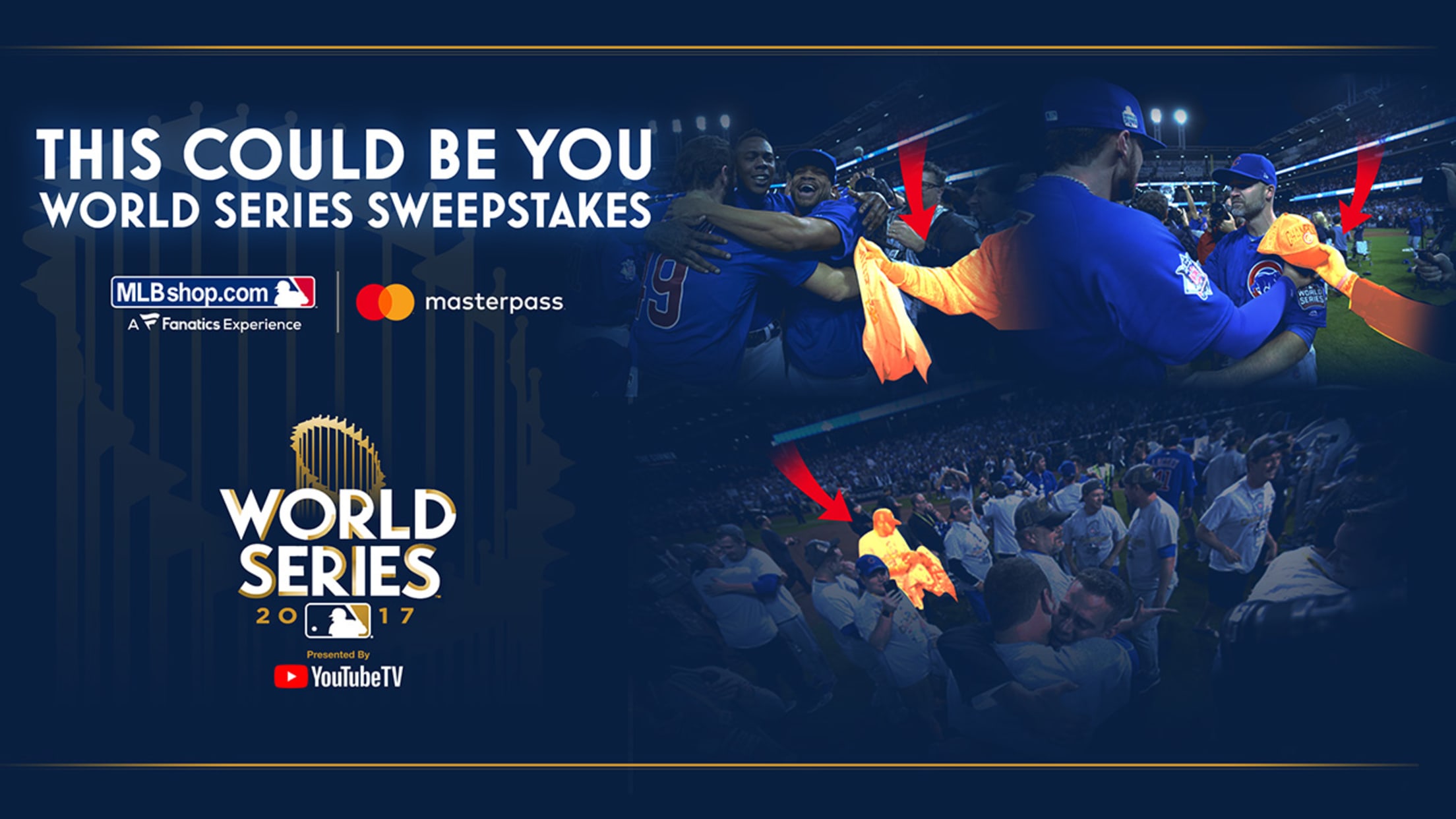 There is nothing in Major League Baseball like being part of a dogpile and gleeful celebration scene immediately after the final play of a long season. It is the dream come true for every player and the ultimate reward for every fan of that team.Now picture yourself being part of
There is nothing in Major League Baseball like being part of a dogpile and gleeful celebration scene immediately after the final play of a long season. It is the dream come true for every player and the ultimate reward for every fan of that team.
Now picture yourself being part of that frenzy on the infield. Imagine rushing out from the winning dugout, while cameras are rolling, and handing out world championship T-shirts and caps to every member of the club that clinches the 113th World Series presented by YouTube.
Mastercard announced the "This Could Be You" World Series Sweepstakes on Monday, giving fans a chance to carry out that unbelievable privilege. Fans who purchase MLB licensed merchandise on MLBshop.comwith a Mastercard will receive one entry, and fans who purchase using Masterpass will receive two entries into the sweepstakes for a chance to win this Priceless experience.
Your coworkers, friends and family might be a little jealous. It is easily one of the best contest prizes ever, unless someone is offering you a chance to score the clinching run or catch the last out.
The sweepstakes grand-prize winner will be looming near a dugout in the final innings, waiting for that moment to burst out onto the grass and fork over that officially licensed Majestic tee and New Era cap from the pile of items you might be holding. Those are the same items that will then become soaked with champagne, and they will be added to the current Postseason collection at the Shop.
The sweepstakes winner will receive two tickets to each World Series game that involves a clinch situation, along with roundtrip air transportation for two and hotel accommodations for up to five nights. So basically, you would root for a seven-game series, right?
"Being able to celebrate with the 2017 World Series winning team on-field is a once-in-a-lifetime opportunity for baseball fans," said Andres Siefken, executive vice president of North America marketing and communications for Mastercard. "It's because of our continued partnership with MLB that we are able to celebrate our cardholders and their passions in this unique way."
Two years ago, Steven McGinn of Brooklyn, N.Y., was one of two fans who won this kind of contest to hand out tees and caps to the Royals as they celebrated after Game 5 at Citi Field. Those fans were asked to "stay neutral" -- you don't have to love the winning team -- in the Royals' clubhouse kitchen area during the last four innings, watching on a TV screen. For the last half-inning, they waited in the tunnel that connects the visiting clubhouse to the dugout, and then they immediately followed the Kansas City players over the rail and onto the field.
"It was a surreal experience," McGinn said then. "I still don't even believe it happened, but it's a once-in-a-lifetime event that happened, and it was so much fun. You're right next to all these people who are spending months to achieve this type of victory and they got it, and we're here to give them all their winning stuff. They were real happy. It's phenomenal."
The sweepstakes entry period closes at 11:59 p.m. ET on Sunday. See the official rules for details.
Mark Newman is enterprise editor of MLB.com and a baseball writer since 1990. Follow him on Twitter @Marathoner and read and join other baseball fans on his MLB.com/blogs hub.