X-rays negative for Adams, Taylor; MRIs to come
Both left Saturday's game after sustaining injuries on 2nd-inning plays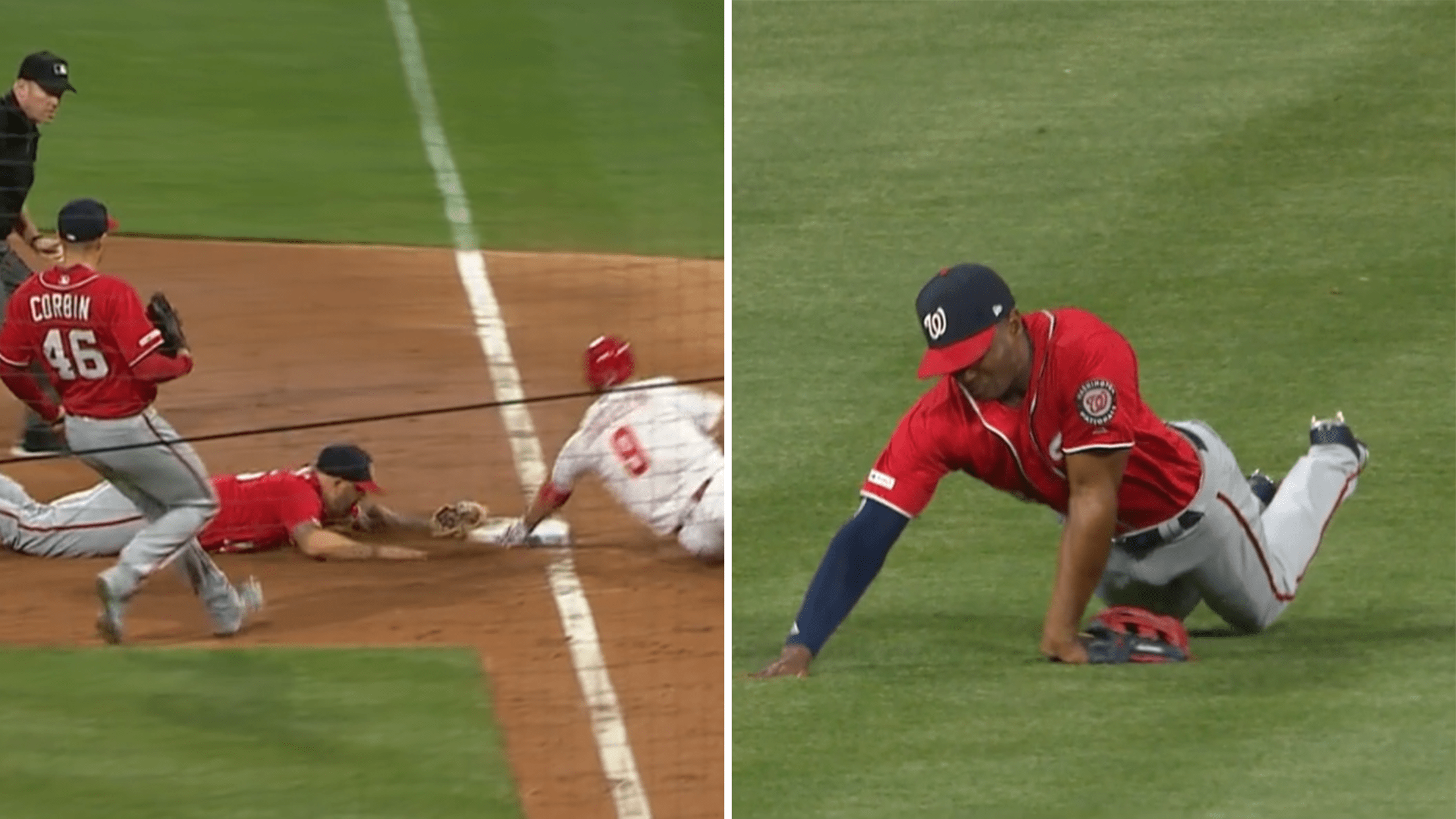 PHILADELPHIA -- Before the start of the season, whenever manager Dave Martinez would talk about the Nationals' potential in 2019, he would almost always follow it up with an important caveat -- "If we stay healthy." Yet injuries have decimated the Nationals' lineup to start the season in almost stunning
PHILADELPHIA -- Before the start of the season, whenever manager Dave Martinez would talk about the Nationals' potential in 2019, he would almost always follow it up with an important caveat -- "If we stay healthy."
Yet injuries have decimated the Nationals' lineup to start the season in almost stunning fashion. Yes, they pulled off an improbable 10-8 comeback victory over the Phillies on Saturday night at Citizens Banks Park, but the Nationals also lost two more players, both of whom had become everyday players as replacements for other injured players.
First baseman Matt Adams left the game in the third inning after jamming his left shoulder on a diving play at first base. Then, Michael A. Taylor was replaced in center field in the fourth inning after jamming his left wrist on a diving play.
X-rays came back negative on both players, but they are both scheduled to receive MRIs on Sunday. Adams' injury seems to be more concerning at the moment, considering he could not lift his arm after coming out of the game.
Jake Noll, the lone remaining healthy position player on the 40-man roster, was scratched from the lineup at Triple-A Fresno and is almost certainly headed to meet the Nats in Philadelphia, even just as insurance in case they need to put either Adams or Taylor on the injured list.
"I'm not going to speculate or anything," Martinez said. "But being that [the Triple-A team] is in Fresno, we should probably get somebody here just in case."
Adams made a diving play to his right to snag Gosselin's grounder and then dived to beat him to the bag and record the out in the second inning. He suffered the injury diving toward the bag and, even though he remained in the game for the rest of the inning, he did not return to first base in the bottom of the third inning. Wilmer Difo came off the bench to play third base while Howie Kendrick shifted over to first.
Taylor was replaced to start the fourth inning due to a jammed left wrist. He had landed awkwardly while attempting to make a diving catch on a Jean Segura double in the second inning. He also remained in the game until Victor Robles took over in center field to start the bottom of the fourth.
The Nationals lineup has been depleted by injuries lately. Earlier in the day, the club placed left fielder Juan Soto on the injured list with back spasms. Adams was starting at first base because Ryan Zimmerman is on the shelf battling plantar fasciitis. Shortstop Trea Turner (broken right index finger) and third baseman Anthony Rendon (bruised left elbow) are also injured.
"We're all big leaguers here," catcher Kurt Suzuki said. "We all bring something to the table to help the team win. I think that if we stay within ourselves -- and not try to be a Juan Soto or a Zimmerman or Rendon -- if we just stay within ourselves and do what we can to help the team win, good things will happen."