Albers hopes analytics can aid '19 rebound
Crew does BP work in rain; pitch clock to be implemented in spring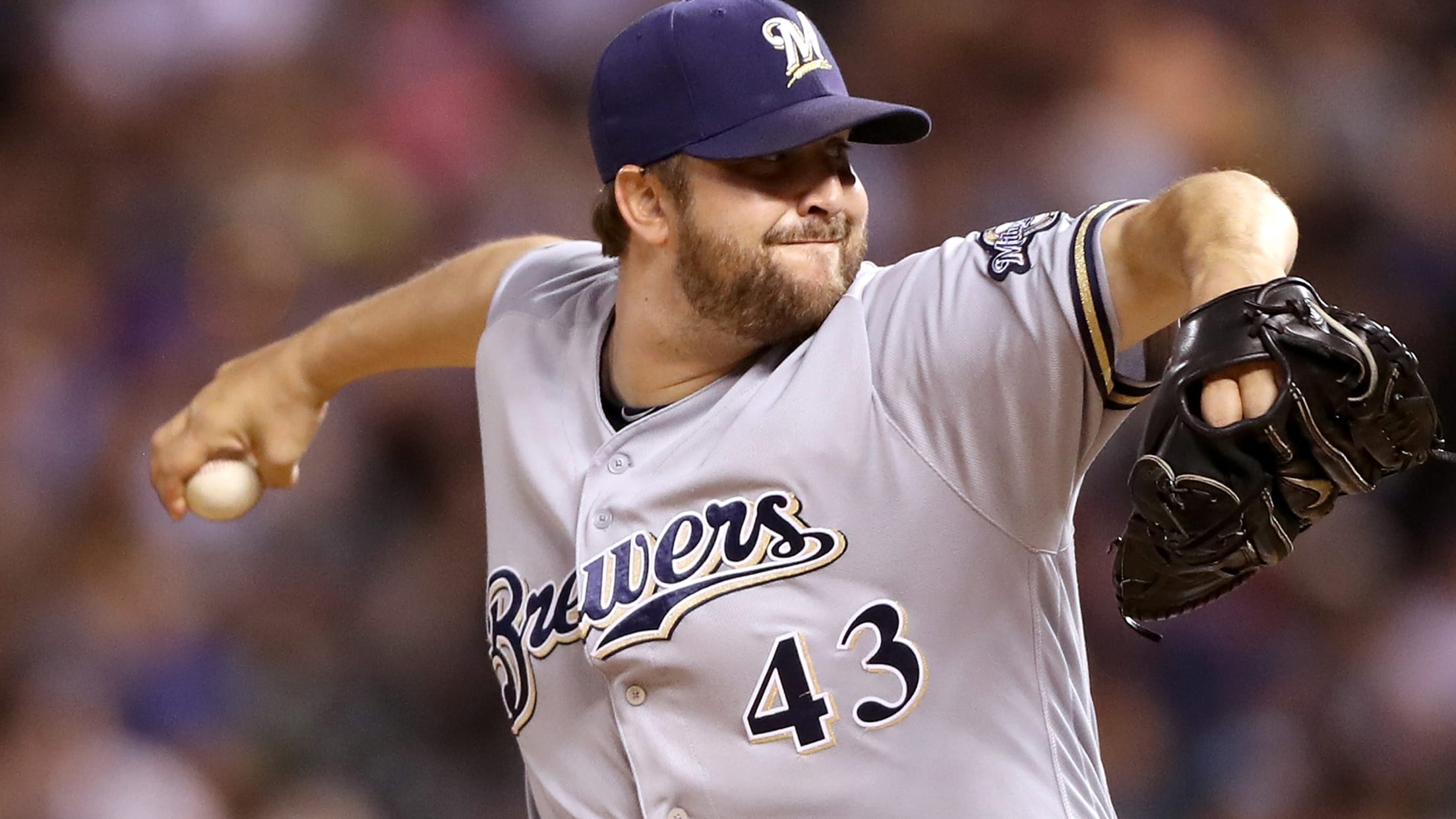 PHOENIX -- Matt Albers' goal going into the offseason was "get back to the basics." But along the way, he also dove into the complex world of analytics. "I wanted to see 'what and why' was happening," Albers said, "and how I could use my pitches to better find guys'
PHOENIX -- Matt Albers' goal going into the offseason was "get back to the basics." But along the way, he also dove into the complex world of analytics.
"I wanted to see 'what and why' was happening," Albers said, "and how I could use my pitches to better find guys' weaknesses. I wanted to see others' scouting reports on me. It was with [the Brewers] and on my own a little bit, too."
He gathered data from TrackMan and Rapsodo devices at the Tomball, Texas, facility where Albers works out in the winter (Jimmy Nelson is another client), providing measurements of spin rate and axis and other metrics. Albers consulted with Brewers manager of advance scouting Brian Powalish on opponents' scouting reports and brainstormed ways to turn that information around to his advantage.
At 36, Albers is the senior player in Brewers camp, coming off a miserable finish to a debut season with Milwaukee that began with such promise. He was one of manager Craig Counsell's most reliable relievers in the first two months of the season, with a 1.93 ERA and a .230 opponents average through 24 appearances before a five-run outing on June 11 against the Cubs revealed that his shoulder had been hurting.
When Albers returned in July, he wasn't the same pitcher. After four appearances in which he yielded 10 earned runs on 10 hits including four homers while getting five outs, Albers barely pitched the rest of the season.
But he will get a chance to bounce back. Albers is due $2.5 million in 2019, the second season of a two-year deal, and he's part of the Brewers' Opening Day bullpen plans.
"He's on the team. He's got a spot," Counsell said. "We're just going to get him ready for the season."
The statistical concepts he explored over the winter were not new, said Albers, who was first exposed to analytics in 2014 with the Astros. But at the time, there was less known about how to implement the numbers. In the years since, as the Brewers and other clubs compile more and more data, they are getting more savvy about that critical next step.
At the same time, Albers said, he feels healthy and confident again.
"I've been through it before," he said. "I've had good years and I've had a couple bad years. That really has nothing to do with this year."
Thinking of home
A number of the Brewers' Venezuelan players, including Jhoulys Chacín, Hernán Pérez and All-Star Jesús Aguilar, posted videos on their social media channels Thursday and Friday, calling for humanitarian aid to be allowed into their country amid intensifying political unrest.
Those posts reflected the players' increased urgency about the situation back home.
"The message was, 'Please, let it come in. So many people need help,'" Aguilar said. "But they don't want to do it. That's why a couple of us guys in sports tried to send a message. Please, people are dying over there. You have to be careful about what you say, but something needs to happen."
El grande liga @JAguilarMKE se suma a los llamados de nuestros deportistas para que dejen entrar la ayuda humanitaria #AyudaVenezuela pic.twitter.com/7QJLagWy6K

— Táchira.Activa (@TachirActiva) February 22, 2019
Perez's message was directed toward members of the military.
"We have people who follow us a lot, support us a lot, and there are athletes and artists from Venezuela and other countries, too, who have to speak for the people who need it," Perez said. "My message was to the military of Venezuela. Put your hand on your heart and accept that help. Don't try to be tough. Help. You have sons and daughters."
Perez said some players had reached out to the Major League Baseball Players' Association to see whether there was anything the organization could do to help.
Last call
• It was not exactly baseball weather on another cold and rainy day in Phoenix, but with the Brewers' Cactus League slate about to begin, there was urgency to complete the six live batting-practice sessions on the schedule. So pitchers like Marcos Diplan and Burch Smith got their work done amid the drizzle. The weather is finally expected to turn for the better beginning Saturday, when the Brewers travel to Mesa, Ariz., to play the Cubs.
#SpringTraining2019 ☔️ 🙄 pic.twitter.com/SkOLuYuTQD

— Milwaukee Brewers (@Brewers) February 22, 2019
• Major League Baseball announced that a pitch timer would be used during 2019 Spring Training games, though no decision had been made about the regular season. A 20-second pitch timer will begin in three phases, starting with a breaking-in period through the early part of next week during which there will be no enforcement.
• Tickets are on sale for the Class A Wisconsin Timber Rattlers' game against Quad Cities on Friday, April 12, at Miller Park. Information is at Brewers.com/TimberRattlers.