Tribe reunites with Belisle on Minors deal
Righty reliever reports to Triple-A, expected to offer bullpen depth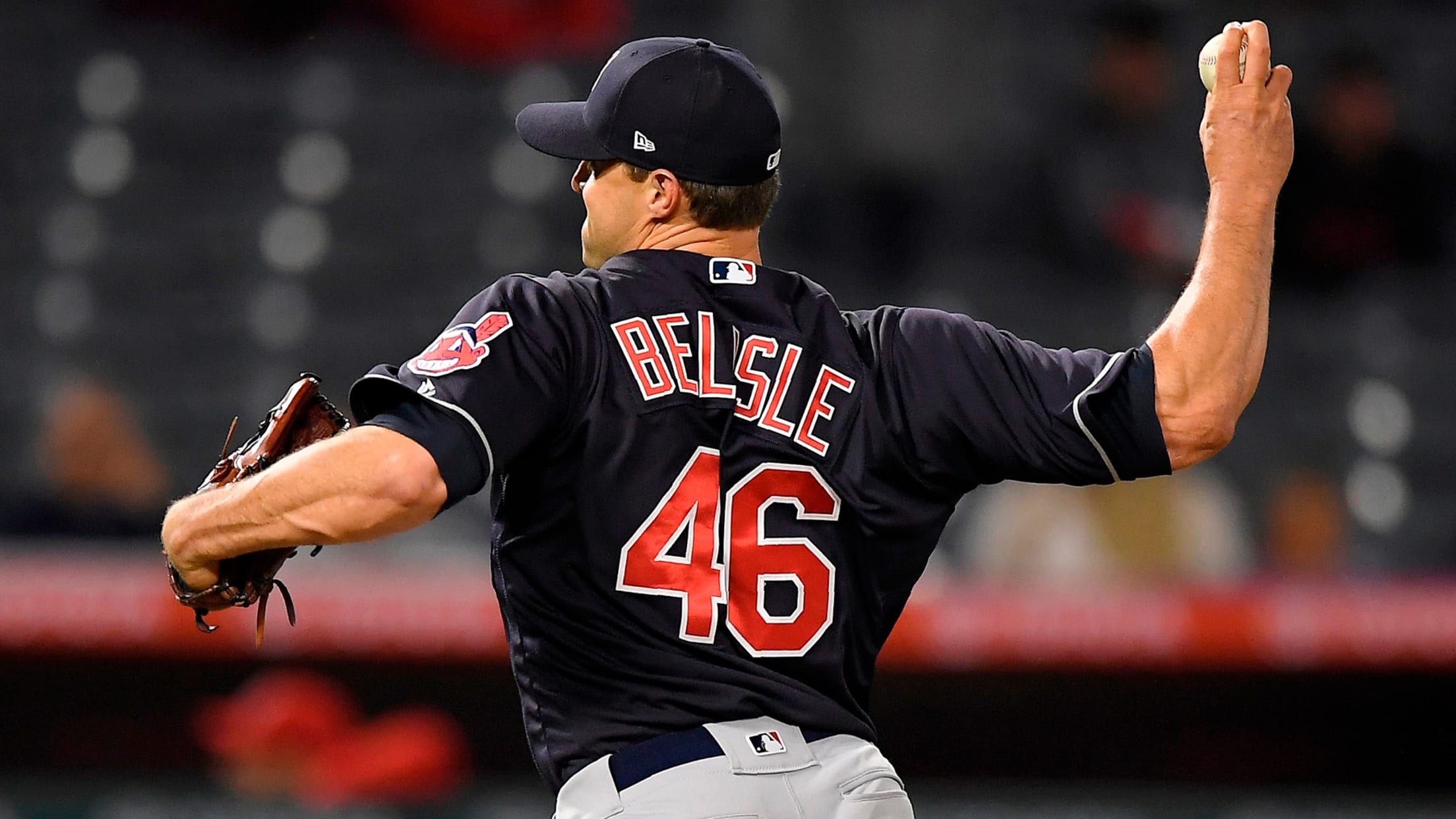 DETROIT -- The past three weeks have included a flurry of transactions as the Indians have attempted to find a solution for their spiraling bullpen. Part of the collateral damage for Cleveland was the loss of highly regarded veteran Matt Belisle, who explored free agency after the team designated him
DETROIT -- The past three weeks have included a flurry of transactions as the Indians have attempted to find a solution for their spiraling bullpen. Part of the collateral damage for Cleveland was the loss of highly regarded veteran Matt Belisle, who explored free agency after the team designated him for assignment earlier this month.
On Wednesday, the Indians announced Belisle had re-signed with the club via a Minor League contract and will report to Triple-A Columbus, where the righty will offer another layer of bullpen depth. That was good news in the eyes of Indians manager Terry Francona, who compared cutting ties with Belisle on May 2 to being kicked in the stomach.
"He had a chance to maybe go out and look around, which is good," Francona said prior to Wednesday's game against the Tigers. "And then, the fact that he was comfortable coming back, I think we were all happy about that. OK, it's a guy that made our team out of Spring Training, so obviously we liked him. But just the way he handles himself, the way he carries himself, being around some of those younger guys in Triple-A will be great for him.
Belisle, 37, posted a 5.06 ERA in eight relief appearances before being designated for assignment, and has a 4.20 ERA in 668 career appearances over parts of 15 big league seasons with six teams.
Dating back to April 26, the Indians have dealt with two disabled list stints for relievers (Andrew Miller and Nicholas Goody), promoted five arms from Triple-A Columbus, acquired another (Oliver Drake) via trade and navigated around Tyler Olson spending a day on MLB's paternity list. The train of transaction lines has been in an effort to shore up the bullpen, which entered Wednesday with an MLB-high 5.73 ERA.
"This group has a quality that, it's very easy to fight through stuff with them, because of how they conduct themselves," Francona said. "I don't think that's ever going to go away, that part of it. So, it does make some of the struggles -- I don't know if it's easier -- but we'll attack this together.
"I don't ever want them to feel like they're our guys when they're doing good and they're on their own when they're not doing good. That's not a healthy way to go about it."
Worth noting
• The Indians do not need a fifth starter until May 26, but Francona said the team is still weighing whether to give Josh Tomlin a regular turn or put him in the bullpen until that day. One factor is the heavy load being shouldered by the rotation amidst the bullpen issues.
In the season's first month, Cleveland's starting pitchers averaged 96.3 pitches per game. That rate climbed to 104.6 per game in May, entering Wednesday. Carlos Carrasco (114), Mike Clevinger (112) and Trevor Bauer (105.5) have posted the highest rates this month.
"I don't want to look up in August and have guys on fumes," Francona said. "That's never happened before, but we also have guys like Clev, who have never really [started for a full season] before."
• Even with the current problems facing the pitching staff, especially within Cleveland's relief corps, Francona took the time Wednesday to express full confidence in the coaching trio of pitching coach Carl Willis, bullpen coach Scott Atchison and Major League coach Brian Sweeney.
"This has been hard on them. I know it has," Francona said. "[Willis] is good. Atch, Sweeney, they've busted their [tails]. Sometimes when things are going like this, this is when the guys work the hardest. I have no issues. They're solid people and solid coaches. I probably feel like that more now than I did before."
• Designated hitter Edwin Encarnacion was scratched from the starting lineup on Wednesday due to back spams, marking his second consecutive game missed. In the initial lineup, which featured Encarnacion batting fifth, Francona kept Francisco Lindor in the cleanup spot. Said the manager: "I'm just trying to give us a little bit of length to the lineup -- more length than maybe we've been showing."