Chapman dazzled by Vlad Jr.'s Derby display
CLEVELAND -- When he stepped up the plate -- not much more than 24 hours after agreeing to fill in for Christian Yelich in the T-Mobile Home Run Derby -- A's third baseman Matt Chapman was already down 29-0 to Vladimir Guerrero Jr. in the first round. Suboptimal. "This guy
CLEVELAND -- When he stepped up the plate -- not much more than 24 hours after agreeing to fill in for Christian Yelich in the T-Mobile Home Run Derby -- A's third baseman Matt Chapman was already down 29-0 to Vladimir Guerrero Jr. in the first round.
Suboptimal.
"This guy [Yelich] set me up!" Chapman joked later. "He knew something I didn't."
Chapman was a late entrant to the Derby, and, unfortunately, he made a quick exit. Going up against Guerrero's record-breaking display proved impossible. He fell, 29-13, with Guerrero, a sleeper in the No. 8 seed, advancing to an epic second-round slugfest against Joc Pederson and then a loss to the Mets' Pete Alonso in the finals.
• Polar Bear Pete! Alonso wins Home Run Derby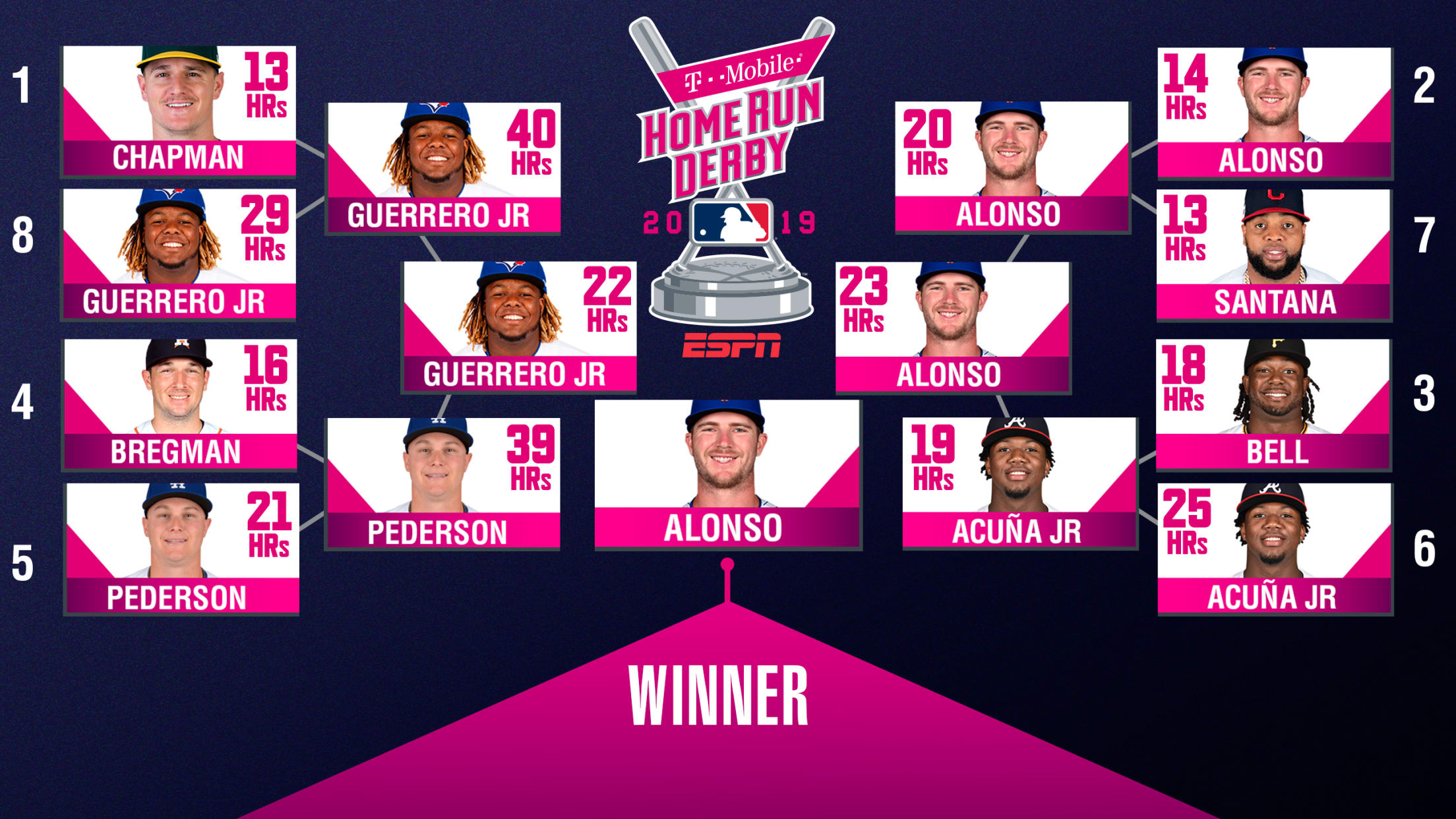 Guerrero's first-round total was one more than Josh Hamilton's memorable showing at Yankee Stadium in 2008 -- and with a clock, no less.
Chapman had come into this event marveling that he had an opportunity to win $1 million in a single night's work and hoping to do as Prince Fielder had done in 2009, when Chapman was in the crowd watching Fielder win the Derby at Angel Stadium.
"I never thought in a million years I'd be here," he said.
But the 26-year-old Chapman, who had his father Jim pitching to him, was in a tough spot from the moment he came to bat. He hit six homers in the first minute of the four-minute round and very quickly achieved the 30-second bonus with two blasts that traveled farther than 440 feet. But he soon ran out of steam.
"Probably the biggest uphill battle I've ever had to fight," said Chapman, whose 21 homers at the All-Star break are just three shy of his 2018 total. "I wish they would have told me, 'Hey, you're going to be in the Home Run Derby, but you're going to come to the plate and have to hit 30 bombs."
Indeed, Guerrero had simply set the bar preposterously high. But at least Chapman, like everybody else who saw Vlad in action, walked away with some great memories.