Duffy: Back issue aggravating hamstring injury
Third baseman unlikely to return until May; Alvarado hitting triple digits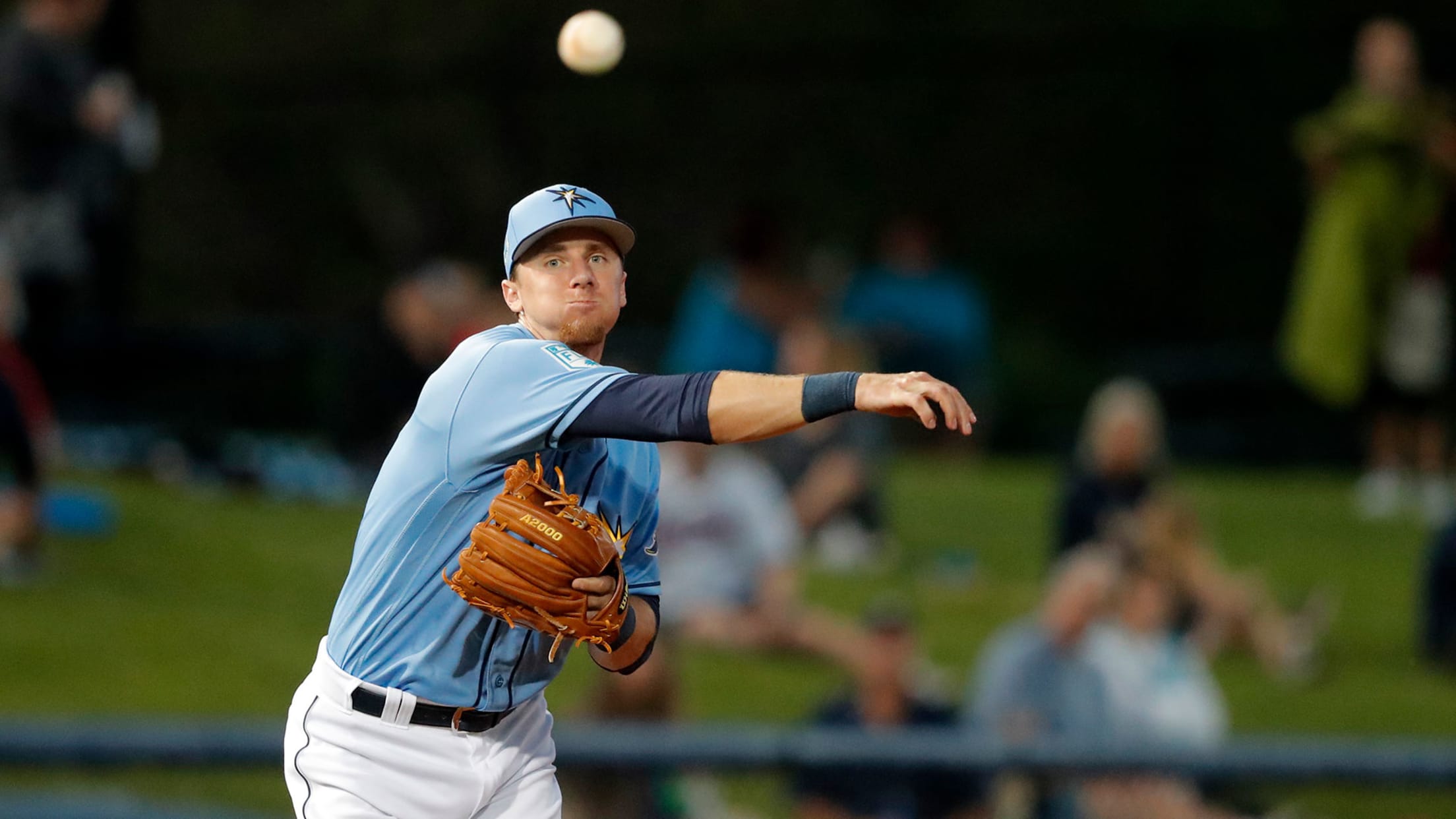 ST. PETERSBURG -- As Rays third baseman Matt Duffy ran toward second in a Minor League game last week, he felt discomfort in the left hamstring that had kept him out of the lineup for most of the spring. Once Duffy felt the discomfort again, he knew he was going
ST. PETERSBURG -- As Rays third baseman Matt Duffy ran toward second in a Minor League game last week, he felt discomfort in the left hamstring that had kept him out of the lineup for most of the spring.
Once Duffy felt the discomfort again, he knew he was going to start the season on the 10-day injured list. What he didn't know was that a back issue that he'd been dealing with for the past couple of months was one of the reasons his hamstring wasn't healing properly.
When the Rays' training staff took Duffy in for an MRI, the tests revealed that the back and hamstring issues were indeed related.
"What I was told was that the back issue is basically not letting the hamstring heal properly," Duffy said. "We're past the first week of just letting it chill, and I feel pretty good."
Duffy said he has dealt with back issues before, and it has never affected his play. Because of that, he didn't say anything about the discomfort until the training staff wanted to get some extra tests done.
"The back thing kind of creeped up before Spring Training started, just working out, and I thought they were kind of unrelated things," Duffy said. "A lot of it is my fault for not saying anything about that, but I just thought it was something I had to deal with."
The next step for Duffy is to complete his two weeks away from baseball activities before getting back on the field for some rehab work. There's no set timetable for Duffy's return, but he said they're shooting for a mid-May return.
"We all want to be out there on the field, so it's frustrating when it happens," Duffy said. "But it's part of it, and you just have to deal with it."
Alvarado hits 100 mph
Of the 16 pitches José Alvarado threw on Saturday to close out the 3-1 win over the Astros, eight flashed 100 mph on the videoboard. In his two outings this season, Alvarado is averaging 98.7 mph on his signature sinker, which is up from his 97.3 average in 2018.
"It's something really cool to see how that pitch is progressing so quickly," Alvarado said. "The most important thing is that I'm throwing it for strikes."
The Rays won't name an official closer this season, but manager Kevin Cash has turned to Alvarado for the first two save opportunities. With the added velocity, Alvarado will continue to be a big weapon out of the bullpen, especially in late-inning situations.
"I just need to keep doing what I know how to do," Alvarado said. "I need to do my job every time they give me the ball."
Juan Toribio covers the Rays for MLB.com. Follow him on Twitter @juanctoribio.