Duffy's injury leaves Rays with decisions to make
Third baseman to begin season on injured list due to hamstring issue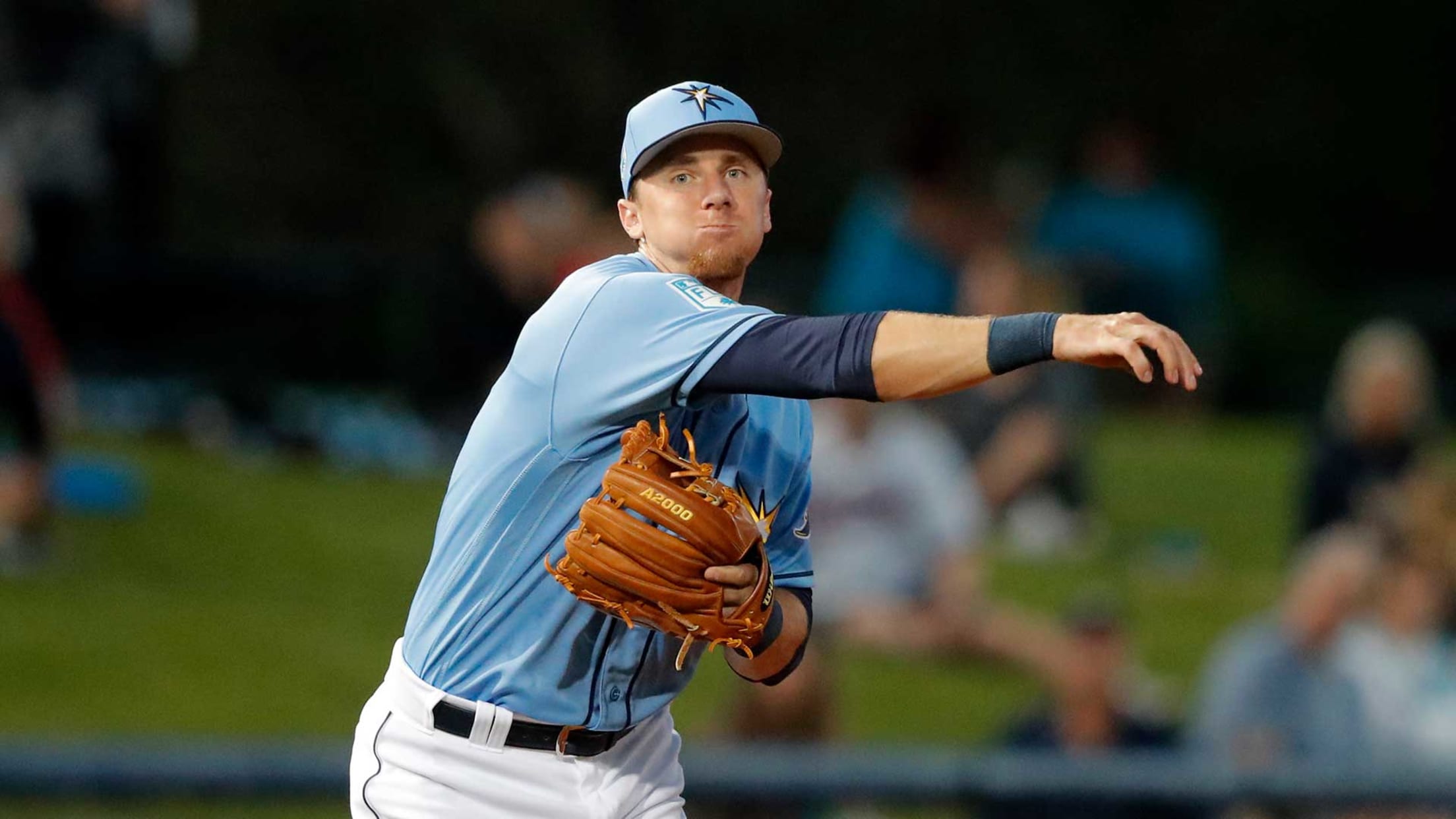 PORT CHARLOTTE, Fla. -- Over the last week, Matt Duffy and the Rays have done what they could in order to get the third baseman ready for Opening Day, but after playing in Thursday's Grapefruit League game and getting nine at-bats in Minor League games Friday, Duffy was scratched from
PORT CHARLOTTE, Fla. -- Over the last week, Matt Duffy and the Rays have done what they could in order to get the third baseman ready for Opening Day, but after playing in Thursday's Grapefruit League game and getting nine at-bats in Minor League games Friday, Duffy was scratched from the lineup before Saturday's game against the Tigers.
"Not ideal for Matt, but I appreciate him being honest last night and say that he just didn't feel right," said Rays manager Kevin Cash. "I think we did everything. The training staff did a great job, Matt did a great job trying to get back. Time just beat us up a little bit."
Duffy will continue to get tests on his hamstring over the next couple of days and the team will take it slow in order to keep the hamstring issues behind him once he's ready to return. With Duffy out for at least the first seven games of the season, Yandy Diaz, Daniel Robertson and Joey Wendle will see most of the time at third base to begin the year.
The injury also opens up another roster spot for the Rays. Guillermo Heredia could now make the Opening Day roster, which would give the Rays six outfielders and thirteen position players. The Rays, however, could also elect to add a thirteenth pitcher to the roster.
"Obviously people are going to lean towards Guillermo Heredia," Cash said. "But we have some decisions to make, whether we carry an extra pitcher and then we still have to decide that last and final spot."
Wilmer Font, Adam Kolarek, Emilio Pagan, Hunter Wood and Heredia are the players still competing for the last couple of spots on the roster. With the team fully departed from their Spring Training complex in Port Charlotte, Cash hopes to have a final decision sooner rather than later.
"Last year, I believe it was the day of," Cash said on the timing of the final roster decisions. "I certainly hope we're not that late, but sometimes they go down to the wire. I don't think our plan is to be that late, for sure."
Up next
The Rays visit the Braves for the inaugural game at CoolToday Park in North Port, Fla. on Sunday, a 4:05 p.m. ET first pitch. Tyler Glasnow gets the start against Atlanta's Kevin Gausman.
Juan Toribio covers the Rays for MLB.com. Follow him on Twitter @juanctoribio.