Hall impressing in Minors with 'spin rate'
Tigers lefty could get callup to Majors soon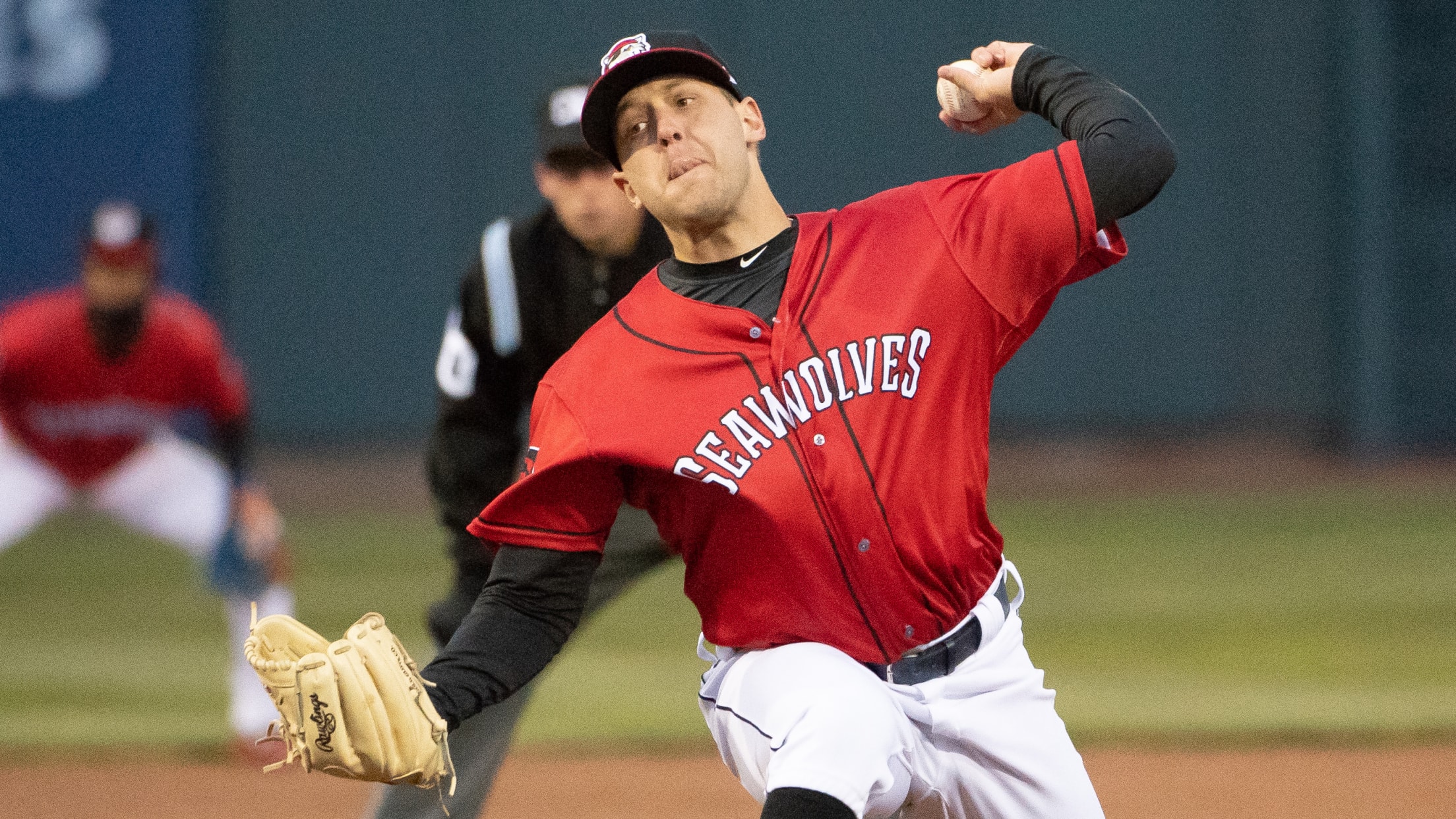 TOLEDO, Ohio -- The fastball seemingly snuck up on Twins prospect LaMonte Wade. It wasn't exactly a power pitch, hitting the upper 80s, but Matt Hall located it at the knees to coax a called third strike to begin his second inning on Friday night.Up came Minor League veteran Jon
TOLEDO, Ohio -- The fastball seemingly snuck up on Twins prospect LaMonte Wade. It wasn't exactly a power pitch, hitting the upper 80s, but Matt Hall located it at the knees to coax a called third strike to begin his second inning on Friday night.
Up came Minor League veteran Jon Kemmer, who took two more well-spotted fastballs to fall behind in the count. Hall spiked the 0-2 breaking ball, but he sent Kemmer down swinging at the next one, a 73-mph bender.
With that, Hall had struck out four of his first five batters. He didn't fan anybody else over his seven innings of one-run ball, but the way he was rolling, he didn't need to. Hall has been going that way for nearly two months.
"You don't really go for strikeouts," Hall said. "They just kind of happen. Especially at this level, defense behind you is phenomenal."
Hall does not look the part of a high-strikeout pitcher. He looks more like an infielder at first glance, if not for being left-handed. Hall is listed at 6 feet tall, and he doesn't have the upper-90s heater to wow fans and blow hitters away. But he led NCAA Division I hurlers in strikeouts at Missouri State in 2015, earning a sixth-round selection from the Tigers in that summer's Draft.
Three years later, the 25-year-old southpaw has become arguably the pitching Cinderella story of Detroit's farm system. And in an organization that is stockpiling highly-rated arms, Hall -- ranked No. 21 on MLB Pipeline's Tigers prospect list -- could eventually force his way to Detroit.
"I'm just out here controlling what I can control," Hall said. "I don't have a say in that. But if they want me or need me, then I'll go up there and I'll do my best. But as of right now, I'm just doing what I can."
Hall is doing more than many thought he could this year. After beginning the season as a middle reliever at Double-A Erie and not getting a start for the SeaWolves until June 22, he's 8-2 with a 2.01 ERA between Erie and Toledo. Hall has allowed just 66 hits -- just two of them home runs -- over 98 1/3 innings while racking up 122 strikeouts. Opponents are batting just .188 against him.
Since becoming a starter, Hall is 6-0 with a 1.72 ERA, including 3-0 with a 2.61 ERA for the Mud Hens. Friday was his first time in seven Triple-A starts in which he faced an opponent a second time this season, and Rochester still could barely hit him.
"I thought he was really sharp the last time he faced these guys," Mud Hens manager Doug Mientkiewicz said. "And to do it again without his best stuff was a sign. His deception when guys see him for the first time is going to play a role. He definitely attacked. He followed the game plan very well. He has an idea what he's doing."
Mientkiewicz knew about Hall before he took over in Toledo, having seen him in the Florida State League last year. Hall fanned 110 batters over 103 1/3 innings at that level before getting a late-season promotion to Erie, but he wasn't pitching like this.
"The Tigers told me at the end of last season what I needed to work on in the offseason," Hall said. "I went out and worked hard with that fastball command, getting ahead with the fastball and putting them away. They wanted me to attack the strike zone more, and that's been my No. 1 goal."
Hall pitches unafraid of contact. Considering he has allowed just 17 homers over nearly 400 professional innings, he has good reason.
Asked how somebody with Hall's repertoire can do this, especially at an advanced level, Mientkiewicz is ready with an answer.
"Spin rate," Mientkiewicz explained. "He has a deceptive fastball. It's harder than the [radar] gun reads. It gets on hitters, and he can pitch up in the zone, which he needs to."
Whether Hall can do that in the big leagues, with hitters looking for launch angle and exit velocity, is a different challenge. But with the Tigers searching for innings down the stretch and into next year, and Detroit's top pitching prospects not ticketed for arrival until next summer at the earliest, Hall could warrant a shot.