Harvey explains injury, hopes to throw soon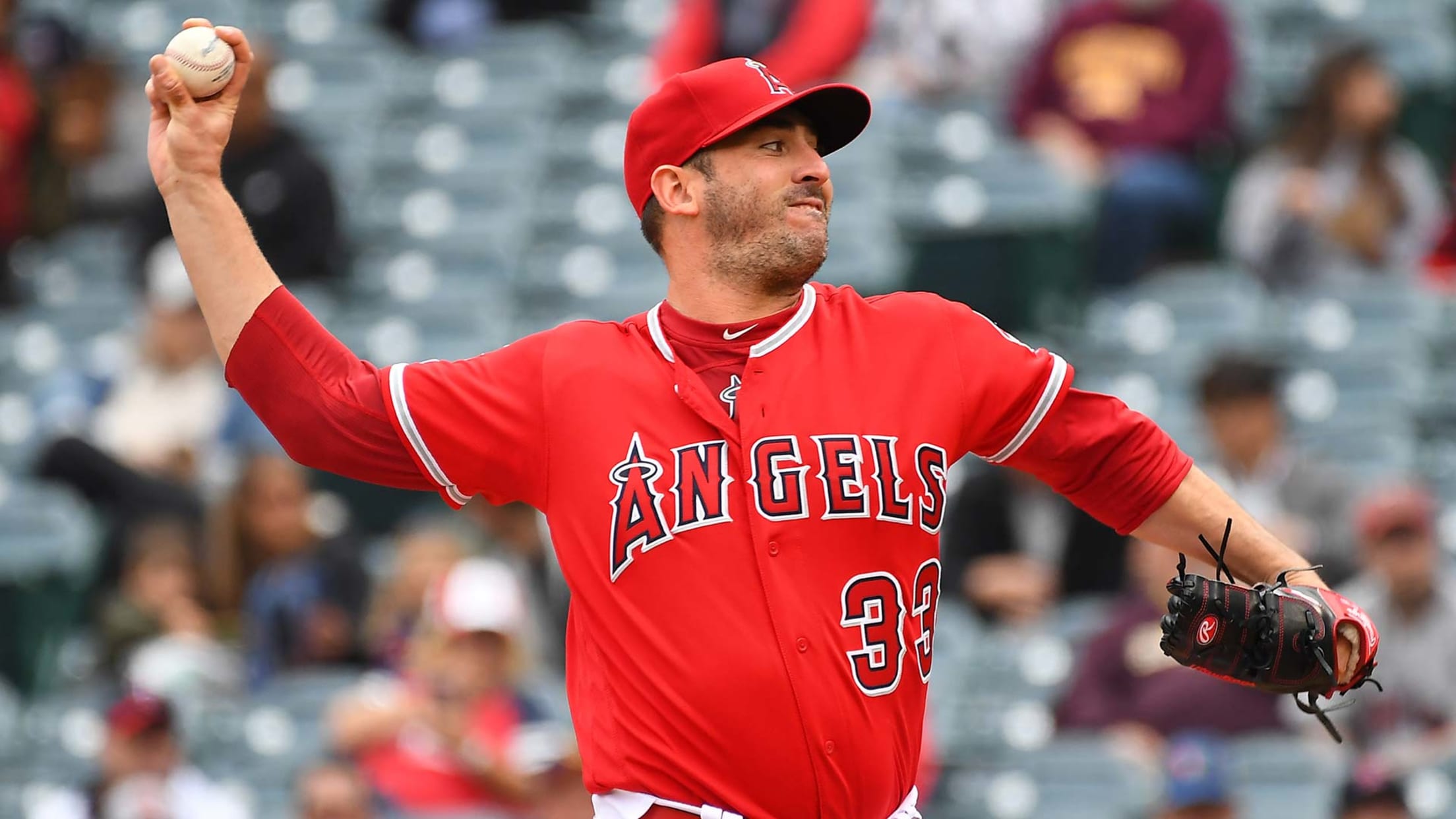 ANAHEIM -- Angels right-hander Matt Harvey explained on Sunday why he said he was healthy after his start on Thursday, yet was placed on the 10-day injured list on Saturday with an upper back strain. Harvey -- who gave up eight runs, including four homers, over 2 2/3 innings against
ANAHEIM -- Angels right-hander Matt Harvey explained on Sunday why he said he was healthy after his start on Thursday, yet was placed on the 10-day injured list on Saturday with an upper back strain.
Harvey -- who gave up eight runs, including four homers, over 2 2/3 innings against the Twins in his last outing -- said he was simply keeping the injury to himself and hadn't notified the training staff.
"I didn't want to tell anybody about it," Harvey said. "It's me being stubborn and trying to fight through things. I wasn't able to work through it and this is where we ended up."
Harvey said the injury cropped up during the start, but it wasn't something he was dealing with leading up to the outing. He said it caused him to alter his mechanics, but he's starting to feel better now and needs to get his mechanics in order while on the injured list. Harvey said he's hopeful to start throwing again on Monday.
"It's all right," Harvey said. "It's getting better. It's frustrating. The last thing I wanted to do was be on the IL again. But clearly, it wasn't something I could work through. It was kind of hurting performance. It's something we had to make sure is better. Whether it's 10 days or a little bit longer, it's something we'll figure out."
Harvey, signed to a one-year deal worth $11 million over the offseason, has struggled this year, as his 7.50 ERA is the worst among American League starters. He's struck out 35, walked 21 and allowed 11 homers in 48 innings, so his peripheral stats don't exactly point towards any bad luck. Harvey, 30, said he knows he needs to get back track, and he is hopeful this stint on the injured list will help him hit the reset button.
"It's hard," Harvey said. "It's tough. But it's my job and it's what I have to do. I have responsibility to these guys in the clubhouse. I have to do everything I can to get back to where I want to be, and where I know I can be, and where they know I can be and just work through it and get back there."
It's clear the rough season has taken a toll on Harvey, who was once one of the better pitchers in baseball during his time with Mets. He finished in fourth place in National League Cy Young Award voting in 2013, but injuries and off-field issues have since derailed his career. Harvey's seen his average fastball velocity dip to a career-worst 93.4 mph this year. It peaked at 96.5 mph in '15 and was at 94 mph last year.
"I don't remember the highs anymore," Harvey said. "It's been a long time. I don't want to tell [teammates] the horror stories I've been through. But I'm doing everything to get back and keep working."
Angels tidbits
• Catcher Kevan Smith (concussion) participated in a full workout with no issues on Saturday and progressed to baseball activities on Sunday. Smith has not experienced any concussion-like symptoms in recent days and will join the Angels on their road trip to Oakland and Seattle. Smith is eligible to be activated on Wednesday.
• To make room for the return of left-hander Andrew Heaney, the Angels optioned right-hander Jaime Barria to Triple-A Salt Lake on Sunday. Barria was called up on Friday as a long-relief option in the bullpen, but he didn't see action. He'll rejoin the rotation at Salt Lake.
• Left fielder Justin Upton (left turf toe) will accompany the Angels on their road trip, but he remains a few weeks away from returning. Upton has progressed to running in a straight line, fielding grounders in the outfield and hitting on the field. But he still needs to progress to making cuts while running.