Harvey says pitching command 'out of whack'
'It's back to the drawing board,' Collins says of Mets starter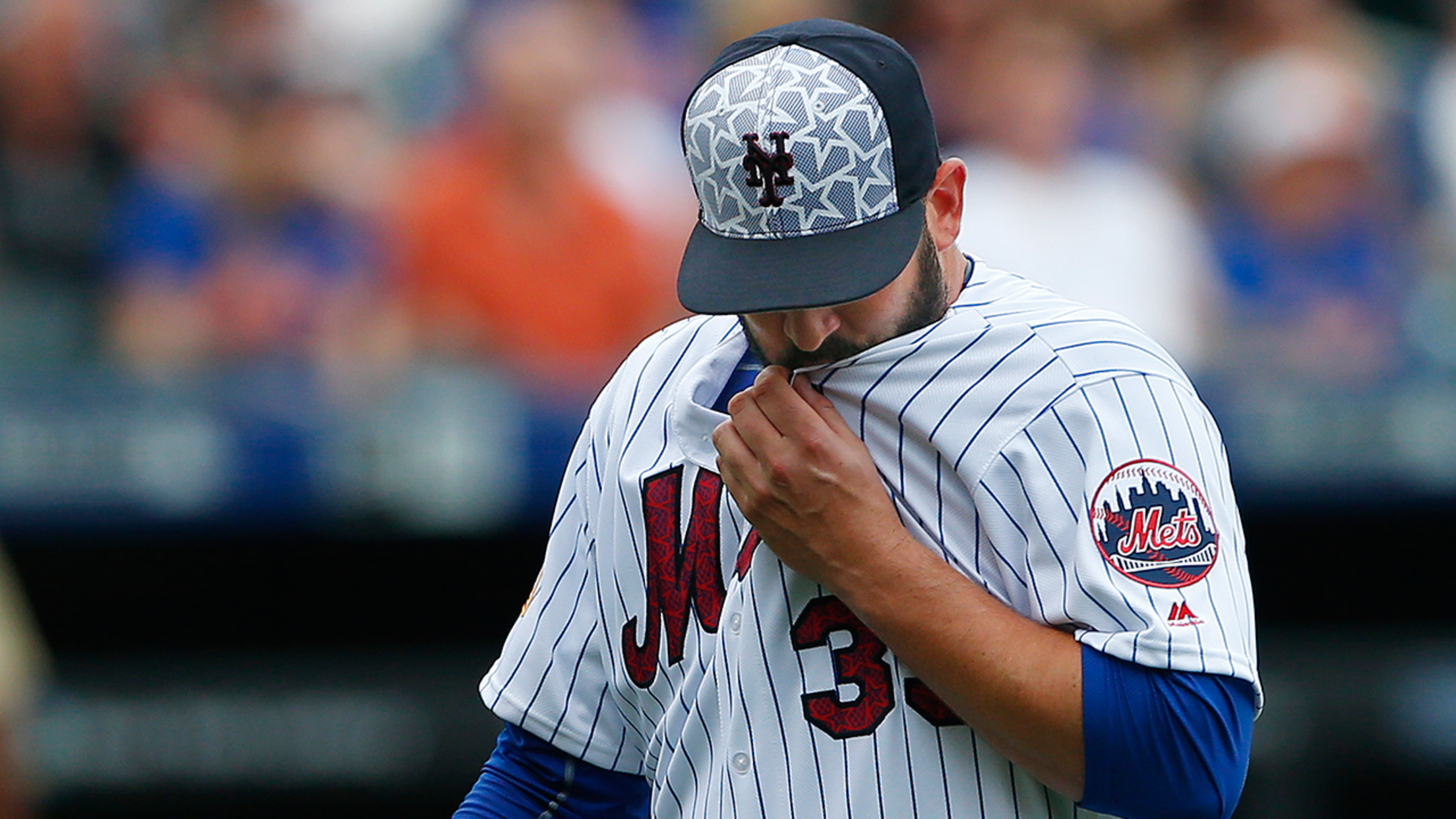 Matt Harvey returns to the dugout Monday after allowing 11 hits and six runs (five earned) against the Marlins. (AP)
NEW YORK -- Matt Harvey arrived at Citi Field on Monday afternoon wearing checkered red, white and blue pants, a colorful ode to the Fourth of July. But after trading his patriotic garb for a Mets uniform, Harvey was left with little reason to celebrate.The Mets picked up the 8-6
NEW YORK -- Matt Harvey arrived at Citi Field on Monday afternoon wearing checkered red, white and blue pants, a colorful ode to the Fourth of July. But after trading his patriotic garb for a Mets uniform, Harvey was left with little reason to celebrate.
The Mets picked up the 8-6 win over the Marlins in spite of Harvey's performance. He walked off the mound in the fourth inning to a chorus of boos, his outing over after a forgettable 3 2/3 innings. His teammates offered pats on the back as he returned to the dugout having allowing 11 hits and six runs (five earned).
The unearned run was his doing. With the bases loaded in the fourth, he induced a comeback grounder to the mound that seemed destined to become an inning-ending double play. But his throw home skirted behind catcher Travis d'Arnaud, leaving the right-hander to watch as the Marlins' fourth run crossed home plate.
Miami scored two more runs before Harvey was pulled.
"It's part of baseball. You go through a lot of ups and downs," Harvey said. "Unfortunately this year has been more downs than there are are ups."
After a disastrous start to the season, Harvey had lowered his ERA from 5.37 on May 30 to 4.55 by the start of Monday's contest. He was starting to look more and more like the electric attraction that had captivated Flushing in recent seasons.
Before his most recent start, a 3 2/3-inning outing at Washington that was cut short due to a rain delay, Harvey had lasted at least six innings in each of his past five starts, allowing more than two earned runs just once during that stretch.
Plus, Collins had said Harvey looked as he good as he had all season against the Nationals.
Monday was a different story.
"I told [pitching coach] Dan [Warthen] when he came out, it's back to the drawing board," Collins said. "You've got to go back and try to remake something that you did two weeks ago that made him look so good in Washington."
Harvey allowed three runs in the second inning, but wasn't aided by a throwing error from Brandon Nimmo. Giancarlo Stanton singled and then advanced to second when the rookie's throw went to first. He later scored on a single from Chris Johnson, and the Marlins scored twice more before the end of the frame.
Then came the disastrous fourth and the solemn exit.
Harvey said it's been a "continuous" struggle to perfect his arm slot, and added he also needs to work on command.
"Whether it was slider, or curveball, or changeup, or fastball, things were just out of whack" Harvey said. "Catching too much of the plate."
With the All-Star break looming, Harvey has emerged as the weak link in a stacked Mets rotation. Noah Syndergaard, Jacob deGrom and Bartolo Colon all possess ERAs lower than 3.00, and Steven Matz has a 3.40 mark.
The Mets still boast one of the strongest starting-pitching staffs in baseball. But as days continue to tick off the calendar, Collins is left to figure out how to help his former ace.
"We just got to figure out what's going on, so we can at least have some type of an idea how he feels," Collins said. "Dan's talking about this issue with his delivery again tonight. Got to get back and fix it."
Joshua Needelman is a reporter for MLB.com based in New York.