As skid hits 7, Klentak optimistic for Phils' future
GM confirms Kapler will return as manager in '19; Phils fall again to Rox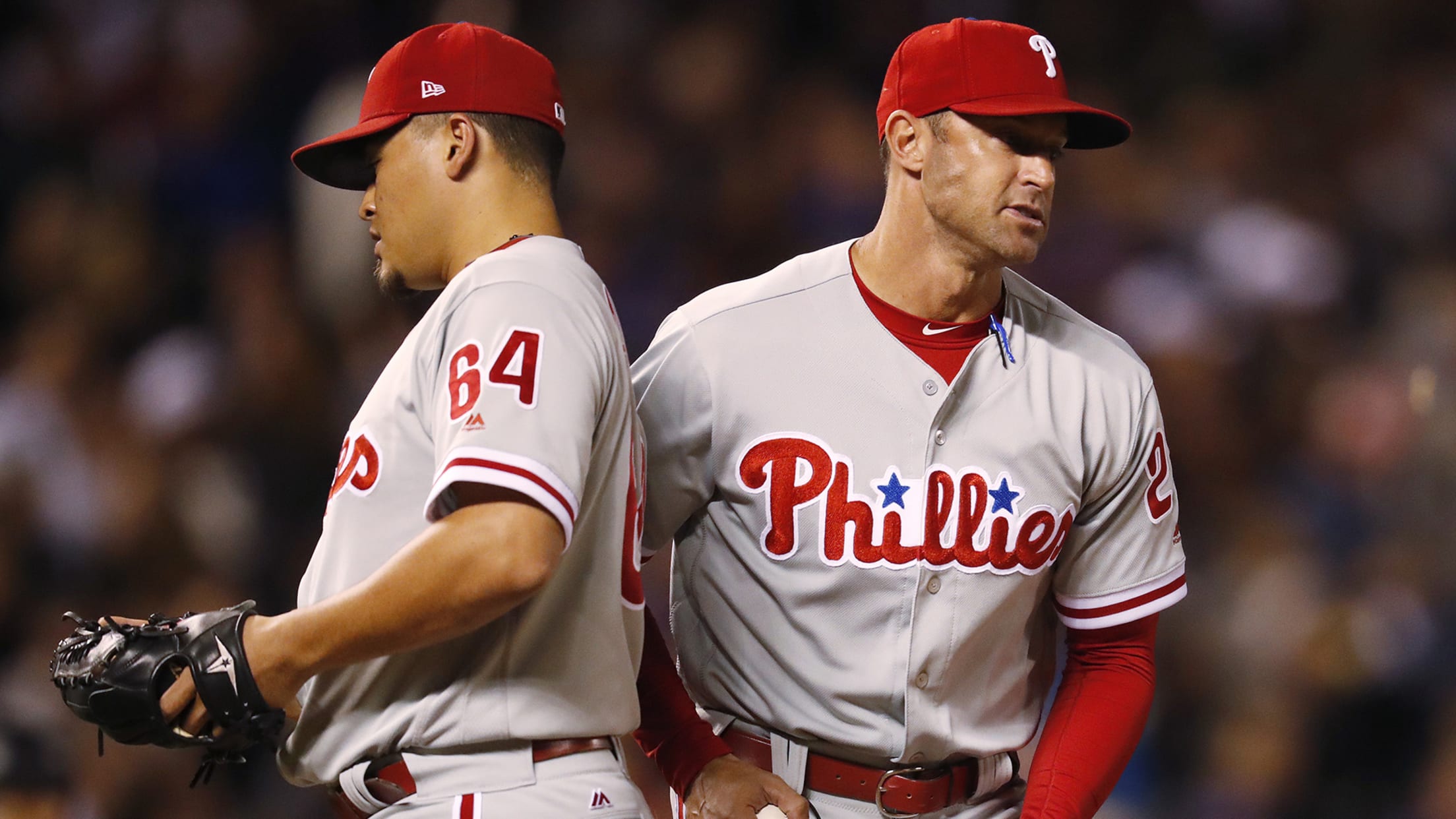 Philadelphia Phillies manager Gabe Kapler, right, ushers relief pitcher Victor Arano off the mound after he gave up a single to Colorado Rockies' German Marquez during the fifth inning of a baseball game Wednesday, Sept. 26, 2018, in Denver. (AP Photo/David Zalubowski) (David Zalubowski/AP)
DENVER -- Phillies general manager Matt Klentak stood in the back of the Coors Field press box Wednesday night, reflecting on the fact that his club not only fell from contention in the National League East over the past eight weeks, but that it collapsed in historic fashion.The fall, he
DENVER -- Phillies general manager Matt Klentak stood in the back of the Coors Field press box Wednesday night, reflecting on the fact that his club not only fell from contention in the National League East over the past eight weeks, but that it collapsed in historic fashion.
The fall, he said, will not define Philadelphia's season.
"I know we live in a very binary world where it's either a good season or a bad season, and there's nothing in between," Klentak said before a 14-0 loss to the Rockies. "I don't think that's realistic. I think we had a very productive season in a lot of ways and we also had a miserable stretch of baseball at the end of the season, and both of those things are true."
The Phillies' latest loss extended their season-high losing streak to seven games and dropped them two games below .500. They are 6-18 (.250 winning percentage) this month, putting them on pace for their worst September since 1942, when they were 6-21 (.222). The Athletic's Jayson Stark tweeted that no team in baseball history has been 15 games over .500 through 113 games, like the Phillies, and not finished the season with a winning record. The Phillies (78-80) need to win three of their remaining four games to avoid becoming the first.
Klentak said Phillies manager Gabe Kapler, who has become a lightning rod of criticism the past eight weeks, will return next season. Kapler's return is not a surprise. Klentak and Kapler are in lockstep with one another. They believe their processes and beliefs will be proven correct.
• Kapler aware of public criticism after 1st year
"When you're losing, people are going to scrutinize more. I get that," Klentak said. "He will be. I will be. The players will be. The whole organization will be. I understand that, and I think he does, too."
But Klentak also acknowledged that "significant changes are necessary" before 2019.
The Phillies must improve a mediocre offense and the worst defense in baseball. They might want to find another starting pitcher to bolster the rotation. They might want to tweak the clubhouse chemistry. It is well known the Phillies will pursue free agents Manny Machado and Bryce Harper, although they are expected to sign only one.
Trades are expected. It seems almost anybody other than Aaron Nola and Rhys Hoskins is available.
Klentak said other improvements will come from young players simply becoming better. Other changes will come from how the front office and coaching staff operates.
"We all need to fight the narrative that it's a simple fix," Klentak said. "There's a lot of things we can do, and we're going to address a lot of things.
"If you look around the 25-man roster we had most of the year, you can look at every player on the field and make an argument for why you'd want them to come back because of how well they performed this year or the kind of upside that they possess, the kind of growth that they've demonstrated. But there's also room at just about every spot on the field for us to improve, and there may be better alternatives. We're going to need to explore everything."
The manager is not an area of concern. Klentak thinks Kapler did a good job in his rookie season, learning a lot and improving.
Klentak also believes Kapler is the right man to lead the Phillies back to the postseason.
"When we hired Kap, we knew that he is progressive," Klentak said. "It was in my judgement that this was a good year to be progressive and try new things, because expectations were modest and we had a lot of young players and a new manager. Some of the things we've tried have not worked, and we know that and very publicly everybody found out that they didn't work and we've made adjustments. Some of the things that he's done and that we've done as an organization have worked really well. And we've taken some positive steps forward, and we will continue to incorporate those things next year.
"I think this was a good year for us to experiment, try new things, grow forward and we made progress. To take this organization where it needs to go, we had to have a year like this where we pushed the envelope."
The Phillies did that a bit when they signed first baseman Carlos Santana in December, moving Hoskins to left field. Hoskins has not fared well in left, and Santana has not been the Gold Glove-caliber defenseman the Phillies expected.
Santana, who is having one of the least productive offensive seasons of his career, has played third base lately, prompting speculation he could play there next season.
The Phillies could trade Santana. Or maybe Hoskins and Santana coexist again next season at the same positions.
"Simply put, we can be a winning baseball team with both of those players playing significantly on our team," Klentak said.
But some things will change. Things will go one way if they sign Harper. They will go another if they sign Machado. They will go another if they sign neither. Or both.
Only one thing seems certain, there will not be modest expectations in 2019. The Phillies will be expected to win.
Klentak said those expectations will not change the Phillies' process.
"I'm not going to make decisions because of what they mean to me, for my job security," Klentak said. "That's not my job. My job is to make decisions for the good of the Philadelphia Phillies' short- and long-term health. And that's what we're going to do."
MOMENT THAT MATTERED
Rox break it open: The Phillies allowed seven runs in the fifth inning as the Rockies took a 9-0 lead. David Dahl hit a three-run home run against Nick Pivetta, who allowed six runs in 4 2/3 innings. Victor Arano then allowed a two-run homer to Trevor Story and a two-run homer to Ian Desmond. Pivetta finished his season 7-14 with a 4.77 ERA.
"It was a string of ups and downs," Pivetta said about his season. "I would've liked to finish a little stronger than I did, as always. I made 30 starts. I stayed healthy the whole year. I did better than last year. I made a lot of adjustments. I'm looking forward to next year and becoming a better pitcher."
SOUND SMART
The Phillies have allowed 10 or more runs in three consecutive games for the first time since June 1-4, 1958, against the Reds and Cubs. They need to win Thursday's series finale vs. the Rockies to avoid tying their second-worst road trip in franchise history (0-8). The Phillies went 0-8 against the Reds, Pirates and Orioles from June 8-16, 2015. They went a franchise-worst 0-9 on a road trip in 1883.
"I don't think there's a man in that room that's quit," Kapler said.
YOU GOTTA SEE THIS
Rockies pitcher German Marquez tied a modern (since 1900) Major League record when he struck out the first eight Phillies batters of the game. He matched the Astros' Jim Deshaies (Sept. 23, 1986) and the Mets' Jacob deGrom (Sept. 15, 2014). New York Gothams pitcher Mickey Welch struck out the first nine batters he faced in a game in 1884. Pivetta snapped Marquez's streak when he put the ball in play and reached on an error in the third.
"We didn't do anything very well tonight," Kapler said.
HE SAID IT
"I feel like there's more fight in us. I feel like there's more energy. There's more grit. I've seen it. I know it's in there. I believe in these guys. I believe in their ability to bring it out, and I believe in their ability to bring it out tomorrow. But that doesn't take away from the fact that we have been playing really, really bad baseball for quite some time. No excuse for it." -- Kapler, when asked if he is embarrassed by the way his team is playing
UP NEXT
Phillies right-hander Jacob Arrieta (10-10, 3.94 ERA) faces Rockies right-hander Antonio Senzatela (6-6, 4.52) on Thursday afternoon in the finale of a four-game series at Coors Field at 3:10 p.m. ET. Arrieta is 3-4 with a 5.09 ERA in 12 starts since the All-Star break and 1-4 with a 6.64 ERA over his last eight starts, which coincided with the Phillies' fall from contention in the National League East.