Magill DFA'd, Stewart recalled from Triple-A
May encouraged despite allowing homers; Buxton feeling good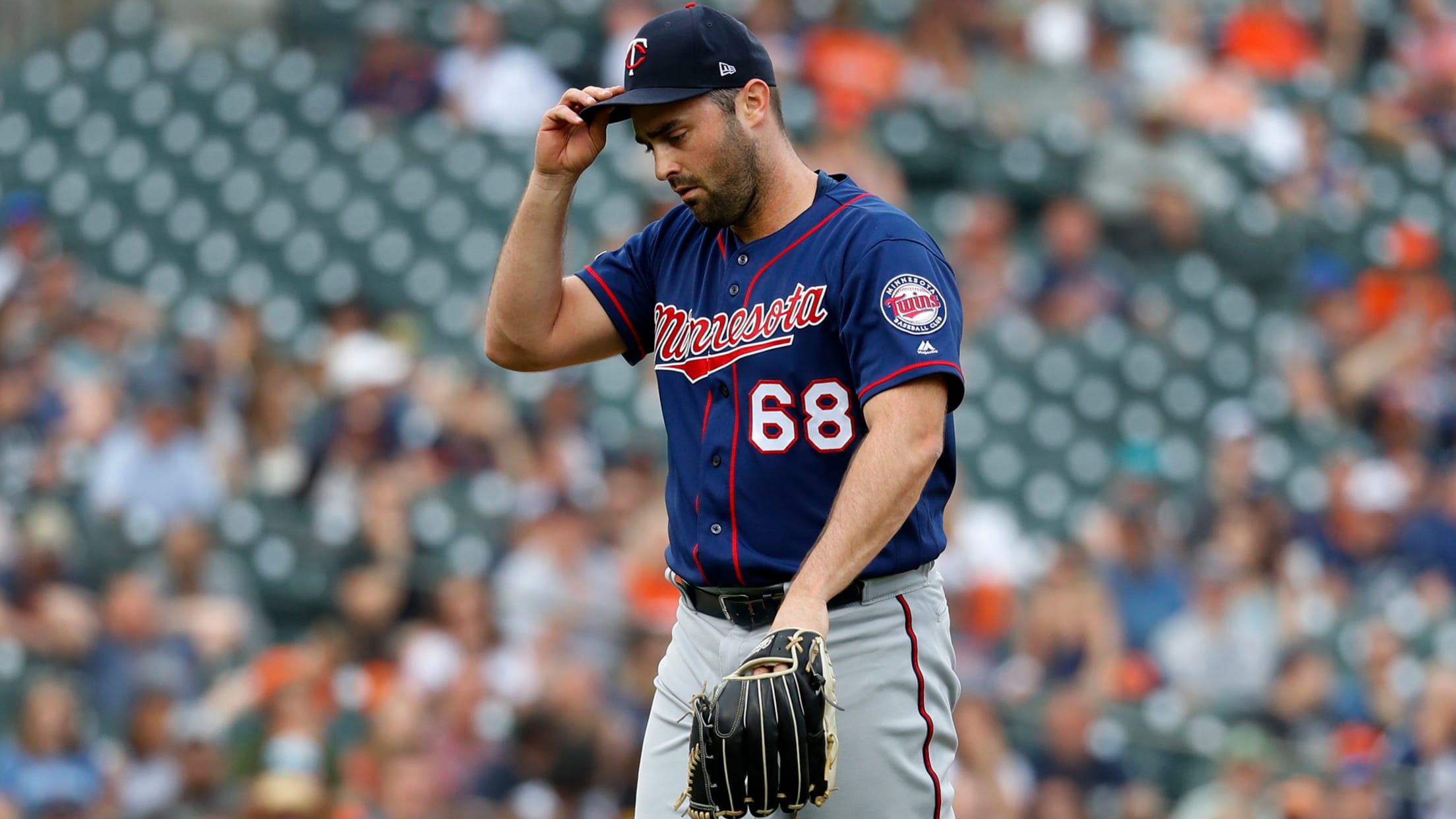 MINNEAPOLIS -- The trimming of the Twins' bullpen continued on Thursday, when right-hander Matt Magill was designated for assignment a day after he allowed six unearned runs in Wednesday's 14-4 loss to the Mets. In a corresponding move, Kohl Stewart was recalled from Triple-A Rochester. Fellow reliever Mike Morin had
MINNEAPOLIS -- The trimming of the Twins' bullpen continued on Thursday, when right-hander Matt Magill was designated for assignment a day after he allowed six unearned runs in Wednesday's 14-4 loss to the Mets. In a corresponding move, Kohl Stewart was recalled from Triple-A Rochester.
Fellow reliever Mike Morin had also been designated for assignment on Tuesday, three days after left-hander Adalberto Mejia was also cut loose by the Twins. The flurry of moves, which has also seen relievers Gabriel Moya and Andrew Vasquez removed from the 40-man roster, has reduced the roster to 36 players.
"We're dealing with people -- good people -- and guys that have contributed to this team for a long period of time," manager Rocco Baldelli said. "Without getting too deep into the specifics of the things that we talked about, [Magill] was exceptionally thankful to the organization, and we're thankful to him."
When a player's contract is designated for assignment -- often abbreviated "DFA" -- that player is immediately removed from his club's 40-man roster. Within seven days of the transaction (had been 10 days under the 2012-16 Collective Bargaining Agreement), the player can either be traded or placed on irrevocable outright waivers.
Magill, 29, had a 4.45 ERA with 36 strikeouts and 15 walks in 28 1/3 innings out of the Twins' bullpen this season. Though his fastball touched 98 mph to set up his hard slider and curveball, Magill was also prone to allowing hits and was in the bottom 7 percent of Major League pitchers in hard-hit rate allowed.
"He's got great stuff," Baldelli said. "I think he goes out there and does a good job. He certainly has the stuff to go out there and compete against Major League hitters, and I expect to see him out there doing so going forward."
With the Twins' relief corps still short at only seven pitchers, Stewart could be called upon to provide some length out of the bullpen, as has been the case in several of his previous callups this season.
Given the Twins' space on the 40-man roster and difficult schedule through the Trade Deadline, though, the club's bullpen will likely remain in flux over the coming days. Both internal options like Cody Allen, Carlos Torres and Cody Stashak being moved up or external acquisitions could be possible.
May encouraged by quality of pitches
Trevor May has largely been thrilled with the progress that he has made over the last several weeks. He feels that he has better command of his fastball and has had to rely on it less, and he is also more confident in the usage of his slider.
He isn't losing sight of that, even in the aftermath of a pair of back-breaking homers allowed in his last two outings. Two appearances ago, last Sunday, he allowed a solo homer to Carlos Santana that led to a 4-3 loss in the series finale in Cleveland. On Wednesday, he coughed up a pinch-hit, three-run homer to Dominic Smith that put the Twins behind for good.
"In terms of the process, just how I've seen the improvement in command and getting ahead of guys and stuff in the last few weeks has been great, and I know that if I go out, I'll take the stuff that I had today on the mound every day of the week," May said after he allowed the homer to Santana last Sunday.
May's fastball has ticked up from averaging 94-95 mph at the start of the season to 96-97 mph over his last several outings, and his four-seam fastball has the highest whiff rate among his pitches this season, at 31.8 percent. Though both homers came on 0-2 curveballs, May noted that he's not willing to second-guess the process that has led to his success because of two bad results.
"I'm looking at when to use the curveball and how I've been using it, if it's just been the wrong usage or whatever it is, but an adjustment's going to be made," May said. "But in terms of feeling good and throwing strikes and getting ahead of guys, I'm still doing that, too. It's a gut punch when you feel so good, you're getting ahead of guys, you're making the pitches over and over and over to guys.
"Sometimes, they just earn it. Usually they don't earn it this many times in a row, though."
Buxton update
Byron Buxton participated in on-field drills early on Thursday and continues to make positive progress from the concussion-like symptoms sustained on a diving catch last Saturday in Cleveland. Buxton was placed on the seven-day injured list for the concussion protocol on Tuesday.
"If you get a chance to talk to him, you can see that he's personality-wise, energy-wise, doing very well," Baldelli said. "Feeling a lot better. He's doing some activities out in the field, he was here early taking care of all of that. It was a good day."
Buxton is eligible to be activated on Sunday, but Baldelli did not commit to a firm timeline for his center fielder's return.