Magill looks to build on solid outing after funk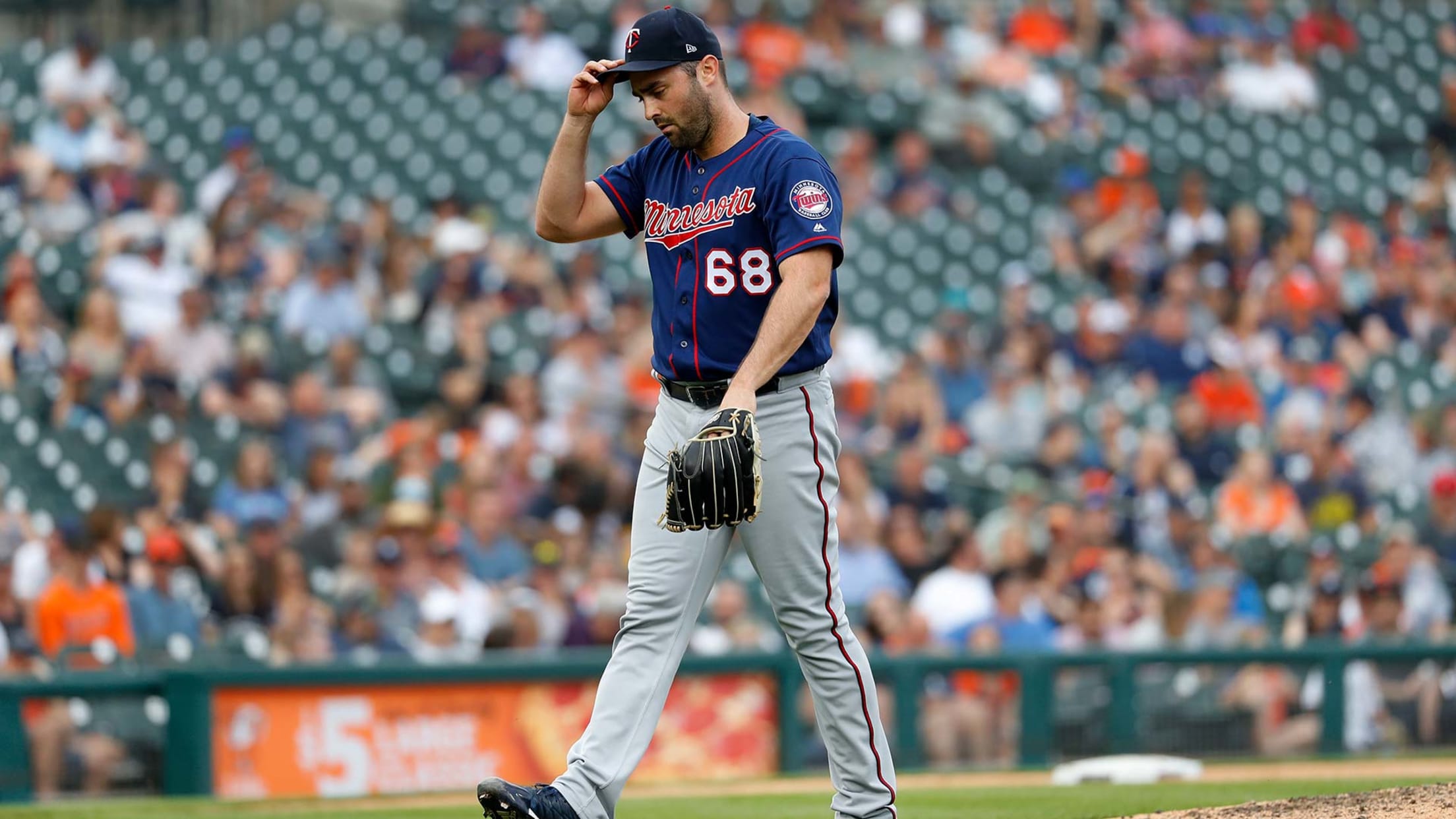 MINNEAPOLIS -- Matt Magill isn't shying away from his struggles on the Twins' last road trip. Still, he's glad to have taken an encouraging step in the right direction with a 1-2-3 inning and the win in Tuesday night's victory over the Mariners. "It just felt nice to get three
MINNEAPOLIS -- Matt Magill isn't shying away from his struggles on the Twins' last road trip. Still, he's glad to have taken an encouraging step in the right direction with a 1-2-3 inning and the win in Tuesday night's victory over the Mariners.
"It just felt nice to get three hitters out in a row," Magill said. "I needed that."
The 29-year-old had allowed 10 runs (nine earned) in 1 2/3 innings in his three previous appearances, including four earned runs apiece in a pair of blowups against the Rays and Tigers.
But it wasn't simply a matter of just pitching through the funk. Magill said that he had been working with the coaching staff on some of his hand placements and elements of his fastball usage through his recent struggles -- in part, just to seek continued improvement through the season, but also partly as a response to his difficult outings.
Some of it was finding different placements and timings for the fastball. Magill also noted that all but one of the 10 hits he allowed in that stretch came on breaking balls -- five on sliders, four on curveballs, one on the fastball -- and he worked to change the way that he released some of his pitches to better "tunnel" his offerings, making it tougher for hitters to distinguish how they come out of his hand.
"When you feel like you went for so long so well, and then you have something that happens so drastically, for me, I felt like there was something wrong," Magill said. "We were able to work on different hand placements and different pitch selections, and it felt good yesterday, so we'll just keep running with that."
Magill didn't throw his curveball at all in his 12-pitch inning, and relied only on his hard fastball and slider. As a self-described "power pitcher," he felt good about attacking the zone with fastballs and letting his velocity play.
"[We're] talking about another guy with great stuff," manager Rocco Baldelli said on Tuesday. "We see Matty when he's around the zone and making pitches and putting the ball where he wants, it's a difficult at-bat for most hitters."
The successful outing certainly helped Magill's mentality, too. He said during Spring Training that he had struggled with his mental poise and second-guessed himself at times on and off the mound last season. He took it upon himself to seek out articles and books about the mental side of the game during the offseason and said that, as a whole, he feels his mentality has been much stronger this year -- even through the struggles.
"When you have two outings like that happen, and it kind of balloons your ERA at the moment, it's frustrating," Magill said. "But, like I said, failing is a part of the game, and if I don't fail, I'm not trying. That's just part of it, and how do I bounce back? Because that's what this game is about. How do you bounce back tomorrow? And that's why yesterday was so crucial to me. I proved to myself and proved to the team that I'm ready to bounce back, and I'm not going to let those outings hang around me."
When he's at his best, Magill's offerings -- a fastball averaging 95 mph, a slider at 88 and a curveball at 85 -- are among the best in the Twins' bullpen. Now, he just hopes to build off the encouraging inning to put the rough stretch behind him for good.
"It's easy to feel good about yourself when you're going good," Magill said. "When you're going bad, when stuff isn't really necessarily going your way, you have to dig a little deeper, and you have to find what really works for you and you have to figure out what you need to work on. I'm not saying I enjoyed it, but I'm glad it happened because I feel like I've only gotten stronger from it."