Magill rejoins Twins after birth of son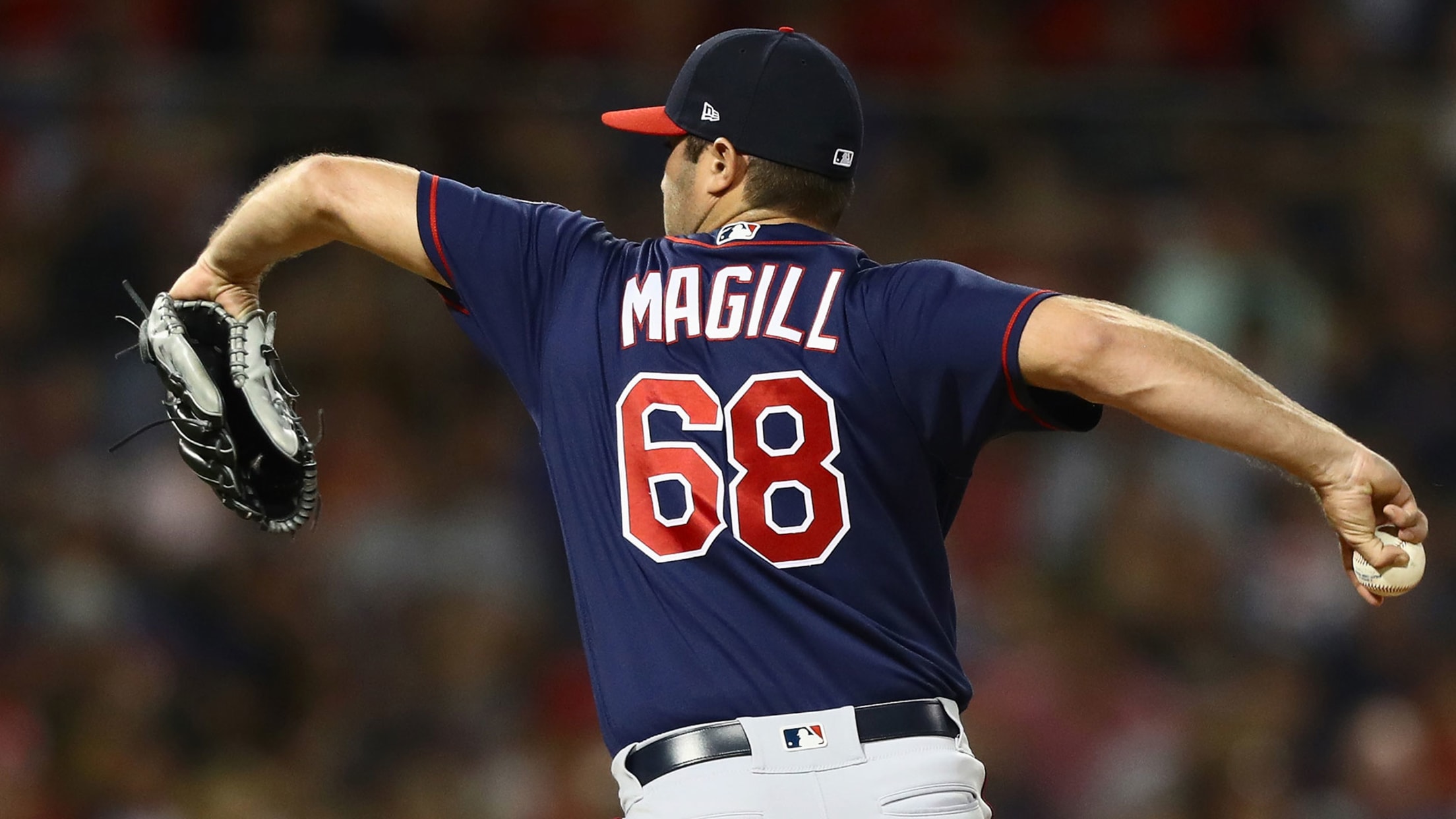 CLEVELAND -- Right-handed reliever Matt Magill rejoined the Twins on Tuesday after missing three games to attend the birth of his son, Maverick, on Saturday. To make room for him on the roster, fellow right-handed reliever Matt Belisle was placed on the 10-day disabled list with right knee chondromalacia, which
CLEVELAND -- Right-handed reliever Matt Magill rejoined the Twins on Tuesday after missing three games to attend the birth of his son, Maverick, on Saturday. To make room for him on the roster, fellow right-handed reliever Matt Belisle was placed on the 10-day disabled list with right knee chondromalacia, which is also known as runner's knee.
Magill, who was reinstated from the paternity list, left Minneapolis on Friday to arrive in time for the birth of his son in San Diego on Saturday. It was the first child for him and his wife, Melissa. He flew on a red-eye flight through Detroit to get to Cleveland, and he has enough adrenaline he doesn't feel tired.
"It went great," Magill said. "He's doing great and Mom is, too. It couldn't have gone any smoother."
Magill, 28, has been solid in relief for the Twins this season, posting a 3.86 ERA with 39 strikeouts and eight walks in 39 2/3 innings. But he's going to see a prominent role down the stretch after the Twins traded away both right-hander Thomas Pressly and left-hander Zach Duke. He's essentially going to take Pressly's former role, according to Twins manager Paul Molitor.
"I think it's time to see what he can do in those type of situations," Molitor said. "The trust has grown throughout the year. As we've lost some people, I've talked to him about using him in higher-leverage situations. He's a right-hander who hopefully gets us big outs, whether it's the sixth or seventh inning. Somewhere along the way."
Magill, who was signed as a Minor League free agent before the season, had previously pitched with the Dodgers in 2013 and the Reds in '16. He spent last season at the Padres' Triple-A affiliate, but was used mostly as a starter before converting full-time to relief this season. He's shown good velocity with his fastball averaging 94.4 mph, while he's mixed in more sliders to go with his curveball and occasional changeup.
"I think the way he's improved his breaking ball is what has elevated his effectiveness against both righties and lefties," Molitor said. "He had that cutter-slider early, but he's kind of added more depth. Basically, it's almost like two different breaking balls now and they seem to be playing better with the combination of velocity that he has."
Belisle, meanwhile, has dealt with this knee issue in the past and will rest his knee after feeling discomfort while pitching against the Indians on Monday. Belisle gave up four runs, including two homers, over two innings in the 10-0 loss. The 15-year veteran has made 19 appearances with the Twins, posting a 9.15 ERA.
"Just a little inflammation," Molitor said. "Gets that hot spot in the knee. I think the outing and the length last night added to the irritation. We talked about it some last night. We're just in a position where we can back you off for a little bit and get you feeling a little bit better so hopefully you finish the season strongly."
Larnach promoted
Outfielder Trevor Larnach, the No. 20 overall pick in this year's Draft, was promoted to Class A Cedar Rapids on Tuesday. Larnach, 21, hit .300/.405/.467 with two homers, four doubles and 15 RBIs in 17 games with Rookie-level Elizabethton. The Oregon State product is Minnesota's No. 6 prospect, according to MLB Pipeline.
Diaz undergoes successful surgery
First baseman Lewin Diaz, the club's No. 16 prospect per MLB Pipeline, underwent successful surgery on his right thumb. He's expected to be cleared to swing the bat in six to eight weeks. The 21-year-old was hitting .224/.255/.344 with six homers, 11 doubles, three triples and 35 RBIs in 79 games with Class A Advanced Fort Myers prior to the injury that saw him get placed on the Minor League disabled list with a right thumb fracture on July 24.