A's reinstate Olson from injured list, option Bolt
Davis (left hip) scratched vs. Reds; Manaea throws off mound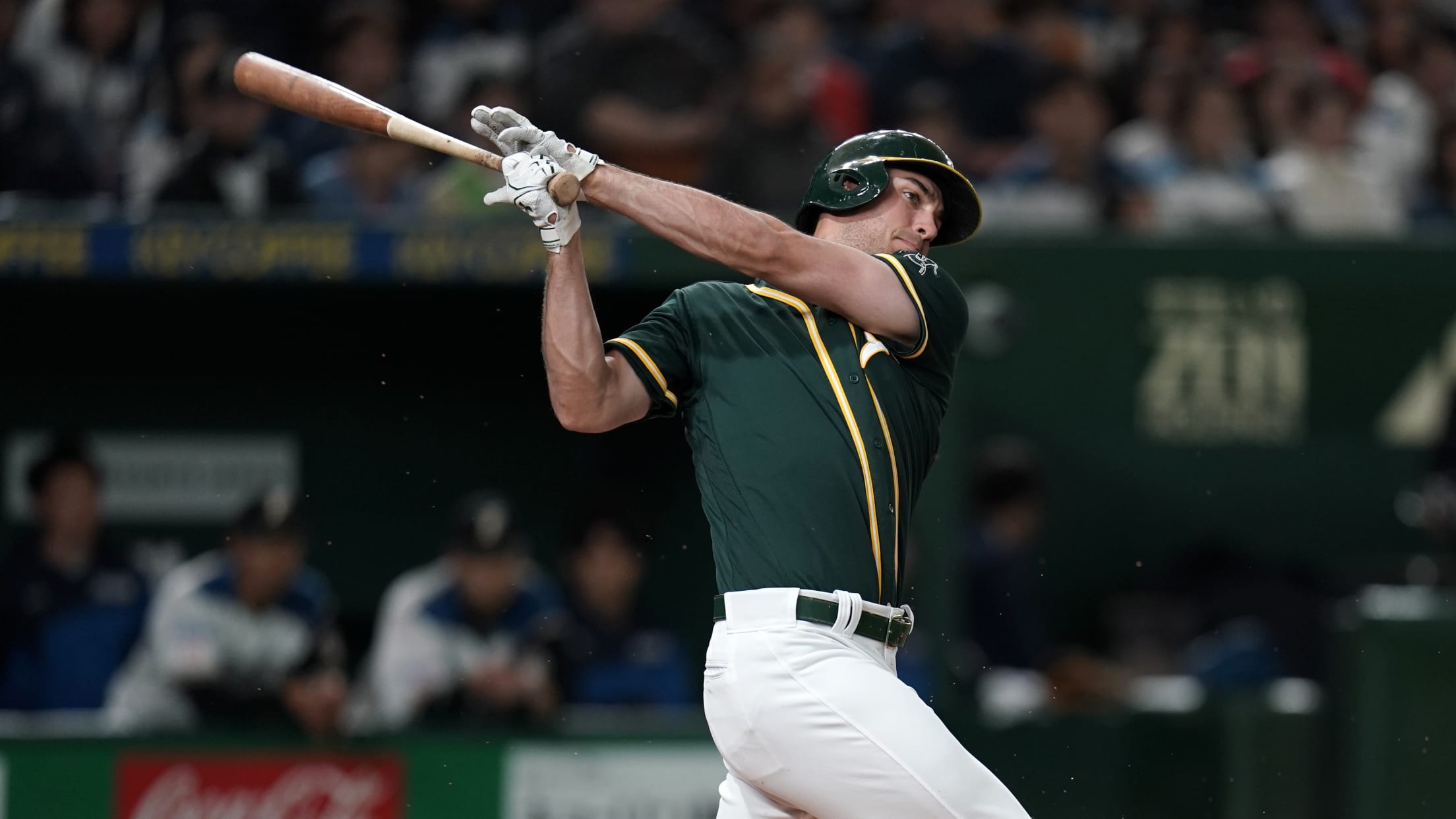 OAKLAND -- When the A's arrived at the Coliseum on Tuesday afternoon for the start of their three-game series with the Reds, they returned home to more than just the comforts of home after a tough road trip. They were greeted with some reinforcements. First baseman Matt Olson was reinstated
OAKLAND -- When the A's arrived at the Coliseum on Tuesday afternoon for the start of their three-game series with the Reds, they returned home to more than just the comforts of home after a tough road trip.
They were greeted with some reinforcements.
First baseman Matt Olson was reinstated from the 10-day injured list and inserted into the lineup, batting fifth. It will be his first Major League game since injuring his hand on a foul tip in his final at-bat of the second game of the A's Opening Series against the Mariners in Tokyo on March 21.
"He's used to the spot," A's manager Bob Melvin said. "We may tinker with the three-spot and move [Matt] Chapman to two at some point, depending on who is pitching. But Olson has been pretty good in the five-spot, so that's where he is."
Coming off a 1-8 road trip, the A's could use a boost. They entered Tuesday with just seven homers since April 23, second-fewest in MLB over that time. After a 2018 season in which he hit 29 home runs and won a Gold Glove Award, Olson certainly brings an impact on both sides. But the A's made sure to communicate to him not to put any extra pressure on himself.
"That was a point that everybody made," Olson said. "Don't let the results speed me up or slow me down. I was listening to my body the whole time, and I'm ready. I think we all believe we're going to turn this around. It wasn't a great road trip, but we kind of had the same thing last year where we didn't come out with the start we wanted."
Olson played in five games at Triple-A Las Vegas last week, going 4-for-22 (.182) with a home run, two RBIs and a walk. His home run, which went the opposite field to left, was a sign that let him know he was feeling fully healthy.
"I think the biggest thing was taking some awkward swings," Olson said. "I can do it in the cage when I'm hitting flips, but I was able to trust it more when I took some swings where I was off-balance and it was still fine."
While Olson is known for driving the ball, he understands that injuries of his kind, which required removal of a hamate bone, can cause a delay in a hitter's power returning.
"It's probably not fully there right now, but it's strong enough," Olson said. "I don't think it's affecting my swing. I'm hitting balls the same as I was in BP. I'm more worried about my swing not being as fine-tuned. If the power numbers aren't there, that's probably the reason."
Outfielder Skye Bolt, who was recalled from Las Vegas on Friday and made his Major League debut in Pittsburgh that night, was optioned to Triple-A to make room for Olson on the active roster. Bolt played in each of the three games against the Pirates, going 1-for-4 with a double. Bolt was batting .325 with six home runs and 27 RBI in 22 games at Triple-A.
Davis (left hip) scratched vs. Reds
Khris Davis was removed from the starting lineup two hours before scheduled first pitch due to a left hip contusion that he sustained in Sunday's loss to the Pirates. Just minutes before the announcement, Melvin said Davis was still feeling the effects of the injury, which occurred after Davis slammed his hip into the left-field wall at PNC Park. Davis wound up leaving Sunday's game.
Manaea makes progress
Starting pitcher Sean Manaea (left shoulder) threw a 20-pitch bullpen session Tuesday, his first off a mound since undergoing surgery last September.
"He threw all fastballs and looked good," Melvin said. "It's kind of the beginning for him. I know he was excited about getting on the mound and we were excited to have him out there."