Shepard set to begin dream job in Tigers booth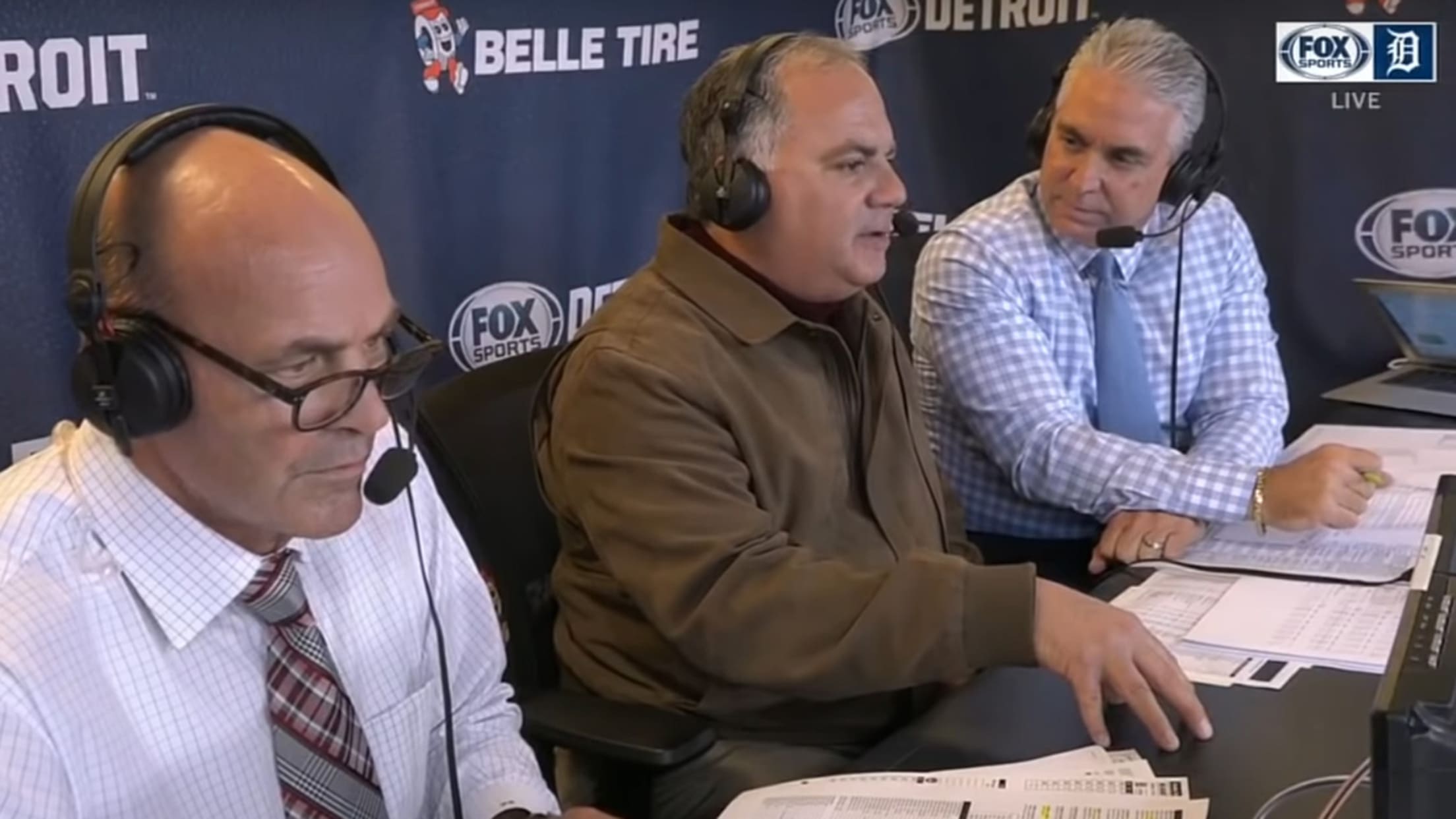 DETROIT -- Matt Shepard was calling baseball games in Detroit when the names on the Tigers were Fidrych and LeFlore and Trammell and Whitaker. The names he was relaying on his play-by-play, however, came from the neighborhood, not the corner of Michigan and Turnbull.The story Shepard tells is of watching
DETROIT -- Matt Shepard was calling baseball games in Detroit when the names on the Tigers were Fidrych and LeFlore and Trammell and Whitaker. The names he was relaying on his play-by-play, however, came from the neighborhood, not the corner of Michigan and Turnbull.
The story Shepard tells is of watching the Saturday game of the week on TV with his father, then going outside with his brother and their neighbors for a pickup game.
"They were the same age we were," Shepard recalled in a video released by FOX Sports, "and they'd say, 'Alright, Shep, give us the play-by-play.' So as we played baseball in the backyard, 2-on-2, the older brothers against the younger brothers, we would call the game."
So when Shepard found out he was the choice to be the play-by-play announcer for Tigers telecasts on FOX Sports Detroit, he fittingly talked to a neighbor.
"We understood how much the Tigers and how much baseball meant to us in our lives," Shepard said on a Tuesday conference call.
"I've wanted to do this since I was 10 years old," said @ShepMatt, who was named play-by-play announcer for @tigers telecasts on FOX Sports Detroit. #Tigers pic.twitter.com/ta6KTP4CGs

— FOX Sports Detroit (@FOXSportsDet) January 15, 2019
Though Hall of Famer Jack Morris and Tigers great Kirk Gibson were the headline names in Tuesday's announcement by FSD introducing its Tigers broadcast team, Shepard is just as much of a homecoming story, except that he has never left. He became a fixture in the Detroit sports media market by doing just about everything, and he is a marvel to others for his ability to balance it all while raising a family.
Shepard has done a bit of everything over the past two decades, from studio shows to pregame and postgame interviews to spot duty on play-by-play across various sports. He has filled in on Detroit Pistons games on the rare occasions when legendary play-by-play man George Blaha takes a game off. He filled in on Tigers broadcasts early last season when Mario Impemba was off.
Shepard's longtime regular beat has been University of Michigan basketball, whose rise to national prominence over the last decade under head coach John Beilein has also featured Shepard's play-by-play calls on radio as the soundtrack. Shepard also has had Eastern Michigan University football play-by-play duties in the fall.
As if all those nights at stadiums and arenas weren't enough, Shepard has hosted a morning radio show for most of the past several years, locally on WDFN and statewide through syndication.
And wherever Shepard has gone to work, he has prepared for each one.
"I've known Shep for many years, listening to him," Gibson said. "He's basically born and raised in the Detroit area as I was. The first thing I noticed is that he's as crazy as I am about his work. Shep is a relentless idea guy. He loves the game and he has passion and he cares about the people and the fans."
Your 2019 FOX Sports Detroit #Tigers Broadcast crew! ⚾️🎙📺🐯 pic.twitter.com/wez3cp9QzF

— FOX Sports Detroit (@FOXSportsDet) January 16, 2019
Shepard has twice been named Michigan Sportscaster of the Year by the National Sports Broadcasters Association. In 2018, he received the prestigious Ty Tyson Award for Excellence in Sports Broadcasting, presented by Detroit Sports Media.
The namesake of the award, Ty Tyson, was the Tigers' first play-by-play broadcaster, calling games for more than 20 years between radio and television starting in 1927. For all of Shepard's success, it's the kind of job that had eluded him until last fall.
Shepard's versatility, his preparation and his previous work on Tigers games made him a fit to step in when FOX Sports Detroit suddenly needed a play-by-play guy on a moment's notice. A postgame incident in early September between Impemba and Rod Allen put an end to what had been a 16-year partnership, but somebody had to call the game the next night in Chicago. Shepard and Gibson made the trip and were in the booth. Though many wondered where Impemba and Allen were, Shepard and Gibson had the game covered, and most of the remaining schedule.
"It was made really easy by our entire FOX Sports Detroit crew," Shepard said. "I'm fortunate to have worked with them on Red Wings and Lions broadcasts. Working with Kirk makes it extremely easy. Dan [Petry] came in the last couple games and was phenomenal with us. It wasn't as much of a whirlwind as people might have thought, because what you're doing is going to the ballpark and being with friends."
.@ShepMatt talks about the responsibility of being the @tigers play-by-play announcer. #Tigers pic.twitter.com/JT7iDOMDHw

— FOX Sports Detroit (@FOXSportsDet) January 15, 2019
FOX Sports Detroit had more than 100 candidates for the play-by-play opening, according to executive producer Jeff Byle, who talked with about half of them. They also had a nationwide list of potential candidates that FOX Sports keeps in a database for such occasions, according to FSD general manager Greg Hammaren. There are only so many play-by-play jobs in the Majors, and this was a high-profile opening in a market where ratings have held up relatively well during a rebuild.
With Shepard, FSD already had a month-long audition not just working play-by-play but also working alongside Gibson and, during a series in Minnesota, Morris.
"The more people I talked to, the more apparent it came to me that Matt was the right choice," Byle said. "It wasn't just his local knowledge. It wasn't just the fact that it was his hometown. Matt's a gifted play-by-play person, and that's going to be shown on a nightly basis through the spring and summer months."
But more than a play-by-play broadcaster, Shepard knows how to work in the studio and the booth. With Byle looking to get studio analysts involved in game broadcasts and create an exchange with all of the analysts, Shepard fit into the plan as somebody who could direct traffic and keep the broadcast flowing.
.@ShepMatt on following in the footsteps of George Kell and Ernie Harwell. #Tigers pic.twitter.com/p7EluxTyHT

— FOX Sports Detroit (@FOXSportsDet) January 15, 2019
Thus, Shepard joins a list of Tigers broadcasters that includes names in the Hall of Fame, notably Ernie Harwell as a Ford C. Frick Award winner. And after building a career doing just about everything, Shepard has the job he grew up dreaming about.
"It means everything to me," Shepard said. "This is the greatest honor I've ever had in my broadcasting career, by far. When Jeff offered me the job, we hugged. It was emotional. I cried. I'm not afraid to admit that."