Shoemaker to visit specialist after setback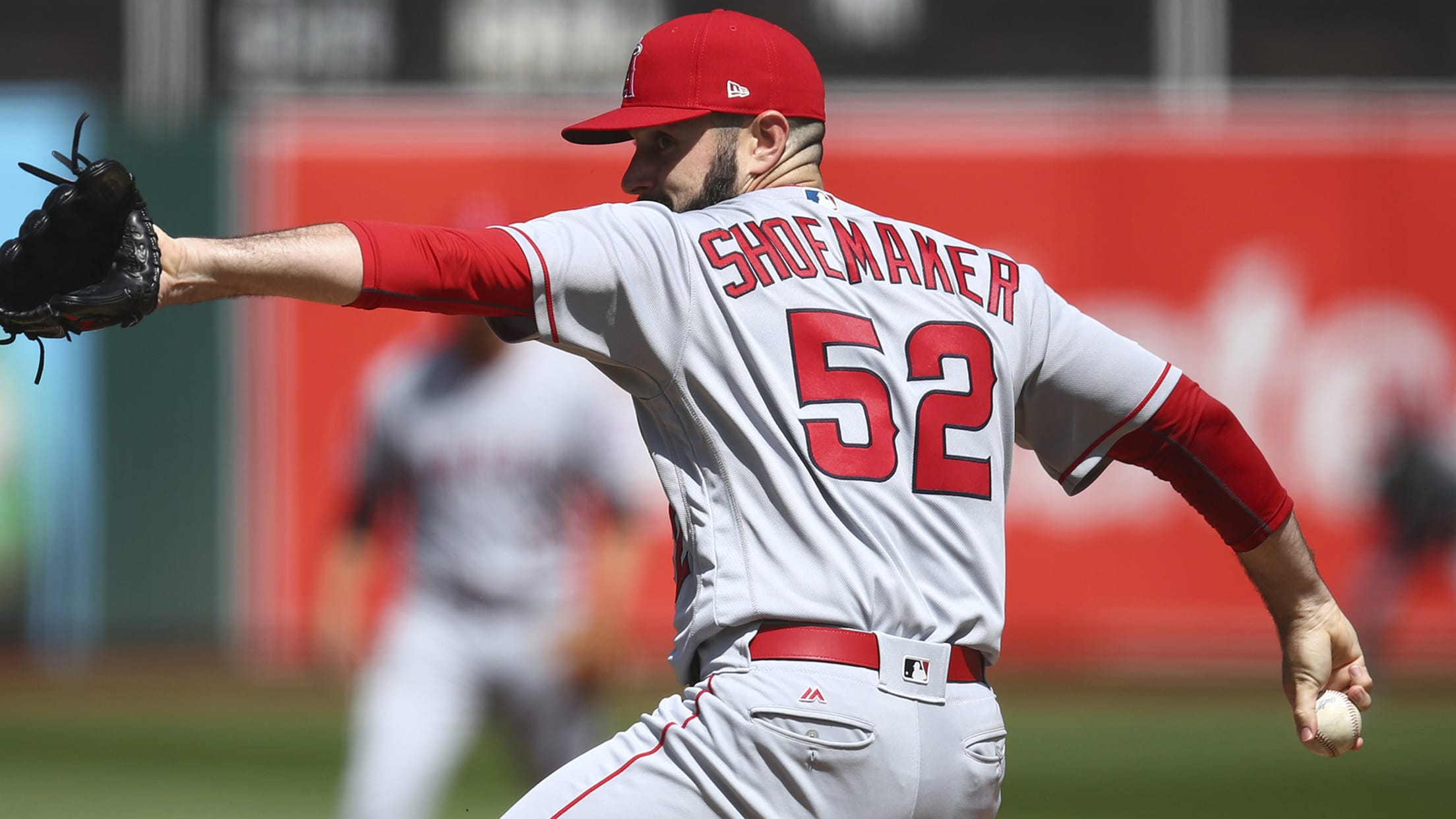 Los Angeles Angels pitcher Matt Shoemaker works against the Oakland Athletics during the first inning of a baseball game on Saturday, March 31, 2018, in Oakland, Calif. (AP Photo/Ben Margot) (Ben Margot/AP)
ANAHEIM -- Matthew Shoemaker's rehab has hit a snag.Shoemaker, who made only one start for the Angels this season before landing on the disabled list on April 3 with a right forearm strain, was shut down from throwing after experiencing renewed discomfort in his radial nerve following a bullpen session
ANAHEIM -- Matthew Shoemaker's rehab has hit a snag.
Shoemaker, who made only one start for the Angels this season before landing on the disabled list on April 3 with a right forearm strain, was shut down from throwing after experiencing renewed discomfort in his radial nerve following a bullpen session on Sunday. Shoemaker's symptoms were not as severe as the episode that triggered his initial DL stint last month, but the Angels still had him undergo another EMG on Monday in a quest for answers.
"That EMG showed some degree of improved healing in the area, not enough for complete resolution," general manager Billy Eppler said. "We're actually planning on sending him to a peripheral nerve specialist in Missouri at some point next week. Hopefully, he'll either provide an additional opinion, or uncover something else."
The setback is a frustrating development for Shoemaker, who felt he was progressing well prior to his bullpen on Sunday.
"Everything felt great until Sunday, when I ramped up for my bullpen," Shoemaker said. "I felt phenomenal. That's what's so frustrating, that it hasn't gone away yet, that the symptoms came back."
It's a similar pattern to what Shoemaker endured last season, when he was also placed on the DL with a forearm issue in June and progressed to pitching in a rehab game before the injury flared up again and stalled his recovery. He then underwent season-ending surgery to release the compressed radial nerve in his forearm.
"It's so hard to predict this," Eppler said. "Nerve injuries, they're very fickle, frustrating. They don't provide you with a lot of answers and timetable, which is what people want. It's really hard to put a finger on how you feel emotionally about this, besides disappointment. The person shouldering the biggest disappointment is Matt right now."
The emergence of rookie right-hander Jaime Barria, coupled with solid pitching from Tyler Skaggs, Garrett Richards, Shohei Ohtani and Andrew Heaney, has allowed the Angels' rotation to absorb Shoemaker's absence thus far. After an uneven April, the unit has finally settled in, posting a 1.87 ERA over the Angels' last nine games entering Thursday. The club's depth should also be bolstered Saturday, when Nick Tropeano (right shoulder inflammation) is expected to come off the disabled list.
"The most frustrating part is not being able to go out there and pitch," Shoemaker said. "I want to be out there more than anybody. We have to figure this thing out."
Middleton activated
The Angels activated right-handed reliever Keynan Middleton off the disabled list on Thursday and optioned outfielder Jabari Blash to Triple-A Salt Lake.
Middleton, who missed nine games with right elbow inflammation, had been the Angels' primary closer before going on the DL. He last pitched April 27 against the Yankees, and he had six saves and a 2.40 ERA in 15 innings over 13 appearances this season.
Manager Mike Scioscia was noncommittal when asked if he would continue to use Middleton in save situations now that he's back.
"There's no doubt that, hopefully, he's going to be back in those back-end situations holding leads, wherever inning that may be," Scioscia said. "We need him. We need that depth."
Calhoun returns
On Thursday, Kole Calhoun started in right field for the first time since last Friday after getting time to "clear his head" following a rough start to the season. Calhoun entered Thursday batting .165 with a .402 OPS in 119 plate appearances.
"Every player that's ever played this game has had those 75-100 at-bat stretches where they're not squaring the ball up the way they can, and maybe hits aren't falling in," Scioscia said. "That happens to the best players in the game. When you first start a season, the way you look at Kole and some other guys that maybe aren't quite where you would expect them to be, your numbers are naked. It stands out there. But I think when Kole finds it, it's all going to be absorbed and be a tough stretch for him."
Wood progressing
Reliever Blake Wood (right elbow impingement) is scheduled to throw off the mound on Friday, and he is close to beginning a rehab assignment, Scioscia said.