Strahm stays in form, will start fifth game
Padres haven't named starting pitcher for third game of season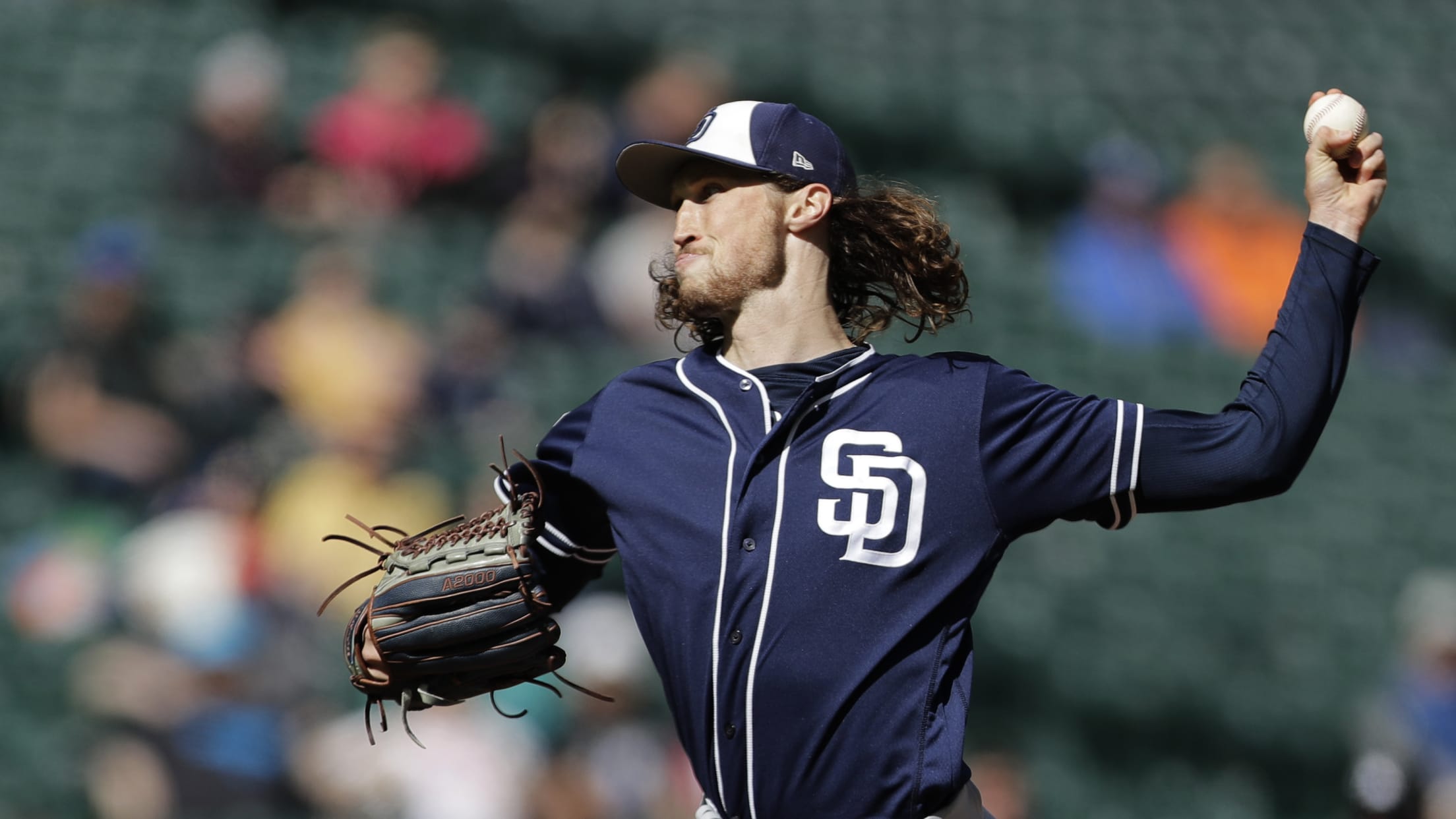 SEATTLE -- The Padres wrapped their Spring Training slate with a 1-0 win over the Mariners thanks to Luis Urías' sixth-inning home run at T-Mobile Park on Tuesday. Meanwhile, they remained mum about who will round out the rotation before they set their 25-man roster ahead of their Opening Day
SEATTLE -- The Padres wrapped their Spring Training slate with a 1-0 win over the Mariners thanks to Luis Urías' sixth-inning home run at T-Mobile Park on Tuesday. Meanwhile, they remained mum about who will round out the rotation before they set their 25-man roster ahead of their Opening Day game Thursday against the Giants at Petco Park. Manager Andy Green also wouldn't specify who will occupy the final bullpen spots up for grabs.
Logan Allen and Cal Quantrill remain the likely options to start Saturday, though neither pitched an entire inning and they gave up a combined 13 runs Sunday in a 24-6 loss to the Cubs, when the club had hoped one would separate himself from the other.
"Working through decisions still," Green said. "Some of them are going to come down to the wire to when rosters have to be set. We're getting more and more clarity."
Left-hander Eric Lauer will start the opener, followed by lefty Joey Lucchesi in the second game. Righty Chris Paddack will make his MLB debut on Sunday and Matt Strahm, who started the tuneup game Tuesday, will start Monday against the D-backs, Green confirmed postgame.
Paddack (No. 5), Allen (No. 12) and Quantrill (No. 12) are among the Top 30 prospects for the Padres' No. 1-ranked farm system, and their development in 2019 will hinge heavily on how far of a competitive climb they make. As for their decision on a starter for Saturday, the Padres are planning to monitor the innings of their young staff carefully and their first off-day isn't until after their eighth game, on April 6.
"You need a number of starters to be good throughout the course of the season," Green said. "It's not five guys. You need seven, eight, nine, and there are a number of guys that are coming. There are a number of guys that look very good and you want to see them stay healthy, and a number of guys where spring didn't go the way they wanted it to go, and it's up to us to weigh out what's best, not just for us right away, but for them and for all of us going forward."
Green also said that the final spots in the bullpen remain uncertain. Eric Yardley (zero earned runs in 10 1/3 innings), Robert Stock (three runs in 9 1/3 innings) and Gerardo Reyes (12 runs in 9 1/3 innings) are vying for consideration, Green said.
Strahm sharp in final start
Strahm struck out half of the 12 batters he faced over three scoreless frames in which he gave up just three hits, capping what was a superb spring. The left-hander secured a rotation spot over a six-outing camp that featured three starts, in which he posted a 2.25 ERA with 25 punchouts in a team-high 20 innings.
Strahm's next regular-season start would be just his ninth. Last season, as he returned from season-ending left knee surgery in July of 2017, the Padres used Strahm almost exclusively as a reliever as a measure of caution. And he excelled, compiling a 2.05 ERA, 0.98 WHIP and 28.2 percent strikeout rate over 61 1/3 innings.
Those numbers could reflect the benefit Strahm had of pitching on back-to-back days just twice. As he enters his fourth season, however, Strahm has been conditioning for a starter's workload, adding roughly 15 pounds to a now 200-pound frame.
"I'm just ready for the season to start," Strahm said. "Nothing feels any different. Last year, when the season ended, talking with Andy before we went home, knowing that I was going to prepare to start for spring, my mindset hasn't changed. So, nothing is surprising to me."
Added Green: "He attacked his offseason. That's something we really value. He went after it hard and put himself in great physical shape. He's taken care of his arm the way we like for him to take care of his arm. He's checked every box all Spring Training."
Up next
The Padres return to San Diego to face the Giants for a four-game series to start the season at 1:10 p.m. PT Thursday. Lauer, 23, will become the second-youngest pitcher in club history to start on Opening Day. Friars fans in San Diego will also get their first glimpse at superstar third baseman Manny Machado, who will make his regular-season debut after signing a franchise-record contract in February.