Padres DFA Szczur, recall Asuaje from Triple-A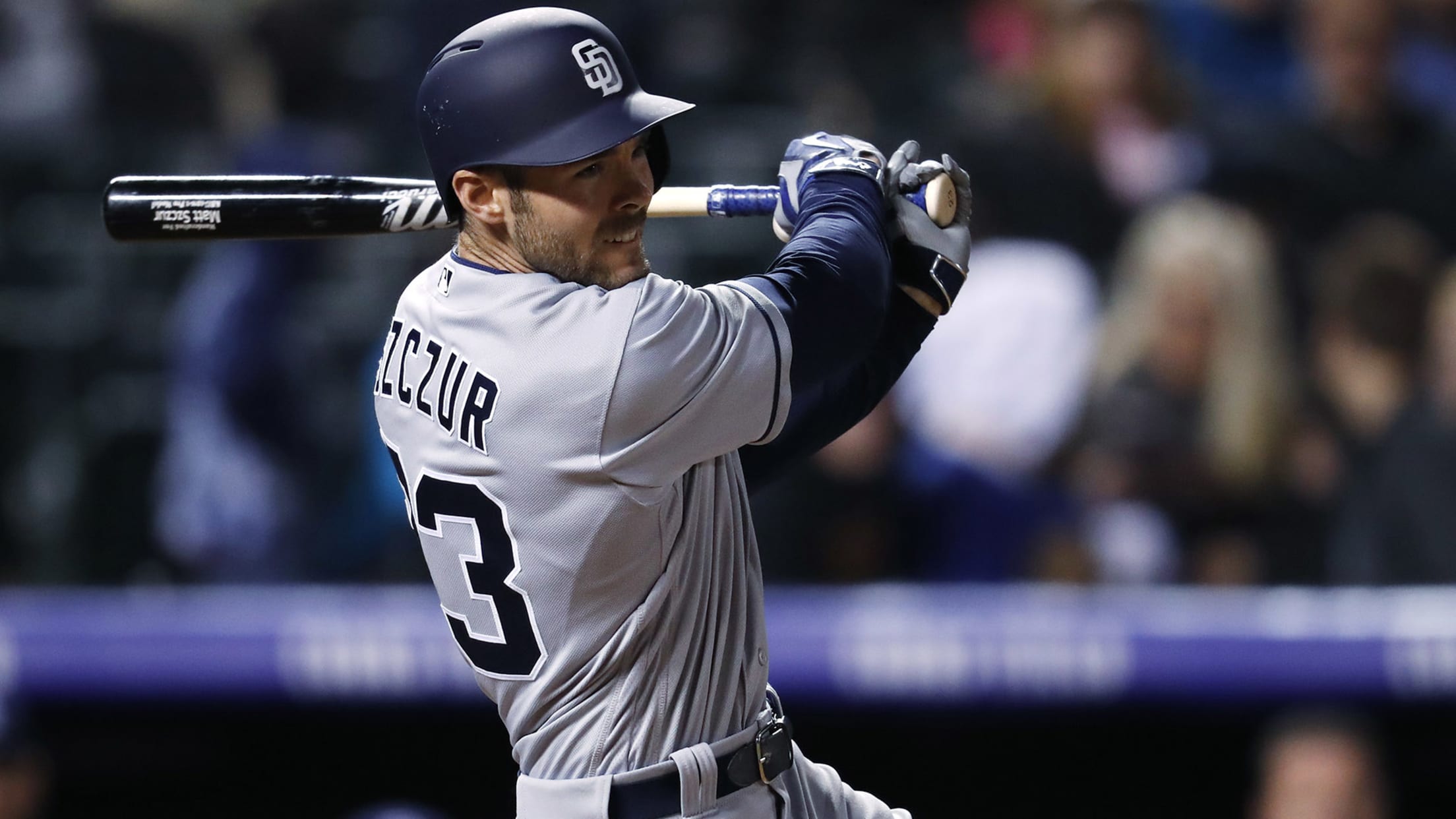 San Diego Padres' Matt Szczur follows the flight of his single to drive in two runners off Colorado Rockies relief pitcher Scott Oberg in the seventh inning of a baseball game, Monday, April 23, 2018, in Denver. The Padres won 13-5. (AP Photo/David Zalubowski) (David Zalubowski/AP)
SAN DIEGO -- When the Padres sent Carlos Asuaje to the Minors in mid-May, they asked him to earn his way back with his versatility and with his bat. He's done just that.The Padres recalled Asuaje from Triple-A El Paso on Sunday after the infielder posted a .338/.408/.492 line through
SAN DIEGO -- When the Padres sent Carlos Asuaje to the Minors in mid-May, they asked him to earn his way back with his versatility and with his bat. He's done just that.
The Padres recalled Asuaje from Triple-A El Paso on Sunday after the infielder posted a .338/.408/.492 line through 35 games in his Minor League stint and hit for the second cycle in the Chihuahua's history on June 16.
Asuaje also received increased playing time at third base, as the Padres expect him to serve in a utility role in the infield.
"We sent Carlos Asuaje down and asked him to do a couple things, and he's done those things very well," manager Andy Green said. "Consistency of playing time while he's here will probably be dictated by performance as much as anything. It's good to get him back."
To make room in the roster, the Padres designated veteran outfielder Matthew Szczur for assignment. They also reinstated infielder Allen Cordoba from the 60-day disabled list and optioned him to Class A Lake Elsinore. Cordoba had been sidelined since Feb. 7, when he sustained a concussion during a car accident.
Green noted that Asuaje's call-up was decided for a variety of reasons, the biggest being that San Diego didn't want to remove one of its younger players off the roster, and Szczur's playing time was already limited.
"[Szczur's] had a tough hand dealt to him," Green said. "He didn't play much, and it just got to the point, with as many outfielders as we have in this organization, that he's kind of been buried in the situation. He was the right guy at this point in time to take off."
When a player's contract is designated for assignment -- often abbreviated "DFA" -- that player is immediately removed from his club's 40-man roster, and 25-man roster if he was on that as well. Within seven days of the transaction (it was previously 10 days), the player must either be traded, released or placed on irrevocable outright waivers.
Szczur was generally a serviceable bench piece, often used as a pinch-hitter, pinch-runner or defensive replacement. But he'd struggled mightily of late, and he's hitting .187/.256/.267 this year. With the return of William Myers to an already crowded Padres outfield, there was simply no room.
"It's a new lease on his career," Green said, noting that if Szczur clears waivers, the Padres will outright him to Triple-A in hopes of getting him consistent at-bats and playing time. "He was kind of stagnating in the spot he was in. There were just a number of guys that were going to get opportunities over him right now."
For now, Asuaje will play primarily second base, although Green mentioned that when the situation calls for it, he has no problem moving him to third. Asuaje's defensive versatility was one of the aspects the Padres had asked the 26-year-old to work on, and he says he's developed "a new skill set" at the hot corner.
"I had played third in the past before," Asuaje said. "It's kind of like riding a bike. I've just been getting back into it."