Halos acquire catcher Stassi from Astros
LA sends Rivas, Uceta to Houston, but Halos unable to land pitching help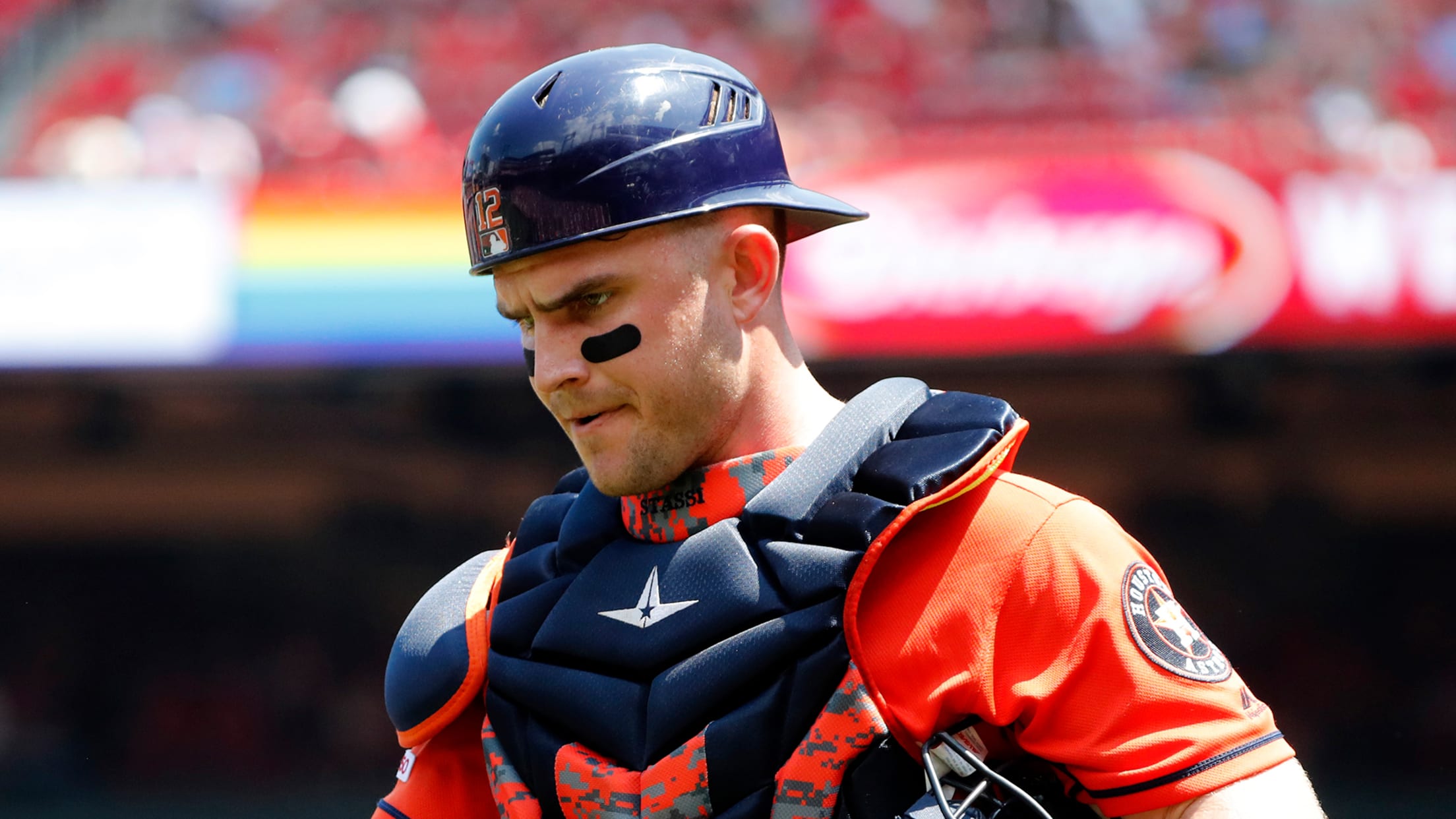 ANAHEIM -- The Angels surprisingly didn't acquire pitching before Wednesday's 1 p.m. PT Trade Deadline, but they did improve their catching depth by acquiring Astros catcher Max Stassi in exchange for Minor League outfielders Rainier Rivas and Raider Uceta. Stassi, 28, is hitting .167/.235/.211 with one homer and three RBIs
ANAHEIM -- The Angels surprisingly didn't acquire pitching before Wednesday's 1 p.m. PT Trade Deadline, but they did improve their catching depth by acquiring Astros catcher Max Stassi in exchange for Minor League outfielders Rainier Rivas and Raider Uceta.
Stassi, 28, is hitting .167/.235/.211 with one homer and three RBIs in 31 games this season. He's played in parts of seven seasons with the Astros, batting .218/.298/.354 with 12 homers, 17 doubles and 41 RBIs in 163 games. But the Angels like what he brings defensively, and he remains under team control through 2022.
"Max brings a pretty impactful defensive ability, which we value and we feel can help some of our pitchers along," Angels general manager Billy Eppler said. "He also has some control into the future, too. While we feel it'll impact our club this year in 2019, we also feel it sets us up in 2020 as well."
Stassi is out of Minor League options, so the Angels will need to carry him on their active roster. They designated catcher Dustin Garneau for assignment on Wednesday with Jonathan Lucroy being activated from the injured list. Kevan Smith could also be designated for assignment with the addition of Stassi. The Astros are playing the Indians in Cleveland, so Stassi will remain there until he officially joins the Halos' roster before the series opener on Friday at Progressive Field.
When a player's contract is designated for assignment -- often abbreviated "DFA" -- that player is immediately removed from his club's 40-man roster, and 25-man roster if he was on that as well. Within seven days of the transaction (it was previously 10 days), the player must either be traded, released or placed on irrevocable outright waivers.
The Angels, who fell to six games behind the A's for the second American League Wild Card spot with their 9-1 loss to the Tigers on Wednesday, were expected to target pitching help, especially with a starting rotation that has had its depth tested with left-hander Andrew Heaney on the injured list with left shoulder inflammation and Matt Harvey released. Lefty Tyler Skaggs also tragically passed away July 1.
Eppler said he tried to acquire pitchers under control beyond this season, but that he simply never found a match.
"We were pretty aggressive," Eppler said. "I think with the National League having a lot of teams that can make a case for making a run or potentially getting in the playoffs, I think some of that supply dried up a little bit. We were in on a lot of arms, some that never got moved, some that did get moved. We were also in on some arms that nobody thought was going to get moved, and a couple of them actually did. Some really young ones."
Eppler noted that outfielder Jo Adell was the only prospect considered off-limits in trade talks, as the Angels believe they have a strong core of position player prospects and were willing to trade from that pool for pitching help.
"If you look at some of the names associated with the top of our farm system," Eppler said, "just about every one of them but one was talked about in some form or another."
Rivas and Uceta are 18-year-olds who were not ranked among the club's Top 30 prospects, per MLB Pipeline. Rivas is hitting a combined .342/.433/.500 in 34 games between the Rookie-level DSL Angels and the Rookie-level AZL Angels. Uceta is batting .278/.341/.373 in 32 games with the Rookie-level AZL Angels.
They aren't the kinds of prospects who would bring back much of a haul, but Eppler hinted that he plans to be much more active in his efforts to acquire starting pitching after the season.
Impending free agent Gerrit Cole, an Orange County native, remains at the top of the Angels' wishlist, and while Houston trading for Zack Greinke and Aaron Sanchez helps its hopes going forward, it also lowers the Astros' chances of bringing back Cole.
"We're going to be in the market for pitching again," Eppler said. "We went into last winter with that same objective, and some of the circumstances guided us away from some players that got bigger deals that we didn't chase. We opted to go a little shorter term with the deals we did do. We will still be in the market for pitching this winter."