Stottlemyre wants to be 'careful' with opener
New Marlins pitching coach seeks to be effective, but allow young starters to develop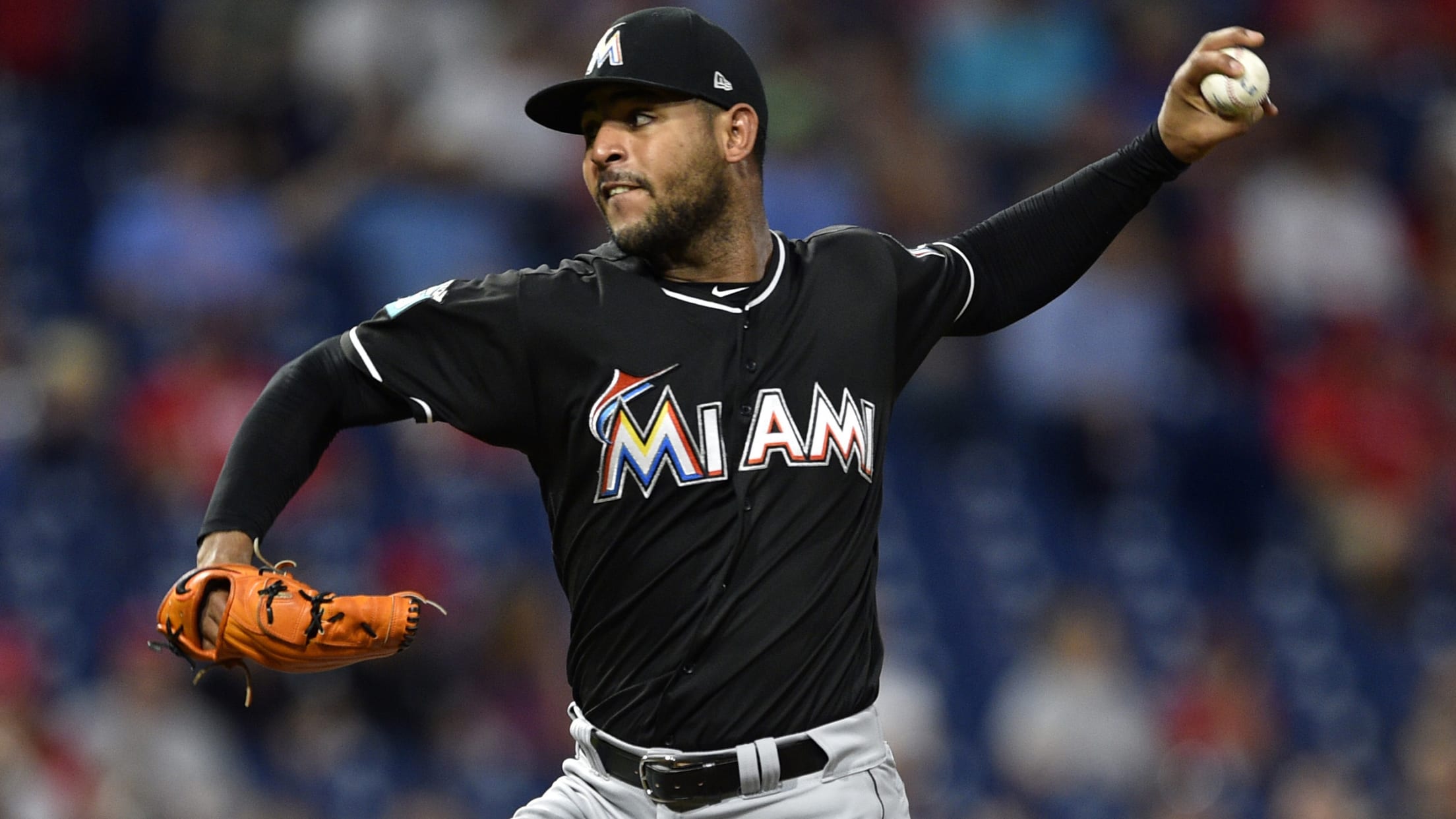 Miami Marlins starting pitcher Jarlin Garcia throws during the first inning of a baseball game against the Philadelphia Phillies, Saturday, Sept. 15, 2018, in Philadelphia. (AP Photo/Derik Hamilton) (Derik Hamilton/AP)
MIAMI -- New Marlins pitching coach Mel Stottlemyre Jr. is taking on the challenge of working with a young staff with an open mind. He's in the process of studying the pitchers, watching video footage and reviewing data, while getting ready to implement his philosophies.Stottlemyre also is on top of
MIAMI -- New Marlins pitching coach Mel Stottlemyre Jr. is taking on the challenge of working with a young staff with an open mind. He's in the process of studying the pitchers, watching video footage and reviewing data, while getting ready to implement his philosophies.
Stottlemyre also is on top of the latest trends in the sport. One that surfaced in 2018, courtesy of the Rays, was the adoption of the "opener," a reliever who would handle the first inning or two before handing the ball off to a starter or long reliever to go deeper into the game.
Would the Marlins consider using an opener, at least occasionally, in 2019?
"We talked about it in my interview process," Stottlemyre said on a recent conference call. "I'm open to it, but you really have to be careful doing that to a young pitcher."
Stottlemyre was the pitching coach with the Mariners in 2018, when his staff used the opener from time to time. He noted they didn't do so when Seattle's best -- Felix Hernandez, James Paxton or Marco Gonzales -- were set to pitch. But there were a few times where they went with a reliever to start a game.
Many teams did, like Seattle's American League West rival, the A's.
"We did a little bit of it in Seattle," Stottlemyre said. "We had some swing guys in there, due to injuries.
"We chose to play matchups, and take your sixth- or seventh-inning guy and run him through the top of their lineup, where history said that player had success against that part of the lineup. We did a little bit of it. Not to the extent of Tampa."
Entering Spring Training, the Marlins have three veterans who, if healthy, should be locks to be in the rotation: Jose Urena, Dan Straily and Wei-Yin Chen.
Rookies Trevor Richards, Pablo Lopez, Sandy Alcantara and Caleb Smith each will be competing for a rotation spot.
Ideally, the Marlins would like to remain traditional when it comes to starters. They want their staff to start and work into the late innings. And they will be guarded with their younger pitchers, not to disrupt their routines.
"You certainly don't want to do that with young, projectable starters, who are going to have a chance to get through the lineup three times, and take opportunity away from their growth," Stottlemyre said.
Stottlemyre's father, Mel, and brother, Todd, were big league starters and innings eaters.
"I was raised in a household where I had a dad who took pride in going deep into games, and a brother who had that same philosophy and approach," Stottlemyre said. "We're still going to train our starters with the mentality to be efficient and try to get deep in games. It's the only thing I know."
The Marlins used 13 starters in 2018, and they logged 835 2/3 innings, which ranked 24th in the Majors. Their staff ERA was 4.34, tied with the Angels for 19th.
Urena, the expected Opening Day starter, led the team in innings pitched with 174. Where the right-hander struggled was going through the order a third time. His ERA in those situations was 6.57, compared to 3.33 the first time and 3.27 the second.
The third time through the order is an issue for many starters across baseball, and it is one reason the opener was implemented. On the Marlins, Chen's ERA the third time through the order was 7.61, while Richards posted a 6.65 ERA and Lopez a 6.46 ERA. Straily, meanwhile, had a 3.90 ERA the third time through, and Smith had a 2.31 ERA.
Because several Marlins starters still haven't established themselves, there could be times an opener makes sense, to perhaps monitor their young starters' innings and put them in the position to best succeed. It could be based on matchups or personnel available.
Right-hander Elieser Hernandez, 23, may profile more as a swingman starter, and he could be a candidate to open. It's the same siutation as left-hander Jarlin Garcia, a starter in 2017 who was mostly used in relief in '18. He has yet to solidify a role, similar to right-hander Merandy Gonzalez. These three, and others, may be more of two- or three-inning pitchers.
Stottlemyre, however, reiterated that many factors have to go into deciding when to use the opener, like if certain starters should be given time to fully develop.
"If this organization can define who those guys are that are going to have an opportunity to impact the organization, and who they are going to be in the future, I would caution against [the opener]," Stottlemyre said.