Errors sting Mets in loss to Brewers
Bench coach Scott on shaky defense: 'I think guys will move on from that'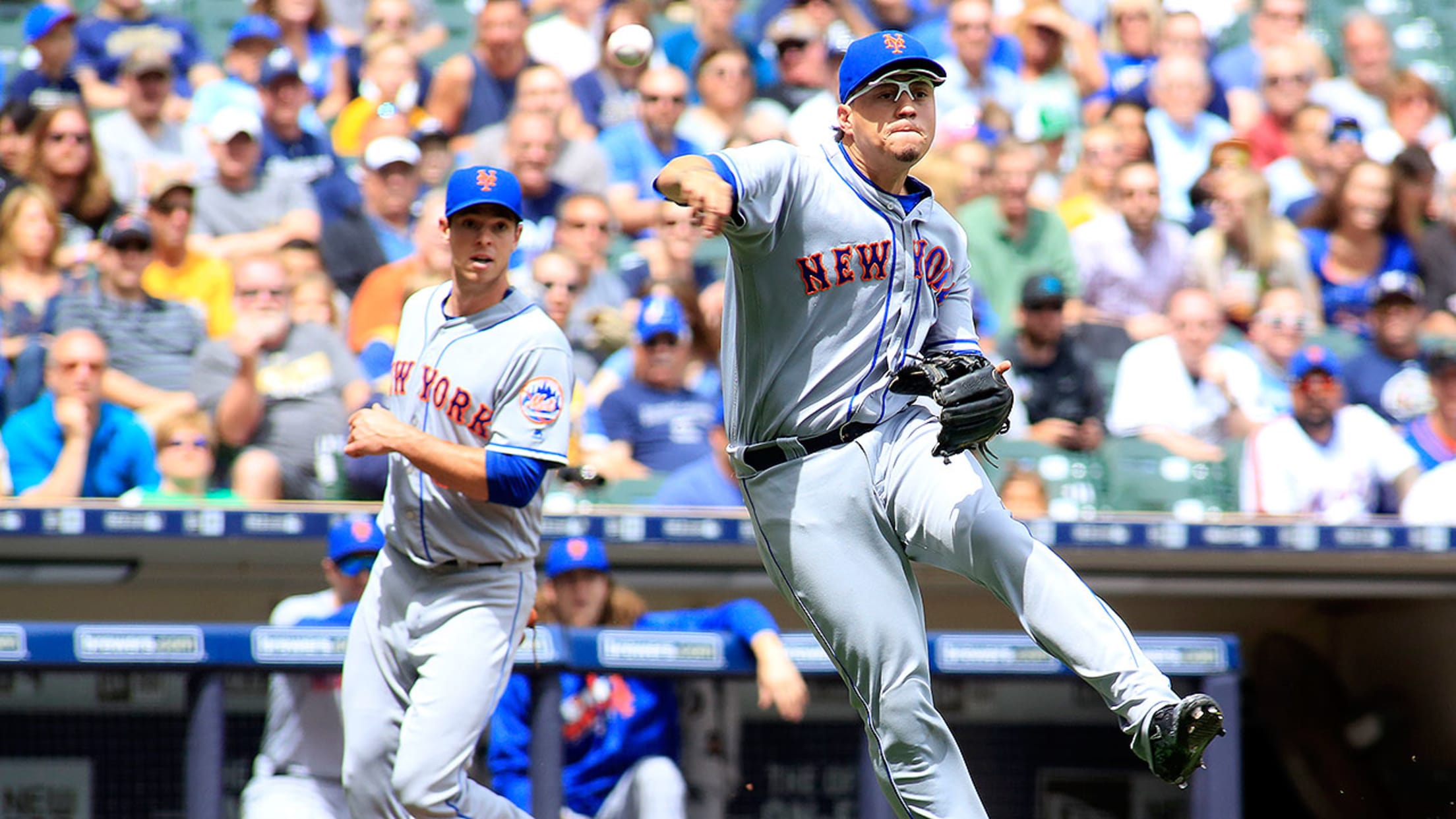 Wilmer Flores was charged with the Mets' third error Sunday. (AP)
MILWAUKEE -- The already road-weary Mets received news of Terry Collins' hospitalization just minutes before taking the field to conclude a 10-game road trip Sunday.Over the first five innings of a 5-3 loss to the Brewers, New York looked like a distracted and tired team.The Mets matched a season high
MILWAUKEE -- The already road-weary Mets received news of Terry Collins' hospitalization just minutes before taking the field to conclude a 10-game road trip Sunday.
Over the first five innings of a 5-3 loss to the Brewers, New York looked like a distracted and tired team.
The Mets matched a season high with three errors, including a throwing error by starter Steven Matz that allowed the Brewers to jump out to an early 3-0 lead.
"I just think guys are human," said Mets bench coach Dick Scott, who served as acting manager Sunday. "We care about the manager. It was on everybody's mind because it was so close to the beginning of the game. I'm sure we'll move on, but first and foremost, all of our concerns are with Terry right now."
In the first inning, third baseman Wilmer Flores couldn't field a ground ball to his left that turned into a double for Ryan Braun. Left fielder Alejandro De Aza then threw wildly to second base, allowing Braun to head to third.
With the Mets trailing, 1-0, in the second inning, Matz threw wildly to first base on a squeeze bunt laid down by Brewers starter Zach Davies, allowing an additional run to score on the play.
"I just didn't get a good grip on it," Matz said. "The ball just cut. It is tough to snag those when they are down in the dirt."
New York's third error came in the fifth inning, when Flores threw away a bunt by Jonathan Villar, which sent Davies from second to third.
The Mets also committed three errors in a game this season during a 6-4 loss to the White Sox on May 31.
"It wasn't great, for sure," Scott said of the defense. "We just turned routine plays into a little bit of a disaster there. It really is the first game we've had like that all year long. I think guys will move on from that."
Despite the three errors, just one of the five runs Matz allowed in six innings was unearned.
The lackluster effort wasn't just on the defensive end, but it also was shown at the plate. After being unable to score with the bases loaded and one out in the first inning, the Mets didn't have a baserunner until Kelly Johnson's leadoff double in the seventh.
"We kind of threw a little bit of a clunker out there early, but we battled back," Scott said. "We had a chance to get back in the game."
Andrew Gruman is a contributor to MLB.com based in Milwaukee.