Born into baseball, Rojas embraces new role
Son of former Expos manager Felipe Alou is following in family's footsteps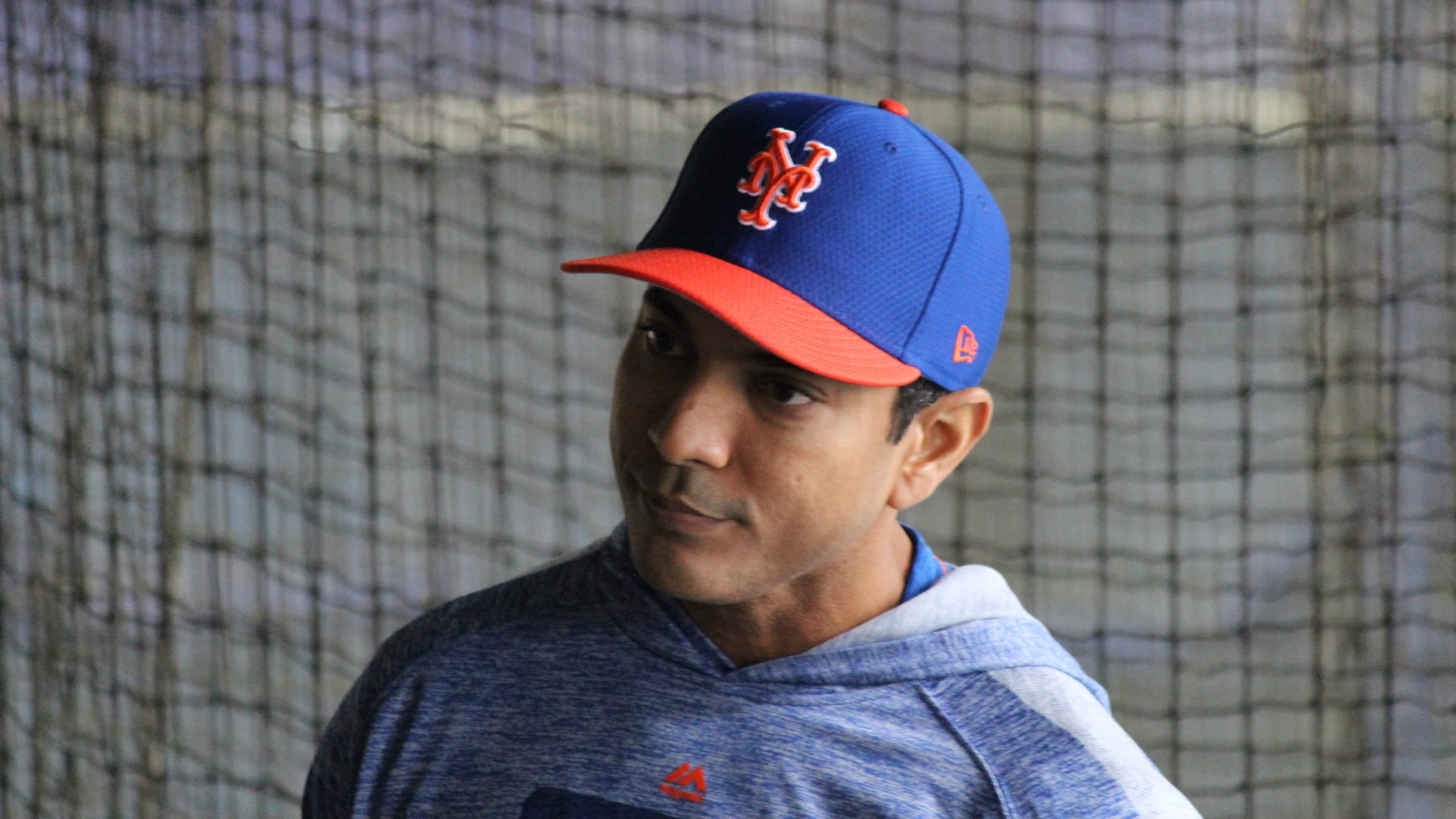 PORT ST. LUCIE, Fla. -- As a teenager, Luis Rojas split his life between countries. Winters he spent at home with his mother in his native Dominican Republic. Summers, he traveled north to Canada to shadow his father, Expos manager Felipe Alou. Rojas took batting practice and shagged fly balls
PORT ST. LUCIE, Fla. -- As a teenager, Luis Rojas split his life between countries. Winters he spent at home with his mother in his native Dominican Republic. Summers, he traveled north to Canada to shadow his father, Expos manager Felipe Alou. Rojas took batting practice and shagged fly balls in a big league park, rubbing elbows with legends from Pedro Martinez and Larry Walker to his own older brother, Moises Alou.
"Growing up in that environment was very impactful, very influential in my baseball growth," said Rojas, whom the Mets promoted this winter to become the first quality control coach in franchise history. "Just being born in a baseball atmosphere, right away opening my eyes on baseball from the beginning of my understanding was just really helpful. Right away, I wanted to follow my brothers' steps. I wanted to follow the family's steps."
His is no ordinary family. Felipe Alou made three All-Star games and managed the Expos and Giants for 14 seasons. Alou's brothers, Jesus and Matty, both excelled in the big leagues, as did his son Moises.
While Rojas (who goes by his paternal grandfather's last name, Rojas, instead of his paternal grandmother's name, Alou), never made it to the Majors, he knew based on his father's experience that he wanted to manage. Immediately upon retiring as a player, Rojas jumped into coaching jobs, including one just up the road from one of his father's early gigs with the West Palm Beach Expos.
"He was always willing to share with us how that grind was," Rojas said. "Some of the things that I witnessed and I picked up influenced my baseball."
In Felipe Alou's day, of course, quality control coaches were still years into the future. That title, which is growing in popularity around the game, has come to define a uniformed liaison between the coaching staff and front office. Rojas will sit in the dugout during games, feeding manager Mickey Callaway information from the team's analytics staff. He will also disseminate information and help players digest it before games, much as analyst T.J. Barra -- who will no longer travel regularly with the team -- did in recent years.
"We feel like the information that is being provided to players can be streamlined, and can be delivered in a more efficient manner," general manager Brodie Van Wagenen said upon promoting Rojas. "And having an extra coach on staff to be able to implement some of the strategies and game plans in-game is really helpful and valuable."
Rojas will also serve as the team's outfield instructor, a role he has already embraced. Before Spring Training, Rojas flew to California to work with Jeff McNeil on his transition to the outfield. Like several young Mets, McNeil played under Rojas each of the past three seasons in the Minors, climbing the organizational ladder alongside him.
He and others describe Rojas as a relationships-oriented coach who accepts feedback as frequently as he offers it. Peter Alonso vividly recalls a day last summer at Double-A Binghamton, when seldom-used infielder Nick Sergakis hit a tape-measure home run off a Hilton Garden Inn abutting the center field fence. Sergakis was ecstatic. Rojas?
"He was jumping up and down, arms waving in the air," Alonso recalled. "I honestly think Luis was happier than Nick."
"That's what we all take from him is just that player relationship," said catcher Tomas Nido, who also worked under Rojas the past three seasons. "He's an amazing guy."
It is the type of mindset that would serve Rojas well one day if he continues climbing the coaching ranks. While many in the organization already look at the 37-year-old Rojas as a future big league manager, he is careful not shift his attention to that goal.
"Right now, that's something that I'm really not thinking of it much," Rojas said. "It's really tough to look that far ahead. I was always taught that way, not to look at something that I want to accomplish other than the job that I have. It's the same thing now. Right now, I'm really focused on helping out the team."