Conforto rides 'Scooter' for Players Weekend
Mets outfielder given nickname by teammates as a rookie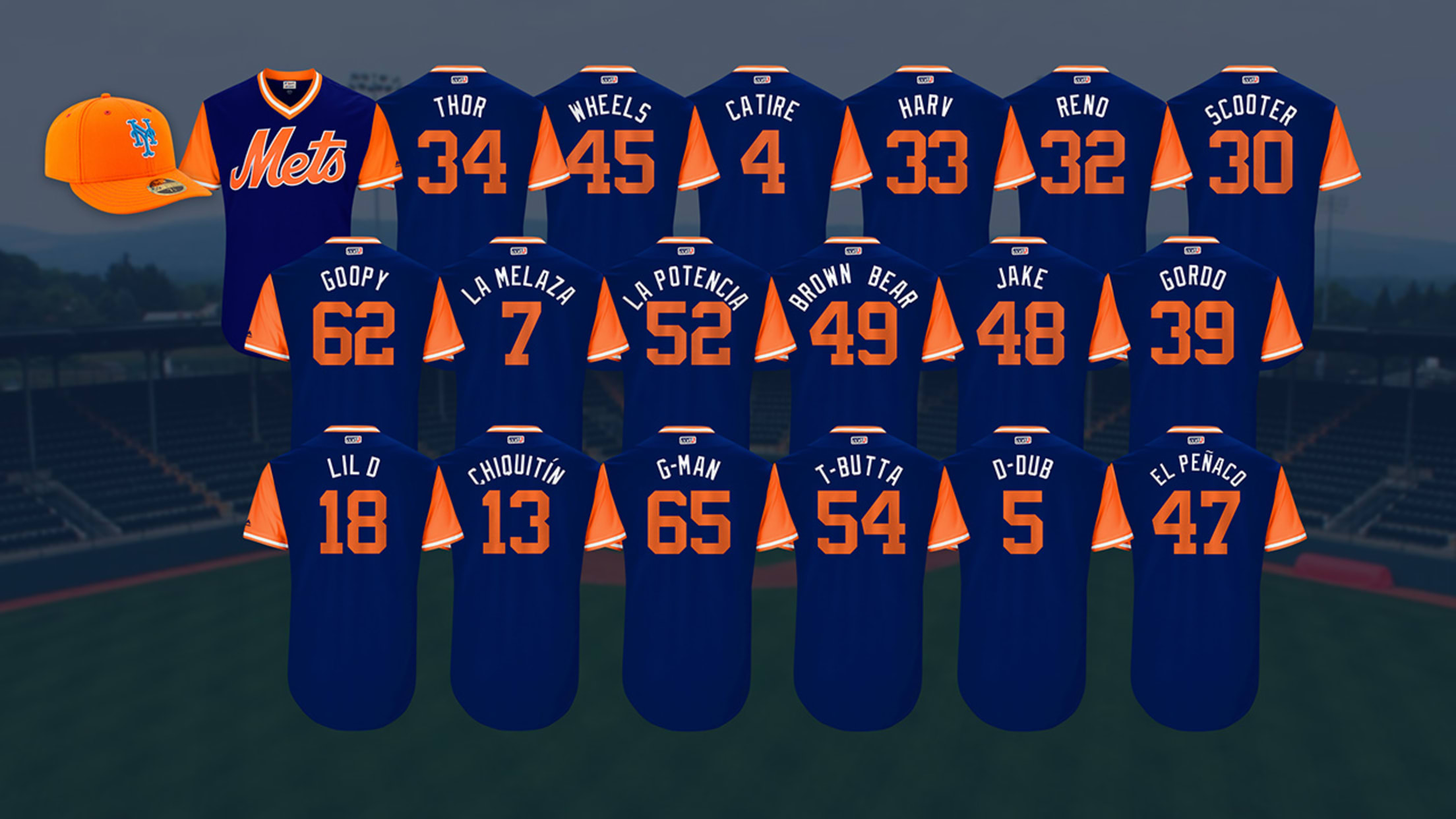 It was shortly after Michael Conforto's big league callup in 2015 that a group of Mets pitchers took it upon themselves to determine what the rookie's nickname should be. Derivations of Conforto's name, such as Forto or Toe, were unacceptable. Hammer, one of Conforto's monikers as a youth, never gained
It was shortly after Michael Conforto's big league callup in 2015 that a group of Mets pitchers took it upon themselves to determine what the rookie's nickname should be. Derivations of Conforto's name, such as Forto or Toe, were unacceptable. Hammer, one of Conforto's monikers as a youth, never gained serious traction.
"We were throwing around bad nicknames and were like, 'Scooter's a terrible one,'" teammate Jacob deGrom said. "So then we just started calling him Scooter."
The nickname stuck to the extent that when clubhouse manager Kevin Kierst began creating a list of names to put on the backs of Mets jerseys during MLB Players Weekend, Friday-Sunday, he defaulted to Scooter. Though Conforto had a chance to choose something else, he has become so accustomed to the name that he signed off on it.
"It's one of those things where when you come up, you don't really get to choose," Conforto said. "So now it's official."
• Players Weekend gear available at MLBShop.com
Of all Mets players, Conforto understands the significance of Players Weekend, which pays homage to Little League and youth baseball initiatives -- partially through colorful uniforms featuring nicknames on the back. Along with Jason Varitek and Ed Vosberg, Conforto is one of three players to appear in the Little League, College and MLB World Series, and is the only player to record an RBI in all three.
"Obviously for me it's special because I had that path," Conforto said. "A lot of guys went through Little League baseball, and that was kind of their first experience with real baseball, not hitting off a tee or coaches pitch or anything like that. So it's cool to pay a tribute to where it all started. I still remember my first home run in a Little League game. I think I still have the ball. So it's just kind of cool that we're honoring that."
• Players Weekend: Nicknames of the game
During Players Weekend, players will also have the opportunity to use custom designed spikes, batting gloves, wristbands, compression sleeves, catcher's masks, bats, New Era caps and Stance socks, and will wear T-shirts highlighting charities of their choice. Their jerseys, which MLB will auction to benefit the MLB-MLBPA Youth Development Foundation, feature white space that players can use to honor family members or coaches who helped advance their careers.
For fans, however, the weekend's foremost highlight may be the nicknames -- particularly the unexpected ones. For every Harv (Matt Harvey) and Jake (deGrom), there is a Brown Bear (Josh Smoker) and a Goopy (Erik Goeddel).
And, forever more, a Scooter.
"It's just one of those things where it was like, I had been up for a week and someone said it and it just caught on," Conforto said. "It's something really, really random."
Added deGrom: "But I'm glad it stuck."