Mets to rely on strong rotation, revamped 'pen
Skipper: 'Our starters are great. Our bullpen's going to be great'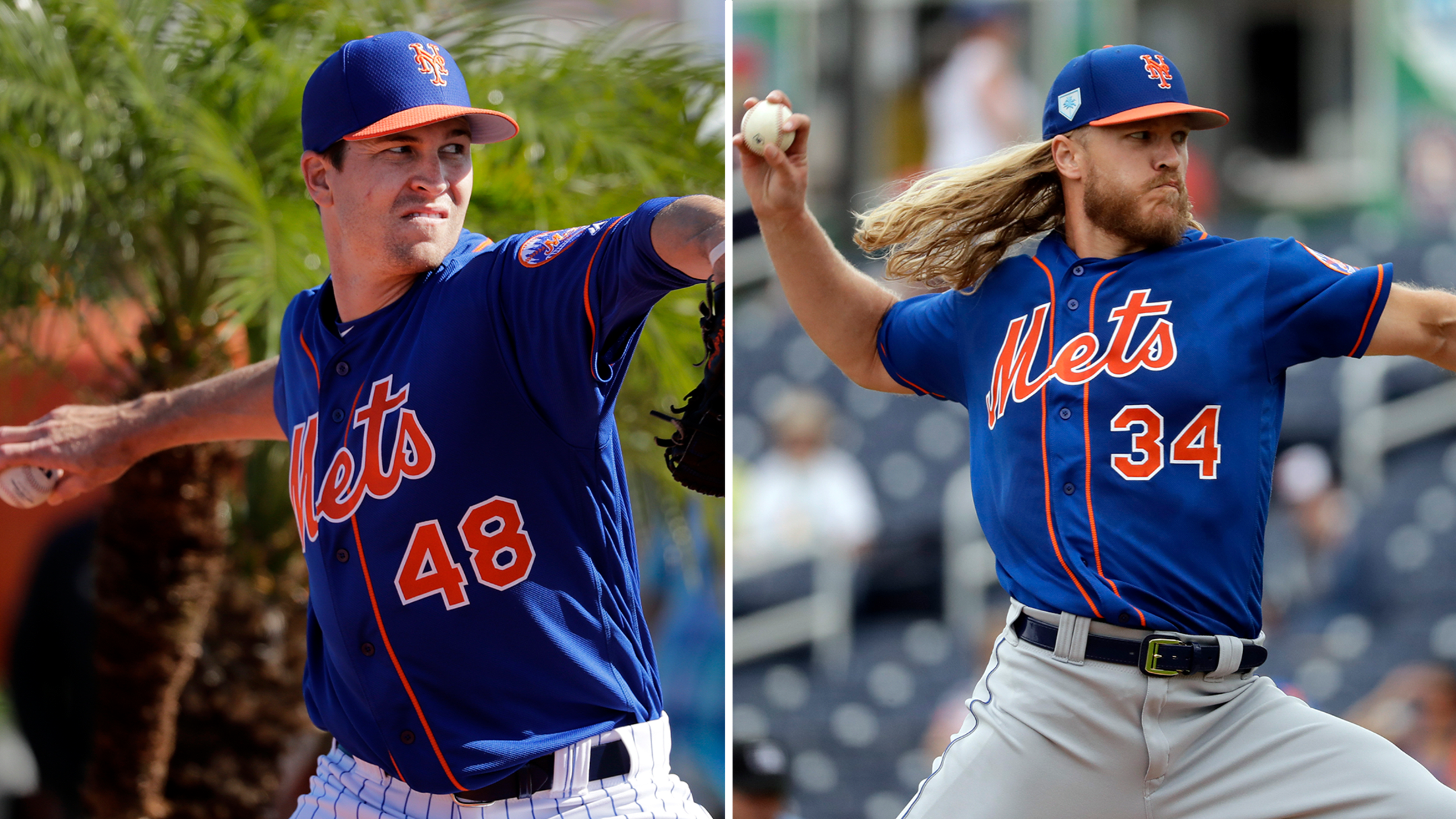 PORT ST. LUCIE, Fla. -- The Mets' path to success this season begins with strong starting pitching, goes from there to a cadre of setup men, and finally to an elite closer. In modern times, that's about as traditional a path to 27 outs as a team can follow, which
PORT ST. LUCIE, Fla. -- The Mets' path to success this season begins with strong starting pitching, goes from there to a cadre of setup men, and finally to an elite closer. In modern times, that's about as traditional a path to 27 outs as a team can follow, which is just fine by the Mets.
"It's a big luxury because we have really good pitching," manager Mickey Callaway said.
Last season, Mets starters threw the sixth-most innings in baseball, averaging a shade under six per game. A healthy season from Noah Syndergaard would likely increase that number, though the Mets' lack of proven rotation depth -- their sixth through 10th starters are mostly a mix of rookies and second-year players -- could harm it.
In any case, New York appears in good shape to receive six-plus innings on most nights. Jacob deGrom averaged 6 2/3 per start last season. Jason Vargas averaged 4 2/3. The rest of the Mets' rotation members should settle somewhere in between.
No longer will outs 19-24 be much of a mystery for the Mets, whose revamped bullpen features a stable of setup men capable of mixing and matching in the seventh and eighth innings. The Mets are comfortable using Jeurys Familia, Seth Lugo, Justin Wilson, Robert Gsellman and Luis Avilán against both left-handed and right-handed hitters, which should result in more clean innings for most of them. With classic lefty specialist Jerry Blevins out of the picture, one-batter relief appearances may go out of fashion in Flushing a year before MLB's new three-batter minimum goes into effect.
Last year, Blevins started his first career game when the Mets faced a pitching emergency. Consider that a one-time deal; the team won't start using "openers" like the Rays or other clubs anytime soon.
"When you start having to do that kind of stuff, you're probably weak in certain areas, so you have to compensate for that by doing something unorthodox," Callaway said. "I don't disagree with it. If you have that kind of personnel and you have to do something like that, you should always do whatever it takes to win. We're in a really good spot. We don't really have to worry about things like that as much because our starters are great. Our bullpen's going to be great. It's less on our plate in that regard."