Mets-Yanks postponed Monday; split DH today
Tanaka faces Wheeler at 1:05 p.m. ET; Paxton vs. Vargas at 7:05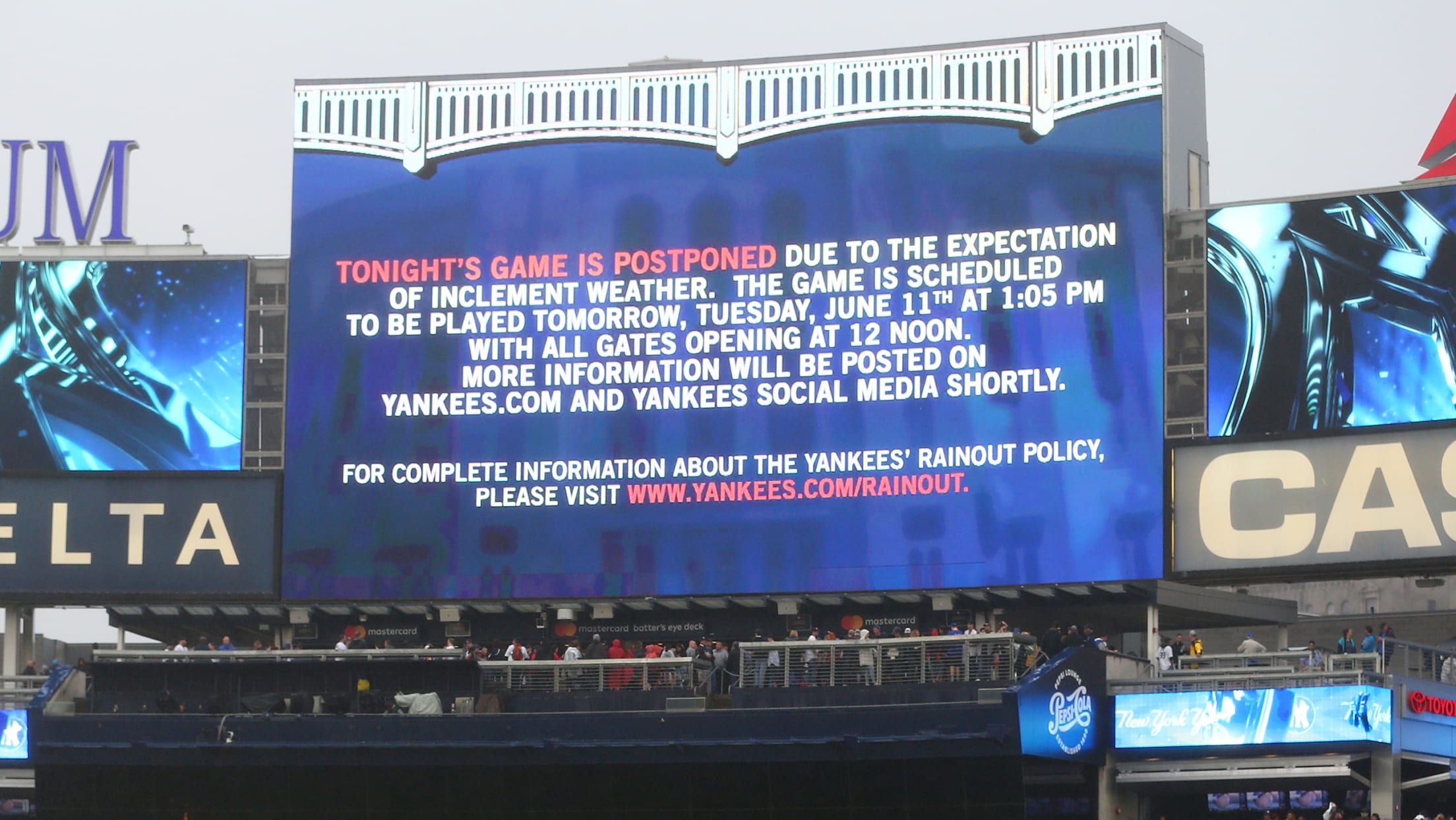 NEW YORK -- Monday's Subway Series contest between the Mets and Yankees at Yankee Stadium has been postponed due to the continued expectation of inclement weather. It will be made up as part of a day-night, separate-admission doubleheader on Tuesday, with the first game set for 1:05 p.m. ET. The
NEW YORK -- Monday's Subway Series contest between the Mets and Yankees at Yankee Stadium has been postponed due to the continued expectation of inclement weather.
It will be made up as part of a day-night, separate-admission doubleheader on Tuesday, with the first game set for 1:05 p.m. ET. The regularly scheduled contest will take place at 7:05.
Masahiro Tanaka will start Tuesday's day game for the Yankees, opposite the Mets' Zack Wheeler. Gates for the first game will open at noon.
In the nightcap, James Paxton is scheduled to pitch for the Yankees and Jason Vargas is set to start for the Mets.
Fans holding paid tickets for Monday's postponed game may use them for the first game of Tuesday's doubleheader or exchange them for tickets to a 2019 or 2020 regular-season game at Yankee Stadium, subject to availability.
Exchanges for these tickets must take place by June 30, 2020, and can be made at Yankee Stadium ticket windows beginning Tuesday at 9 a.m., and at any other times the ticket windows are open.
With respect to tickets purchased through StubHub, please visit StubHub.com or call 866-STUBHUB (866-788-2482) for complete information about StubHub's rainout policies.
Fans holding complimentary (COMP) tickets or those holding tickets obtained via the Commissioner's Initiative for Kids must use them for the rescheduled game. COMP tickets or equivalent tickets bear no cash value and do not have any additional benefits that may be offered to tickets with a dollar value.
For complete information about the Yankees' rainout policy, please visit yankees.com/rainout.