Taylor to miss 'significant amount of time'
MRI reveals sprained left knee, hip for outfielder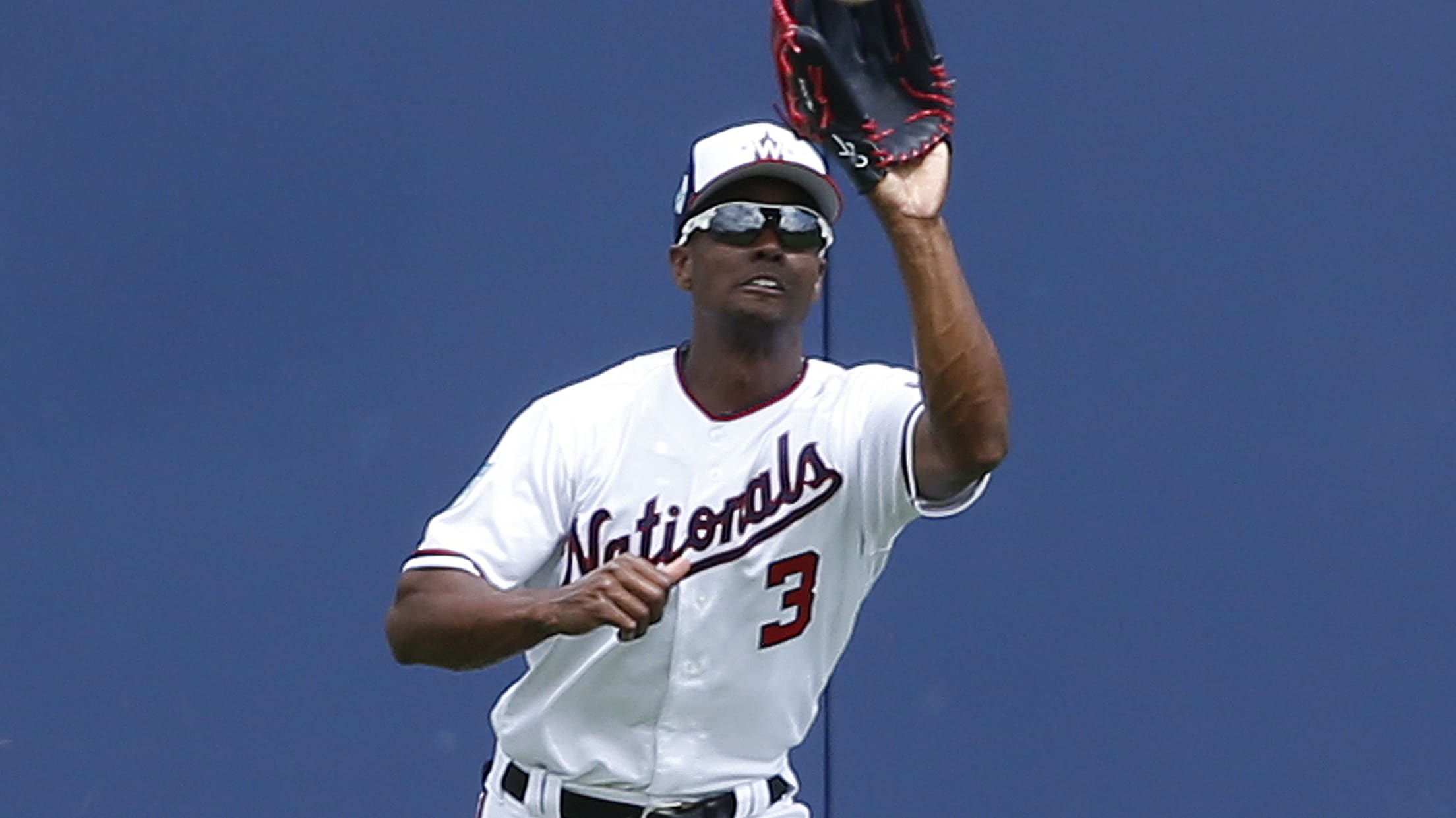 PORT ST. LUCIE, Fla. -- Michael A. Taylor is expected to miss "a significant amount of time" after an MRI exam revealed a sprained left knee and left hip on Friday, one day after he hit the ground hard making a diving catch in right-center field on Thursday. Nats manager
PORT ST. LUCIE, Fla. -- Michael A. Taylor is expected to miss "a significant amount of time" after an MRI exam revealed a sprained left knee and left hip on Friday, one day after he hit the ground hard making a diving catch in right-center field on Thursday.
Nats manager Dave Martinez announced the results of the MRI following Friday's 11-3 victory against the Mets, dealing a significant blow to a Nationals outfield already short on depth.
"It stinks," Martinez said. "It's a little bit more than we were hoping for … he's a big part of our ballclub. So I just hope that he recovers quickly and we can get him back out there as soon as possible."
Taylor still felt sore, and he favored his left knee as he walked through the Nationals' clubhouse on Friday morning after suffering the injury on a diving catch to rob Byron Buxton of extra bases in the second inning. His knee hit the ground hard, the impact of which Martinez said looked "kind of scary," and when he remained down on the ground, Martinez and Nationals head athletic trainer Paul Lessard immediately ran out from the dugout to check on Taylor.
Taylor remained in the game for another batter, but he was replaced in the top of the third inning.
"I think in the moment when your blood's flowing, you don't necessarily feel everything," Taylor said Friday morning. "After I stood around for a little while, it just started to stiffen up, my knee and hip. It didn't seem like the time to push it right there."
The Nationals were counting on Taylor to play a major role for them this season, despite his struggles at the plate in 2018, when in 134 games he posted a .644 OPS. He is still the club's best defensive outfielder, however, with tantalizing power and speed if he can cut down on his whiffs at the plate. He revamped his swing at the end of the season and played winter ball voluntarily in the Dominican Republic to get more at-bats. Martinez had been optimistic in his approach this spring, where he started 9-for-25 (.360) with a home run and a 1.007 OPS, although he has struck out nine times and walked twice.
Taylor had been competing with top prospect Victor Robles for playing time in center field during camp, but Martinez planned to give both players ample playing time, especially considering Adam Eaton will require days to rest after battling leg injuries the past two seasons.
Outfield was perhaps the deepest area of the organization a year ago, but they have lost a good chunk of that depth since. Bryce Harper is in Philadelphia, Brian Goodwin is in Kansas City, and Rafael Bautista tore his ACL in May. Howie Kendrick could play left field, but he is recovering from a left hamstring strain. The Nats have yet to rule Kendrick out, but he will almost certainly not be ready for Opening Day considering he is not running full speed yet and Martinez is hopeful of getting him Minor League at-bats soon.
Matt Adams started in left field Friday, and Wilmer Difo is scheduled to see some action in left and center field during the next few days. Martinez also expects Andrew Stevenson to get more reps in center field in the coming days, considering he is the only other outfielder on the 40-man roster. Stevenson is also the only true center fielder remaining among the group, but he has not yet hit enough (.547 OPS in 94 career games) to warrant consistent playing time.
"We still got some time, and we'll reevaluate here in the next week or so," Martinez said. "Victor is going to play. But when you start a season with just four outfielders, you want a guy who can play center field. So we're going to have to really look for that guy."