Fresh off hearing, Fulmer works with knee brace
Tigers righty has fun with arb experience, aims to reestablish mechanics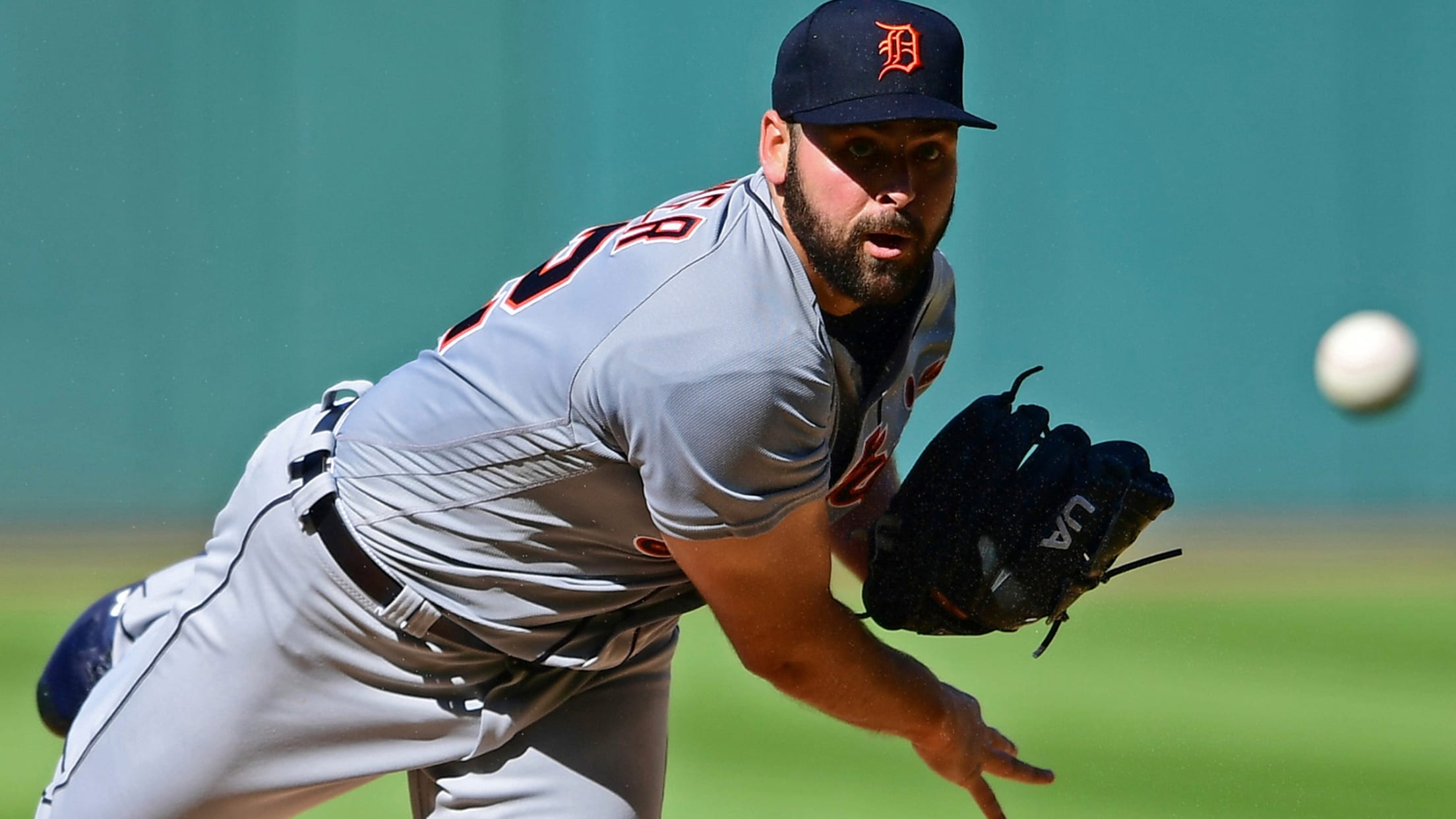 LAKELAND, Fla. -- The Tigers hadn't gone to an arbitration hearing in 18 years. Credit Michael Fulmer and general manager Al Avila for having some fun with the end of the streak.Fulmer was getting ready to head over to St. Petersburg on Tuesday night ahead of his Wednesday arbitration hearing
LAKELAND, Fla. -- The Tigers hadn't gone to an arbitration hearing in 18 years. Credit Michael Fulmer and general manager Al Avila for having some fun with the end of the streak.
Fulmer was getting ready to head over to St. Petersburg on Tuesday night ahead of his Wednesday arbitration hearing when he ran into Avila around the Tigers' Spring Training complex.
"Al asked me, 'Hey, you heading to St. Pete tonight?'" Fulmer recalled. "I said, 'Yessir.' He goes, 'Oh, our guys are, too. You wanna car pool?'"
:: Spring Training coverage presented by Camping World ::
Fulmer paused for a second until Avila laughed.
"I'm like, 'Nah, I'm good, man,'" Fulmer said with a smile.
Fulmer can't get into details about the hearing until a ruling is issued, likely Saturday. He sounded glad to have it over with, but glad to have gone to see the process.
"I didn't say a single word," Fulmer said. "Just sit there and act cool, I guess."
While Tigers officials made their case to an arbitrator why Fulmer should make $2.8 million this year, Fulmer's agents did the same for his submitted figure of $3.4 million. The arbitrator must pick one figure or the other.
Fulmer and the Tigers have insisted the hearing is no sign of any animosity, which is why he and Avila could joke about it. Whatever the ruling, the figure will set a baseline for Fulmer's future seasons, which could conceivably include three more arbitration-eligible years, as well as potential future cases for players.
"Comps are the biggest thing in arbitration, so if a guy signed two years ago for under what he should have, it's going to affect the guys two or three years in the future," Fulmer said. "That's kind of my thing; trying to get fair value."
On Thursday morning, Fulmer was back to work as usual at Tigertown, one of the first arrivals in the clubhouse ahead of the Tigers' second workout of this Spring Training. By mid-morning, he was back on the bullpen mounds, trying to figure out a comfortable delivery that takes the pressure off his surgically repaired right knee.
With formal workouts now underway, Fulmer was in Spring Training game gear rather than workout clothes. The knee brace he has been wearing stuck out from underneath his baseball pants.
Fulmer said he has thrown from a mound with and without the knee brace on. But with Grapefruit League games starting in just more than a week, he's inclined to wear the brace during his starts to help him stay in a safe delivery and avoid undue pressure on the knee, which underwent a meniscus repair last fall.
"I'm going to try it," Fulmer said. "It feels good during bullpens. I don't think it's hindering me too much, if at all. It's getting me more inclined to the mechanics I want. We've already watched hours of video from bullpens and stuff, just trying to see where I am with the brace.
"There's no pain with either [the brace on or off], but with it on, it just kind of helps me reach the mechanics I want to be at. I'm just trying to get that muscle memory. Hopefully whenever we decide to take it off, muscle memory will take over."
Close shave
Though Fulmer was clean-shaven for his arbitration hearing, he said that wasn't the reason he trimmed the beard. Nor did it have anything to do with teammate and throwing partner Daniel Norris shaving his much-larger beard Wednesday afternoon.
"I had the guard on," Fulmer said. "He went with the razor."
Here are @MFulmer12 and @DanielNorris18, probably talking razors. pic.twitter.com/Lhxq8m8ghe

— Jason Beck (@beckjason) February 14, 2019
Castellanos' stance hasn't upset skipper
Manager Ron Gardenhire said Thursday he hasn't talked with slugger Nicholas Castellanos since his agent's request last month that any trade happen before the start of Spring Training. But Gardenhire doesn't expect any issues when Castellanos arrives.
"It's happened to a lot of players on a lot of teams," Gardenhire said. "This kind of thing happens in baseball. That stuff's all just gotta go out the window when we get here. We're just gonna get him out on the field with the rest of them.
"He's my right fielder, and he's just going to go play. That's what we're hoping for. I don't know exactly what his thoughts are. I'm sure we'll have a conversation and go from there. But my goal is to get him in here to camp, get him locked into right field and hope he has a great year -- for our team."
Gardenhire said he has no issue with agent David Meter's comments last month on Castellanos' behalf.
"It's our right in this country to have your opinion and make a statement," Gardenhire said. "He made a statement. It's not because he hates the Tigers. I think he just wants to know what's going to happen in his career."