Fulmer takes arbitration results in stride
Motte visits camp; Perez fighting stomach virus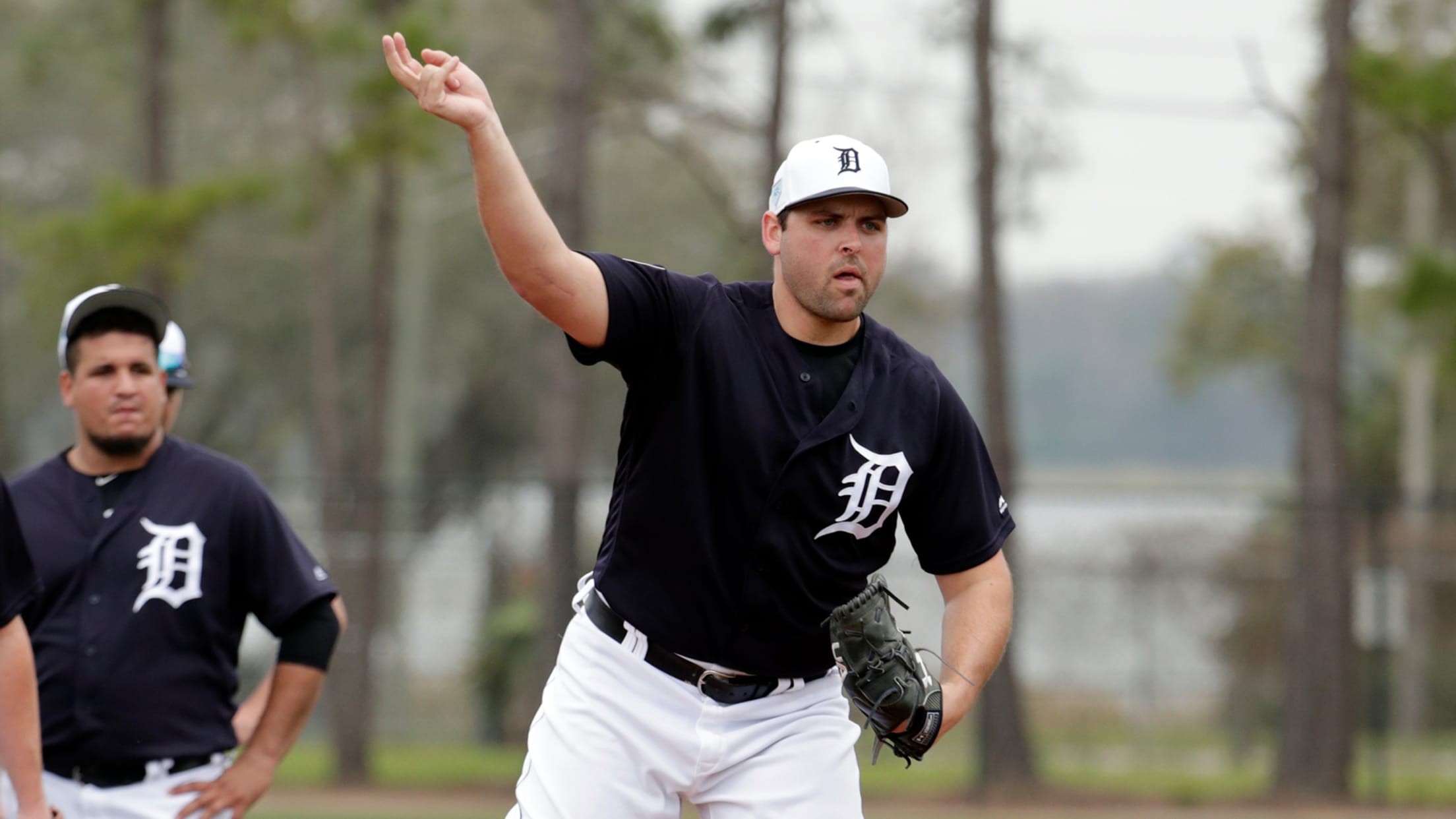 LAKELAND, Fla. -- No, Michael Fulmer is not going to moonlight as a plumber this season after losing his arbitration hearing last week. He also isn't going to hold any grudges against the Tigers, either.As the big right-hander talked Monday for the first time since the ruling, he assured reporters
LAKELAND, Fla. -- No, Michael Fulmer is not going to moonlight as a plumber this season after losing his arbitration hearing last week. He also isn't going to hold any grudges against the Tigers, either.
As the big right-hander talked Monday for the first time since the ruling, he assured reporters there were no hard feelings.
:: Spring Training coverage presented by Camping World ::
"It's just one of those things. It's business. It happens," he said. "We'll just go get 'em this year. None of that has any factor on my mind. I'm not going to complain about my salary. I'm blessed to play this game, and I'm blessed to get paid like we do to play this game. And it is just a game. I'm just excited to go out there and just try to get some more wins. …
"I just keep telling myself that if I want to get more money, I've got to pitch better. Got to get more wins for this team, and that's that we're gonna do this year."
*sits around dinner table*

Soooo, how was the first day of workouts? #TigersST pic.twitter.com/0JyPInbvYY

— Detroit Tigers (@tigers) February 18, 2019
Fulmer was the first player to go to arbitration with the Tigers since Chris Holt in 2001.
The difference in salary came down to $600,000. The Tigers filed at $2.8 million when figures were exchanged last month, compared to the $3.4 million proposal Fulmer and his representatives submitted. There were no negotiations after figures were exchanged, Fulmer said.
Nothing from the Tigers' side in the hearing was particularly rough, Fulmer said.
"We brought up the plumbing thing as a good thing," Fulmer said. "It wasn't anything bad, honestly, and the Tigers were very professional about it. They started by saying they're extremely happy with the way that I performed when healthy, and wouldn't take any of that for granted. I wouldn't badmouth them in any way."
As Fulmer noted beforehand, arbitration cases are based heavily on player comparisons.
"I thought it went really well for us," he said. "I don't know if it was the fact that, statistically speaking, the players usually win about 40 percent of the time. The three guys that went before me -- [Trevor] Bauer, Gerrit Cole and Alex Wood -- all won their cases. We heard that after our case, and it kinda threw a little wrinkle into everything."
Motte reports to camp
Former Cardinals closer Jason Motte was spotted in Tigers camp Monday morning, but he wasn't coming in to pitch for a bullpen job. He's retired now and is making a tour of Major League camps to visit players who support the Jason Motte Foundation, which promotes cancer awareness.
Tigers pitcher Daniel Norris has been the Tigers' representative for the foundation since 2016. Norris underwent treatment for thyroid cancer in '15, and filmed a short video for the foundation on Monday.
"Mainly just thanking guys for what they're doing, for helping us and helping get the word out about who's affected and letting them know they're not alone," Motte said.
Quick hits
• Fulmer was away from the team Friday and Saturday to return to Oklahoma, where his father underwent quadruple bypass surgery. He's doing fine, Fulmer said.
• The only absence from Monday's first full-squad Tigers workout was right-hander Franklin Perez. He's battling a stomach virus, according to Gardenhire.
• With so many free agents still on the market, Gardenhire said the Tigers are still open to adding a player.
"We're still looking on the right side of the infield," Gardenhire said, "and you can never have enough pitching."