Fulmer set to rejoin Tigers' rotation on Friday
Right-hander will face White Sox in first start since July 14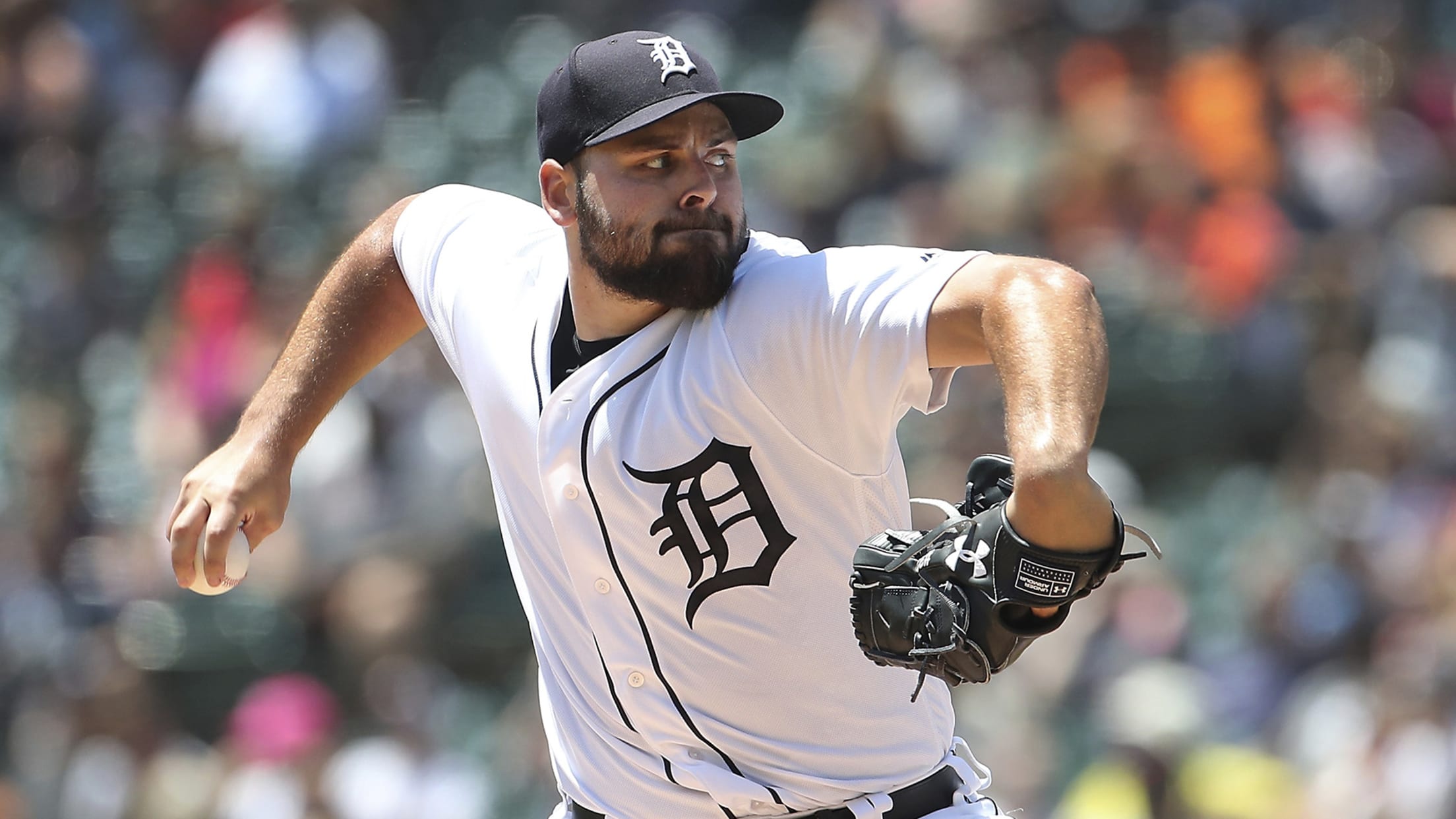 Detroit Tigers starting pitcher Michael Fulmer throws during the first inning of a baseball game against the Minnesota Twins, Thursday, June 14, 2018, in Detroit. (AP Photo/Carlos Osorio) (Carlos Osorio/AP)
DETROIT -- Tigers right-hander Michael Fulmer will make his return from the disabled list and start against the White Sox on Friday night at Comerica Park, manager Ron Gardenhire said before Wednesday's series finale against the Cubs.Fulmer was placed on the 10-day DL on July 20 -- the first day
DETROIT -- Tigers right-hander Michael Fulmer will make his return from the disabled list and start against the White Sox on Friday night at Comerica Park, manager Ron Gardenhire said before Wednesday's series finale against the Cubs.
Fulmer was placed on the 10-day DL on July 20 -- the first day out of the All-Star break -- with a left oblique strain he sustained while throwing a bullpen session. Fulmer made two rehab starts with Class A Advanced Lakeland, where he threw six scoreless innings with 11 strikeouts, while getting his fastball up to 98 mph. His last start for the Tigers was on July 14 against the Astros.
Gardenhire said Fulmer will be limited to around 70 pitches on Friday.
"He feels great," Gardenhire said. "Everything's went great. He's passed all the tests. That's the right thing to do with him."
Before the oblique issue, Fulmer was tweaking his delivery -- trying to throw through his fastball, rather than getting on top of it -- and he emphasized repeatedly how much better he felt. Fulmer said on Wednesday that he feels as good as he did before the injury.
Gardy talks September callups
When Major League rosters expand from 25 to 40 on Sept. 1, the Tigers could promote around 10 players, according to Gardenhire.
Gardenhire has a complicated relationship with the expanded roster. On one hand, it does serve its basic function of allowing teams to look at players who wouldn't otherwise be able to crack the typical 25-man roster.
"I think the September callups are good because you get young kids," Gardenhire said. "That's what they're supposed to be about. You get kids some experience in September."
The callups also allow players to begin their service time. A player is eligible for free agency after accruing six years of service at the Major League level, with 172 days counting as "one year."
With the lack of position players in general on the Tigers' 40-man roster, Gardenhire suggested an emphasis will be placed on pitchers the club wants to see. That isn't a guarantee the Tigers will call up a starter.
"If you have six guys that you really want to see, we can do that," Gardenhire said. "But you're gonna mess with a couple guys that we want to keep [in a five-man rotation]. Like Fulmer, you don't want to [mess] around with him. [Matthew Boyd], we'd like to keep him on five."
'Boydism' engraved on T-shirts
Waiting for players when they walked into the clubhouse on Wednesday were T-shirts with Boyd's smiling face on the front and a quote of his on the back.
"This is what I trained for. I am programmed to do this."
The quote comes from a plea Boyd made to Gardenhire to stay in a game against the Twins during his start on Aug. 12. Boyd said he doesn't recall saying it, but the lesson was learned.
"You say something stupid around him, he's going to take it down," Boyd said.
Worth noting
• Gardenhire said JaCoby Jones will have a three-game rehab stint with Triple-A Toledo starting on Friday. The outfielder has been on the 10-day DL since Aug. 13 with a right hamstring strain.
• When Blaine Hardy comes off the 10-day DL (left elbow tendinitis), Gardenhire said there is talk of moving him to the bullpen and keeping Ryan Carpenter in the rotation. Hardy, who said he felt good after throwing a bullpen on Wednesday, began the season as a reliever, but he has become part of the Tigers' rotation numerous times as it's dealt with injury issues.
Tyler Fenwick is a reporter for MLB.com based in Detroit.