Young cancer survivor designs shirt for Kopech
9-year-old helps White Sox pitcher with charity campaign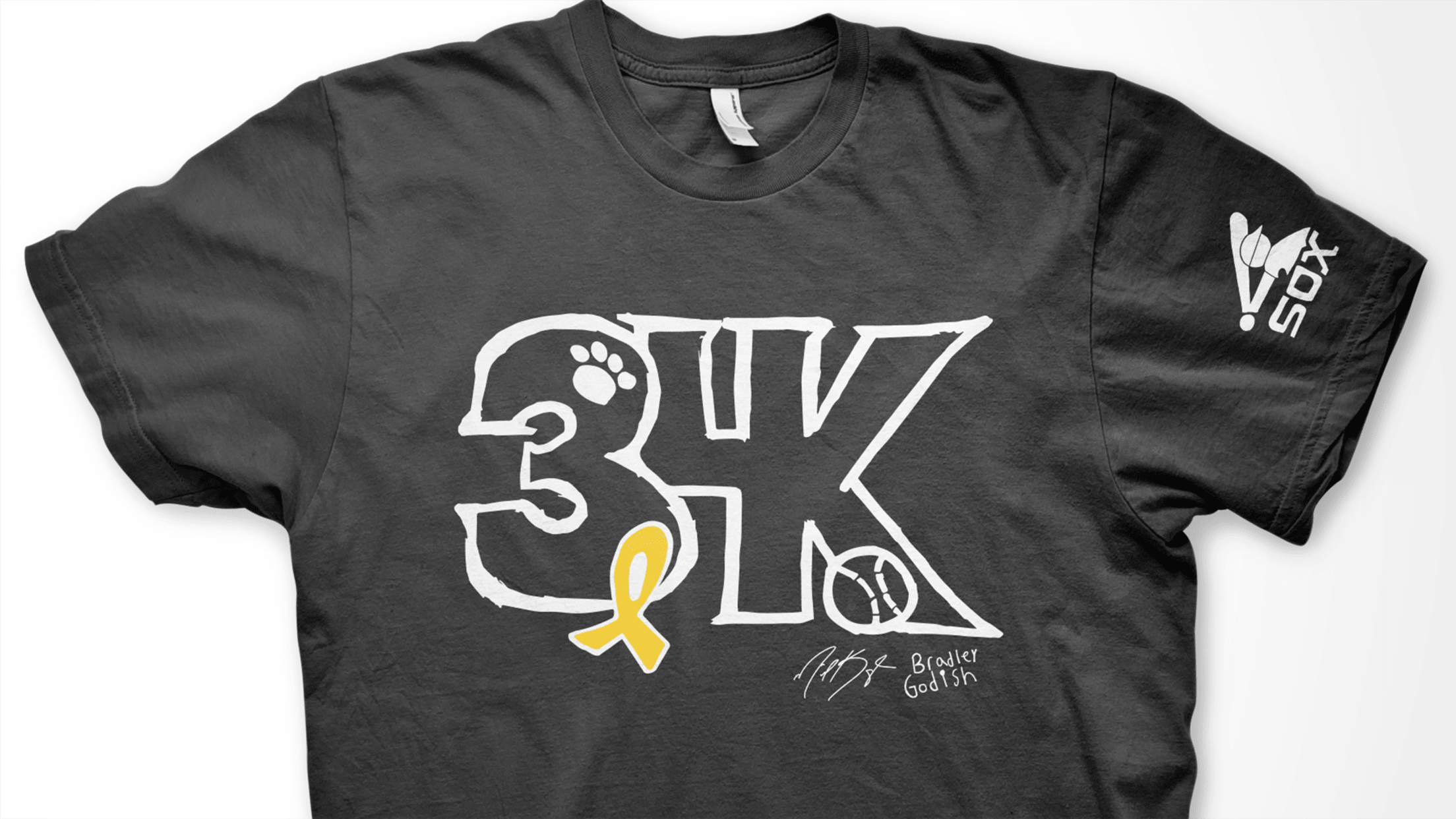 CHICAGO -- It was about two years ago when White Sox pitcher Michael Kopech met Bradley Godish and his family during a visit to the Ronald McDonald House in downtown Chicago. Now, the two are linked, with Godish, who is 9 years old and in fourth grade, designing the T-shirt
CHICAGO -- It was about two years ago when White Sox pitcher Michael Kopech met Bradley Godish and his family during a visit to the Ronald McDonald House in downtown Chicago.
Now, the two are linked, with Godish, who is 9 years old and in fourth grade, designing the T-shirt for Kopech's Big Kut charitable campaign. Godish drew the number 34 and a K, including a baseball and dogs, on the shirt commissioned by the White Sox.
"He's done a little bit of interviews and everything," Kopech said during a Thursday evening conference call. "I think he's the coolest kid ever really, and it's been fun to put him in the spotlight for this situation.
"Bradley just was a kid we already had connections with, and I wanted the shirt in particular to be something that represented the cause more than just another shirt. The White Sox actually had the idea of reaching out to Bradley and having him design it. Obviously, it has taken off from there."
Kopech's Big Kut charity sweepstakes supports Ronald McDonald House Charities (RMHC) in Chicagoland and Northwest Indiana and Chicago White Sox Charities. As part of the effort originally launched in honor of Childhood Cancer Awareness Month, Kopech has pledged to grow out his hair through the end of the year to donate for natural-hair wigs for children who have lost their hair as a result of cancer treatment.
You heard the guy. Help @MichaelKopech5 support Ronald McDonald House Charities and @soxcharities! ✂️

🔗: https://t.co/Np2cgkQcBg pic.twitter.com/EY8UAsBR7G

— Chicago White Sox (@whitesox) September 9, 2019
Godish was at Wednesday night's game vs. the Indians with his family. He was diagnosed with leukemia at the age of 4 and received a stem-cell transplant from his twin sister, Charlotte. He is now in remission.
When Kopech and Godish first met, they played Wiffle ball on the White Sox field at the Ronald McDonald House. Godish was in attendance for Kopech's MLB debut in 2018, receiving the baseball from one of his first strikeouts, and visited with him at SoxFest 2019
"He really seemed attached to me and Carson [Fulmer] in particular. That moment stuck with me," Kopech said. "We've met a few times since then. There's a genuine connection there, but we are definitely going to make sure he stays involved for a long time."
Bradley, you're amazing buddy! ❤️ https://t.co/Umw2q0MNxV

— Kopech (@MichaelKopech5) September 26, 2019
Rain, rain, go away
Friday's forecast calls for rain beginning in the morning in Chicago and lasting all day, which could hamper the scheduled doubleheader between the White Sox and Tigers. First pitch for the first game has been moved up to 3:10 p.m. CT, and the White Sox now have "TBA" listed as their probable starter for both games because of the inclement weather possibility. Ivan Nova was originally listed to pitch Game 1.
"Honestly, it just depends on the window of time that we have to play games," White Sox manager Rick Renteria said. "If the windows are questionable, I'd be hard pressed to try to throw my starter out there to go.
"We might go with an opener and then go with the bullpen side of it and see where we're at. If we have a good enough window and the climate shows we're capable of getting through a ballgame, we'll go back to your normal, traditional starter out there and let him do his job."
Third to first
Outfielder Eloy Jiménez, battling through an ear and throat infection, was available in an emergency Thursday night. But Renteria hoped Jimenez would be ready to go Friday.
If Friday's doubleheader gets rained out, don't look for White Sox shortstop Tim Anderson, the Major League batting leader entering Thursday, to play in all four remaining games if there were doubleheaders Saturday and Sunday.
"He's thinking about just hitting his way through," Renteria said. "Realistically, it depends on how many games we're playing in the next few days."
They said It
"I don't think any organization places a limit on what they think an individual can do. Most relievers have all started as starters. In order for him to maximize what we believe he's capable of doing, the starting role is where we're at with him right now. I don't see the other, at this point." -- Renteria, on Kopech being a starter when he returns after undergoing Tommy John surgery last September
"Being part of the rotation is just going to be a relief once I'm able to work my way back there. First things first, I have to come to spring and compete for that job." -- Kopech, on his future return