Kopech describes spring throwing 'progression'
Delmonico exits after collision; Rodon pitches well vs. Brewers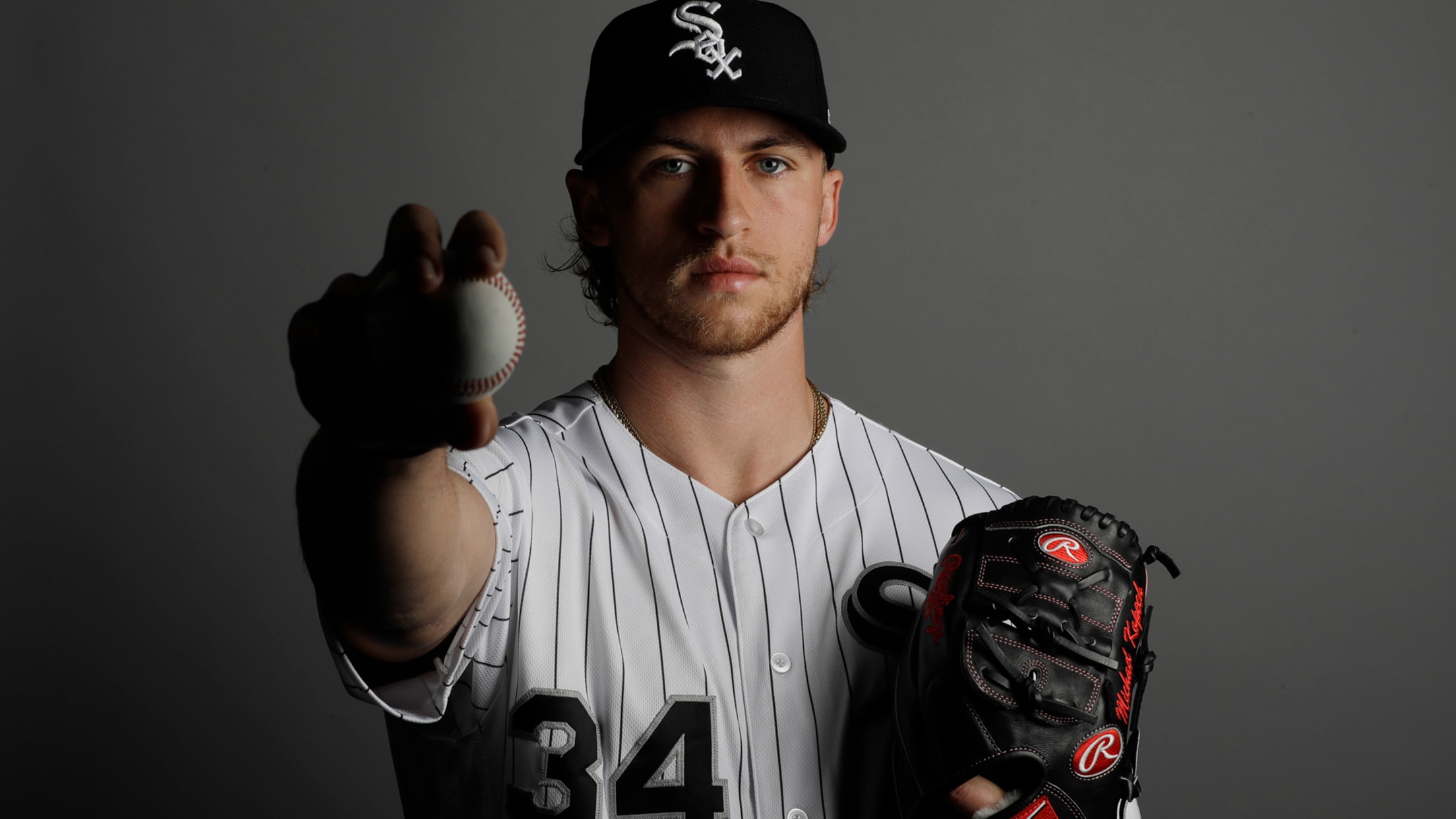 GLENDALE, Ariz. -- Michael Kopech has a somewhat far-reaching dream for the end of the 2019 season. It involves a White Sox postseason push and the right-hander on the mound. "I kind of joked around and said if we made a playoff push, I'm going to start throwing my name
GLENDALE, Ariz. -- Michael Kopech has a somewhat far-reaching dream for the end of the 2019 season. It involves a White Sox postseason push and the right-hander on the mound.
"I kind of joked around and said if we made a playoff push, I'm going to start throwing my name back in there," a smiling Kopech said. "That would be great, but I don't know if that will happen. We still have a good staff, we have a good team, and if we do make the playoff push, I'm sure they will be fine without me.
"But it gives me something to look forward to for next year. I know that if I come in prepared like I try to every year and healthy, then that will set me up for a good year."
In reality, Kopech's next time on the mound in game action will be Spring Training in 2020. But he continues to work his way back from Tommy John surgery to repair an ulnar collateral ligament tear.
Kopech throws Monday, Wednesday and Friday and is out to about 35 throws at 60 feet. He is able to get more extension and actually feel his arm more. His next step is 75 feet, then back to 90 and then 120. That progression is followed by flat grounds and bullpens, which are still a ways away per Kopech.
"It doesn't sound like much, but it's a progression," Kopech said. "I feel like I've come a long way, even though it hasn't been very far yet. I'm not going to try to rush it by any means, but at the same time, I feel good where I'm at.
"The rehab itself isn't very difficult. The time off and watching everybody play and knowing that I don't get to do what I love the most for a year, that's the tough part. It's just keeping myself busy, working hard to get back, but at the same time not dwelling on the fact I'm not going to get to play."
Delmonico exits with injury
Nicky Delmonico entered the White Sox 9-5 victory over Milwaukee on Thursday at Camelback Ranch in the seventh inning and departed two batters later when he ran into the left field fence tracking down what would become Manny Pina's inside-the-park homer. The team announced Delmonico was undergoing MLB's concussion protocol.
The gate in left gave way and opened as Delmonico made contact with it. He fell awkwardly and was eventually carted off the field. Delmonico tried to walk but looked dazed and needed help getting to the cart.
"From what we heard, he hit the gate so hard that it popped the gate. Broke it," Brewers manager Craig Counsell said. "And then there was an exposed pole that he hit his head on pretty good. Pretty scary. The guys in the bullpen said he hit his head pretty hard."
Rodon looking smooth
Carlos Rodón became the first White Sox starter to work four innings in 2019 Cactus League action, allowing no runs on one hit and striking out three. Rodon threw an efficient 55 pitches and guessed 11 of them were sliders, wanting to mix in a few more changeups next outing.
"It feels good. It feels normal," Rodon said. "Spring Training is a little more relaxed, even though we try to go out and compete. Today was fun."
Robert feeling good, relieved with thumb improving
Luis Robert doesn't believe a jammed left thumb sustained in last Saturday's intrasquad game was due to a head-first slide. He blamed going on instinct and stealing a base he probably shouldn't have, especially without wearing his protective glove at the time.
"But if you remember, I hit two triples and I slid head-first and nothing happened," Robert said through interpreter Billy Russo. "Those are things you can't control.
"I like to do the head-first slide, because I think I can reach the base sooner or faster. That's part of my game. That's the way I feel comfortable, sliding into the bases. If I have to make an adjustment, I will do it. But those are things you decide right away when the situation is there."
Robert took regular batting practice on Thursday and hopes to get back into action Friday. He'll be wearing protective gear under his mitt in the field and on the basepaths.
Palka getting close
After being sidelined since leaving early from the Padres game on Feb. 24 with a tight left hamstring, Daniel Palka struck out looking as a pinch-hitter in the eighth inning against the Brewers. White Sox manager Rick Renteria plans to use Palka at designated hitter and gradually get him back into the field.
They said it
"[I'm] just getting healthy and doing the things I need to do to be ready to go when the season starts." -- catcher Seby Zavala, who could be back this weekend after being out since Feb. 24 with a left quad strain.
Up Next
Manny Bañuelos gets his third Cactus League start when the White Sox travel to Tempe to take on the Angels on Friday. Banuelos, who is in competition for the fifth starter's slot or a bullpen job, walked four in the first inning against the Cubs last Sunday. Jimmy Lambert and Jace Fry also are scheduled to pitch against the Angels. First pitch is scheduled for 12:10 p.m. CT, and the game can be watched on MLB.TV.