Lorenzen to get chance to start for Reds
Right-hander has pitched exclusively in relief for past three seasons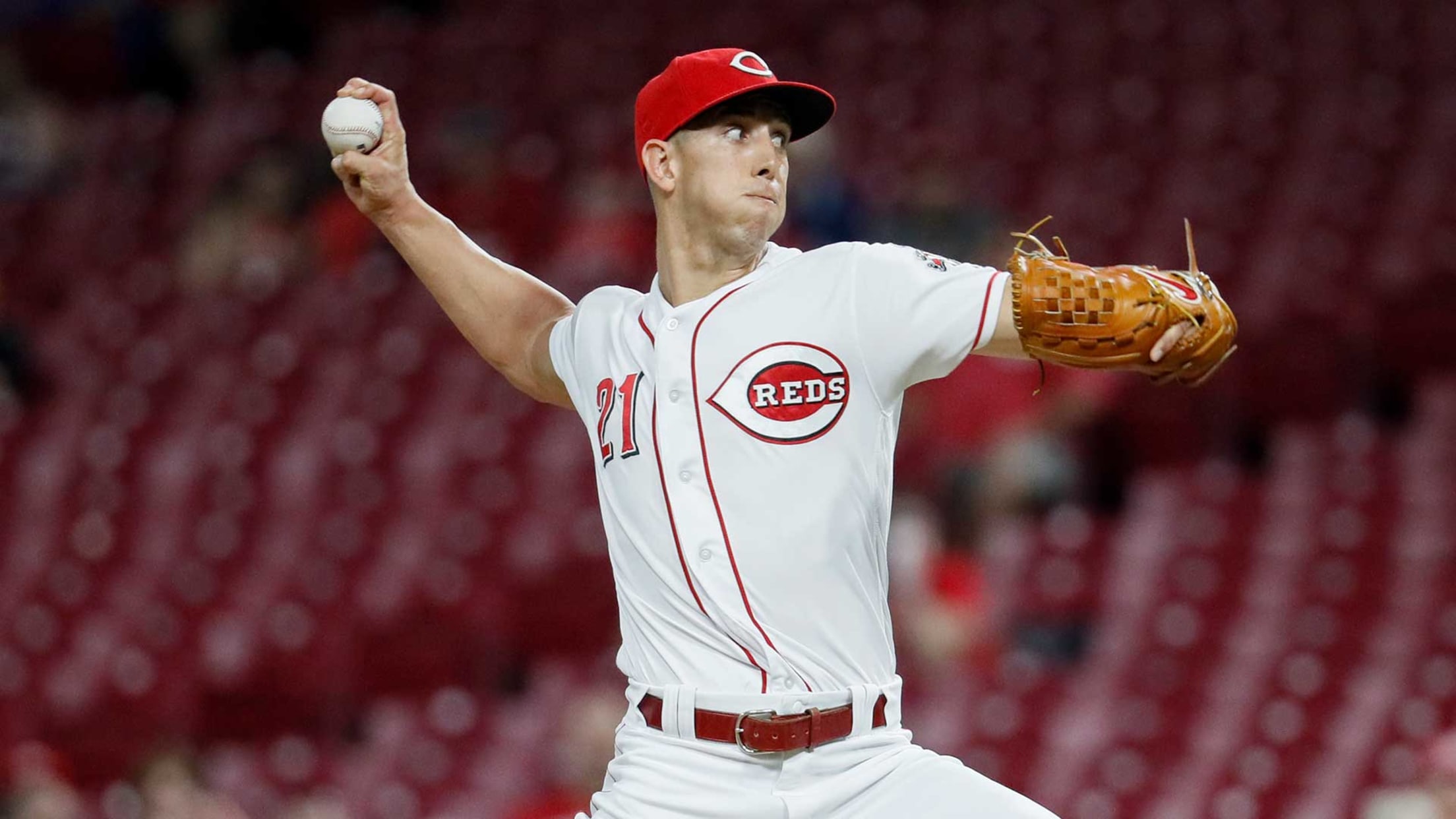 CINCINNATI -- Reds pitcher Michael Lorenzen's longtime itch to start again is about to finally be scratched. A reliever the past three seasons, Lorenzen will get the chance to start on Tuesday vs. the Brewers.Interim manager Jim Riggleman told Lorenzen the news on Friday and announced the decision on Saturday."It's
CINCINNATI -- Reds pitcher Michael Lorenzen's longtime itch to start again is about to finally be scratched. A reliever the past three seasons, Lorenzen will get the chance to start on Tuesday vs. the Brewers.
Interim manager Jim Riggleman told Lorenzen the news on Friday and announced the decision on Saturday.
"It's really exciting," Lorenzen said. "I'm extremely thankful for the opportunity. I'm going to try and make the most of it and continue what I've been doing."
In 42 relief appearances this season, Lorenzen is 3-1 with a 3.21 ERA and 1.37 WHIP over 67 1/3 innings.
Lorenzen has been durable this season, with 20 games where he worked more than one inning, 15 of at least two innings and six times going three innings or more. That included his pitching 4 1/3 innings on Aug. 14 vs. Cleveland.
"Mike has probably come in my office 15 times [and said], 'I want to start. I want to start. I want to start,'" Riggleman said. "We feel like, 'Let's look at Mike for a start or two and see where it goes.' The problem with that is he does a good job for us where he's at. We would lose him there. But we are looking at '19 and who is going to be our starters. We have an idea who some of them will be, but we will look at Mike here a little bit. It'll be a very small sample, but we'll get a little feel for it."
During Friday's 3-2 loss to the Cubs, Lorenzen pitched 1 1/3 scoreless innings but worked into and out of a bases-loaded jam before picking up the third out in the seventh inning and pitching a clean eighth.
"We got Mike in the game last night knowing we won't use him the next couple of days and he'll pitch Tuesday," Riggleman said.
Lorenzen last started for Cincinnati as a rookie in 2015 and often struggled. He went 4-9 with a 5.45 ERA in 21 starts. He had hoped to start the past couple of seasons and was to compete for a rotation spot in Spring Training this year. A right shoulder strain during camp had him on the disabled list until May 22. The 26-year-old never gave up on the idea he could start, despite being used exclusively as a reliever since 2016.
"If I feel like I have more in there to offer ... it's hard to go to bed and sleep at night when I feel like I can do more," Lorenzen said. "I just didn't want to have that regret. I didn't feel like I failed. My second year of full-time starting was my second time in the big leagues, so I had a lot to learn and I feel like I've learned my lessons. I was ready to go and get another shot at it."
Riggleman planned on letting Lorenzen possibly pitch four, perhaps five innings, if all goes well. Lorenzen planned on preparing for the outing like he's prepared for relief appearances.
"I learned a lot this year, especially this year with sometimes having to come during the second inning and warming up in the first inning, those games seemed to work out just fine for me," Lorenzen said. "There's no need to change the routine in the sense of warming up longer, spending more time in the bullpen and stuff like that. I'm just going to take the same approach."
Lorenzen a Silver Slugger contender
Lorenzen getting a chance to start also has a side benefit in that it will give him the potential of getting multiple at-bats. At the plate this season, he is batting .308 (8-for-26) with four home runs and nine RBIs. He could become the first reliever to ever win a National League Silver Slugger Award.
"It would be awesome," Lorenzen said. "When I first got to the big leagues, I thought about how cool it would be to win a Silver Slugger as a pitcher. It would definitely be an honor."
Three of Lorenzen's homers this season have come against the Brewers.
Mahle has sore shoulder
Rookie Tyler Mahle was not considered for Tuesday's start because he is dealing with right shoulder fatigue and soreness. The door is not closed on Mahle pitching again in 2018.
"He's in there working with the trainers and all that," Riggleman said. "He may pitch again. He may pitch again this year. He may not but he's feeling pretty good."