Pineda dominates with 5 straight strikeouts
Yankees right-hander looking to rebound from inconsistent 2016 season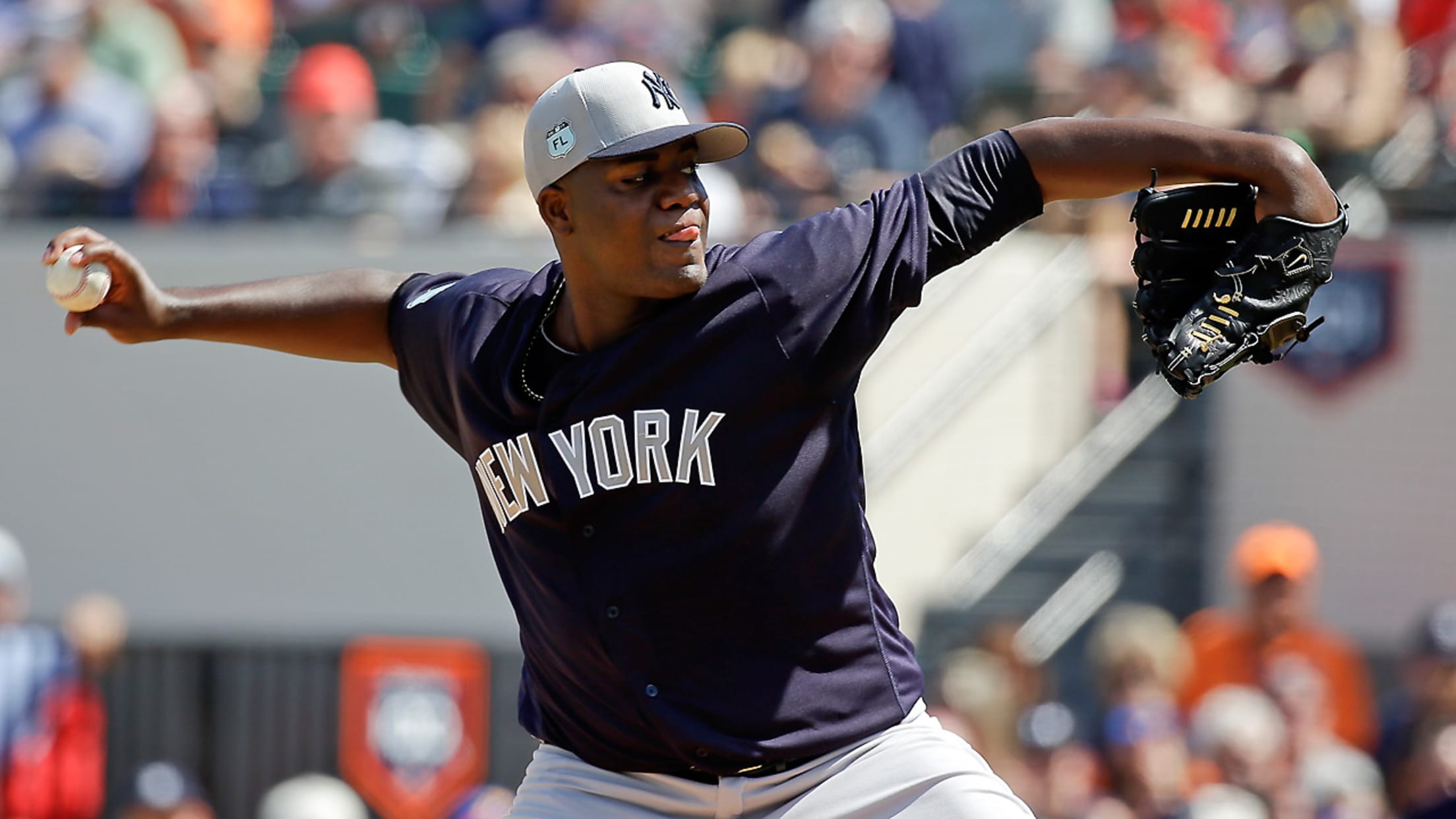 Michael Pineda allowed just one hit over his two scoreless innings against the Tigers on Saturday. (AP)
LAKELAND, Fla. -- Is this the year that Michael Pineda finally puts it all together? The Yankees certainly hope that Saturday's outing was an indication of things to come.Pineda was dominant as he completed his first outing of the spring, pounding the zone regularly against a stacked Tigers lineup and
LAKELAND, Fla. -- Is this the year that Michael Pineda finally puts it all together? The Yankees certainly hope that Saturday's outing was an indication of things to come.
Pineda was dominant as he completed his first outing of the spring, pounding the zone regularly against a stacked Tigers lineup and striking out five consecutive batters over two innings in the Yankees' 11-1 win.
"Of course it's exciting," Pineda said. "It was my first outing and I feel pretty good. I threw a lot of strikes. I struck out a lot of people. For my first time, it makes me happy, so for now I want to continue working in Spring Training and be ready for the season."
Pineda permitted just a leadoff single to Ian Kinsler, who was erased on a fielder's choice. The 28-year-old right-hander then proceeded to whiff Jose Cabrera, J.D. Martinez, Justin Upton, Alex Avila and Omar Infante in succession, four on sliders.
"Wow," Yankees catcher Gary Sanchez said. "To be the first outing, he was better than better. All the pitches were great -- slider was amazing, fastball command was good, the changeup was good as well. I think the slider is even better now than last year."
The Yankees have seen glimpses like this in the past -- Pineda led the American League with 10.61 strikeouts per nine innings in 2016, including a 12-strikeout game against the Rangers on June 30, the second-highest total of his career (16, on Mother's Day 2015 vs. Baltimore).
While he allowed two earned runs or fewer in 17 starts, Pineda also allowed five earned runs or more in 11 starts. He set career highs in innings (175 2/3), starts (32) and strikeouts (207), but also losses (12) and home runs allowed (27), going 6-12 with a 4.82 ERA.
"We scratched our heads a lot last year when you looked at his numbers, month by month. It just doesn't make sense," Yankees manager Joe Girardi said. "Part of it for Michael is finishing innings. You've got to finish innings and eliminate mistakes.
"If you're a guy that's prone to make mistakes that get hit out of the park, you're going to lose games. If you make mistakes and they're not hit out of the park, you've got a chance. Those are things that we have to get better at."
Figuring out how to produce those consistent results from Pineda is a key for a Yankees rotation that has just three locks at this point in time, with only Masahiro Tanaka and Carsten Sabathia also guaranteed slots.
"I think it changes a lot if Michael's numbers can make sense," Girardi said. "If he pitches well and pitches deeper into games, it'll be a big lift."
Pineda and pitching coach Larry Rothschild have both repeatedly talked about the importance of focus, and Pineda said that he made a special effort to keep the ball down against Detroit's lineup.
"Great hitters; I know those guys," Pineda said. "But for me, I'm not thinking too much about them. I want to think about me. What do I have to do on the mound to get an out quick? This is my focus."