Taylor, Scherzer shine in win over Cards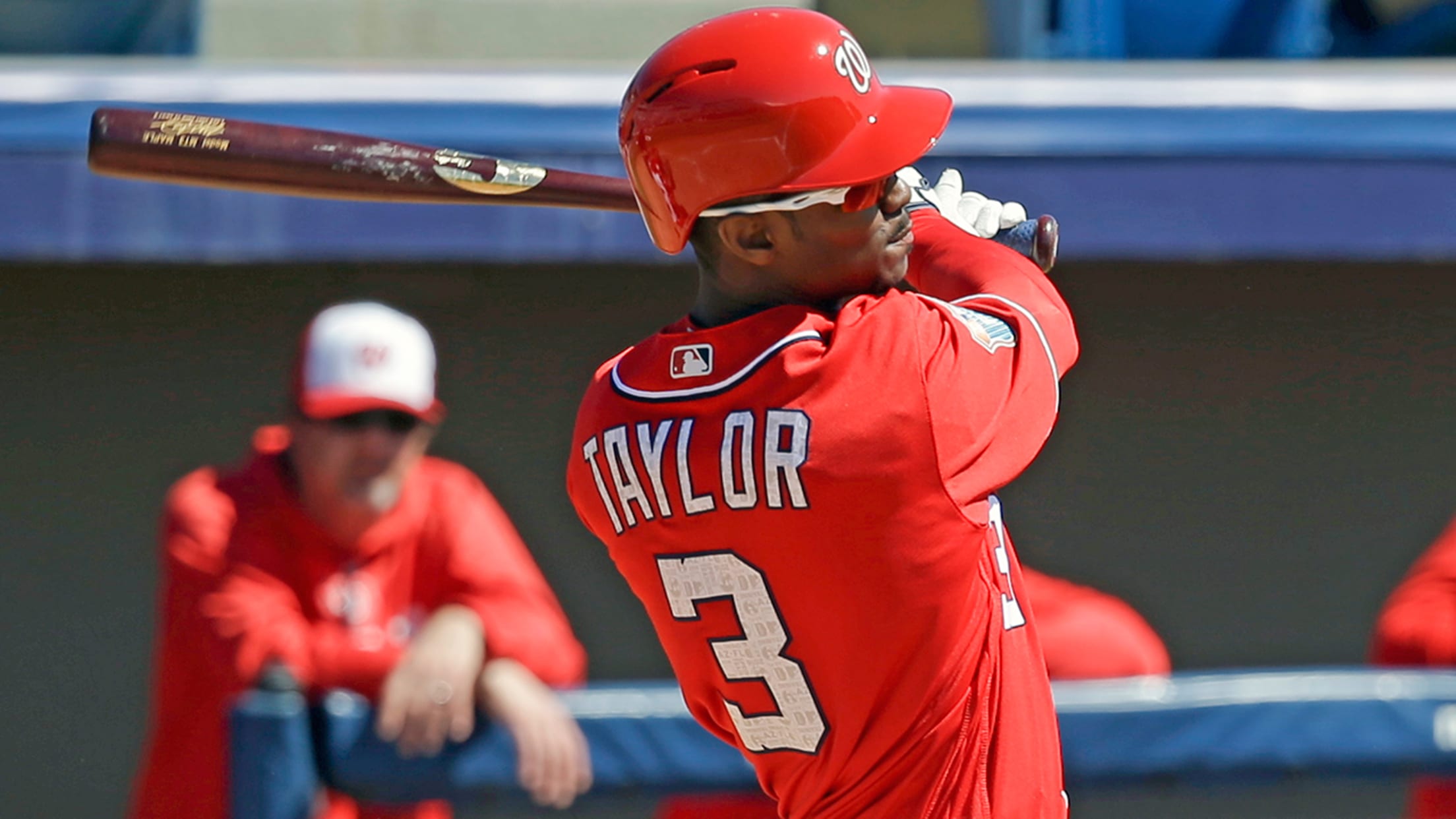 Michael Taylor hit his fourth spring home run in the Nats' 8-2 win over the Cards. (AP)
VIERA, Fla. -- Michael Taylor drove in four runs as the Nationals defeated the Cardinals, 8-2, at Space Coast Stadium on Thursday afternoon. Washington improved its spring record to 15-4-2, while the Cardinals are now 8-11-2.The game was tied at 2 when the Nationals scored five runs in the fifth
VIERA, Fla. -- Michael Taylor drove in four runs as the Nationals defeated the Cardinals, 8-2, at Space Coast Stadium on Thursday afternoon. Washington improved its spring record to 15-4-2, while the Cardinals are now 8-11-2.
The game was tied at 2 when the Nationals scored five runs in the fifth inning. Cardinals right-hander Adam Wainwright left the game with runners on first and third with one out, after giving up seven hits and one walk while striking out four in 4 1/3 solid innings. Right-hander Seth Maness took over and had a tough time getting those final two outs.
• Maness hopes to increase pitch count
The first batter Maness faced -- Jayson Werth -- doubled to left field, scoring Bryce Harper. Anthony Rendon followed and doubled to right field, scoring Ryan Zimmerman and Werth. Taylor was the next hitter, and he sent a ball over the right-field wall for a two-run homer to give Washington a five-run lead. Wainwright was charged with two of those runs.
• Wainwright thrives 'playing chess' with batters
"I felt good out there," said Wainwright. "I threw some good pitches. I still have to sharpen just a bit, but things are falling into place. Sometimes the results don't show it, but I threw some nice pitches out there. That's a tough lineup. It's really good to face a lineup like that."
It wasn't smooth sailing for Nationals right-hander Max Scherzer in the first inning, when he allowed two unearned runs. After Kolten Wong reached first on an error by shortstop Trea Turner, the Cardinals suddenly loaded the bases. It looked as if Scherzer might get out of the inning, since he struck out Jedd Gyorko and Matt Adams. However, Tommy Pham doubled home Wong and Stephen Piscotty to give St. Louis a 2-0 lead.
• Pham seeking solution to sight, swing issues
Scherzer would settle in by shutting down St. Louis for the next four innings. He would end up going five strong, allowing two unearned runs on three hits while striking out nine batters.
"There are some things that I did really well, and there are some things that I didn't do as well," Scherzer said. "I wasn't as efficient. When you are walking three guys, that's just inexcusable. I fell behind on quite a few guys as well. That's something I have control [over]. I have to be better at pounding the zone -- being in those 1-2 counts, not being on those 2-1 counts.
• Scherzer aiming for 'cruise-control' counts
"At the same time, that's something that can be easily fixed. But at the same time, you have to like where all my pitches are at -- how everything is moving. I'm able to throw all the offspeed pitches for strikes. It's something I can build off of."
The Nationals would then tie the score off Wainwright in the fourth inning. Werth and Rendon scored on a double by Taylor, who is now 18-for-37 [.486] with four home runs and 13 RBIs.
Up next for the Cardinals: Right-hander Michael Wacha will get the start for St. Louis on Friday when the Cardinals travel to Port St. Lucie, Fla., to play the Mets. First pitch is scheduled for 12:10 pm. CT. With seven games remaining in their Grapefruit League schedule, the Cardinals plan to bring almost all of their remaining position players to Tradition Field for their fourth spring meeting against the Mets.
Up next for the Nationals: The Nationals travel to Jupiter, Fla., on Friday to play the Marlins at 7:05 p.m. ET. Right-hander Tanner Roark, who is expected to be in the rotation in 2016, will make the start for Washington. He is having a good spring, allowing one run in nine innings with nine strikeouts.