Miggy at 2,700: 3,000 is 'going to be awesome'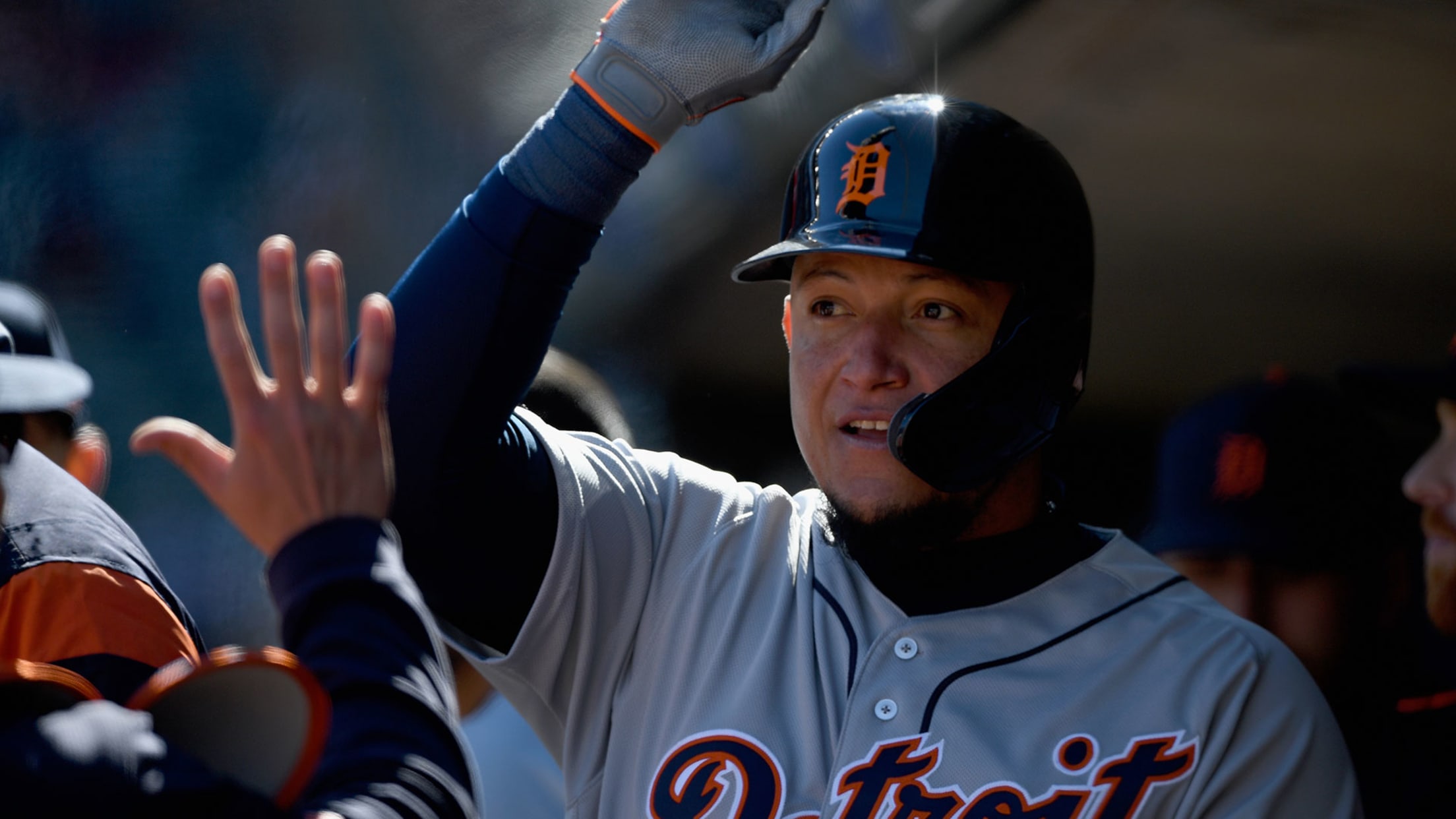 BOSTON -- Sixteen years later, Miguel Cabrera vividly remembers his first hit. "It was a home run. I can't forget it," he said. "It was a long time ago, but the feeling was so great. I was excited." The 11th-inning walk-off blast on June 20, 2003, that lifted the Marlins
BOSTON -- Sixteen years later, Miguel Cabrera vividly remembers his first hit.
"It was a home run. I can't forget it," he said. "It was a long time ago, but the feeling was so great. I was excited."
The 11th-inning walk-off blast on June 20, 2003, that lifted the Marlins over the Rays was just the beginning of a star-studded career.
On Wednesday, the 36-year-old reached the 2,700-hit milestone against the Red Sox, inching closer to the illustrious 3,000 club. Only 32 players have achieved that feat.
"It's something not too many players in the big leagues, they make it," Cabrera said. "If I make it and hit 3,000, it's going to be awesome."
Cabrera entered Thursday ranked 69th in all-time hits, five behind Doc Cramer. He trails only Albert Pujols among active players. While he doesn't keep track of his hit tally on a daily basis, he allows himself to consider what could lie ahead when he reaches significant marks like he did Wednesday.
"You've got to hit .300 to [get to] 3,000," Cabrera said. "To me, that's really close. I think about it a little bit. But at the same time, I say it's a long way to go. So I don't have to focus on, 'I've got to get 3,000 tomorrow.' It's going to be step by step and try to focus game by game."
A young Cabrera worked on at-bats with his family when he began playing baseball, followed by hitting coaches. Once he signed a professional contract, he turned to experienced teammates for advice. Before Cabrera was the one dominating, he closely watched Vladimir Guerrero and Manny Ramirez when he was in the Minors.
"They're right-handed hitters, they hit for power, they drive in runs," Cabrera said. "To me, that's a complete hitter."
Sounds a lot like Cabrera, too. He has compiled a lengthy resume that boasts 11 All-Star selections, seven Silver Slugger Awards, two Most Valuable Player Awards, four batting titles and a World Series championship. Cabrera is second to Pujols in active home runs with 465 and 35th all time.
So what's the key to his success at the plate?
"I work for that," he said. "I always think, I don't need somebody to see me working to say, he works hard to hit it. I keep my routine a secret. That's the way I am."
For all the hits Cabrera has accumulated, the thrill of a home run has not gotten old. That swing he has made look so easy has become second nature to him.
"You don't feel it," Cabrera said of connecting for a homer. "You don't feel it at all. It's so easy and smooth.
"When you hit a ball, you say, 'Wow.'"