Miggy motivated to win for Venezuela, Ilitch
Cabrera arrives at Tigers camp with heavy heart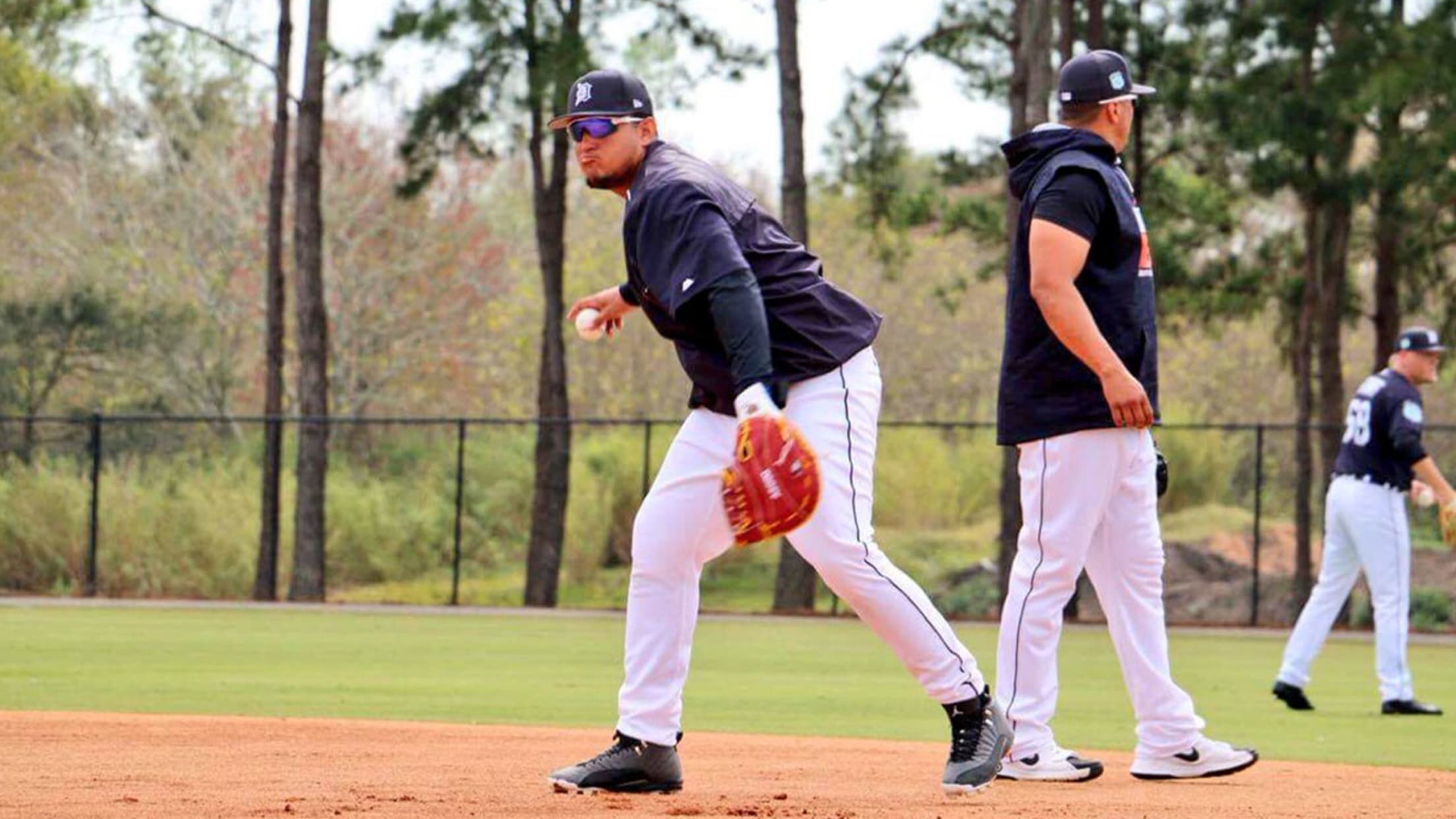 Miguel Cabrera said he wants to win a World Series in memory of late Tigers owner Mike Ilitch. (Tigers)
LAKELAND, Fla. -- Jose Cabrera added boxing to his training routine this offseason on the advice of Venezuelan boxer Jorge Linares. As Cabrera begins his 10th season with the Tigers, he has two motivations to fight for victories this year.This spring, he wants to help Venezuela win a World Baseball
LAKELAND, Fla. -- Jose Cabrera added boxing to his training routine this offseason on the advice of Venezuelan boxer Jorge Linares. As Cabrera begins his 10th season with the Tigers, he has two motivations to fight for victories this year.
This spring, he wants to help Venezuela win a World Baseball Classic title for his troubled homeland.
"We need to give something to our country," Cabrera said Saturday, "because our country's in bad shape right now. There's a lot of problems in Venezuela. It's like two sides. Politics is hard. I think sports can help any country get together. I think sports can bring a lot of happiness to people."
When the MLB season opens, he wants to win in memory of Mike Ilitch, the late Tigers owner who pushed to bring Cabrera to Detroit and then signed him to two long-term deals.
"We come into Spring Training a little sad," Cabrera said. "But at the same time, we come in like we need to keep going and need this for him. He always dreamed about a World Series champion. We never gave him the chance. We have extra motivation, so we need to be here and do extra and try to be our best this season."
👋 Miggy! pic.twitter.com/eWVOcOTmGx

— Detroit Tigers (@tigers) February 18, 2017
Arguably no one shows as much pure joy on a baseball field as Cabrera. That enthusiasm showed Saturday as he worked around the back fields at Tigertown during the first full-squad workout of camp.
As Cabrera talked following the workout, though, his tone was somber. His home country's turmoil and his team's mourning weigh on him.
Cabrera's arrival to Detroit is one of the defining moments of Ilitch's legacy. It wasn't simply about winning. Cabrera was the chance to add a young superstar and future Hall of Famer, like Ilitch had done with the NHL's Red Wings. He authorized then-GM Dave Dombrowski to make a run when the Marlins put Cabrera on the market.
"He gave me this opportunity to be in Detroit," Cabrera said. "He signed me for a lot of years, and every time I'd see him, I'd always say, 'Thank you for giving me this opportunity to be in Detroit.' Detroit is part of my family and part of my life, my home.
"He was always great to me. Every time he went to the stadium, he'd come down to my locker and we'd talk."
Cabrera was just 24 at the time of the trade, an incredible talent still growing into his game and his status as one of Venezuela's great players. He returned to Venezuela in the offseason back then to play winter ball. His accomplishments since have made him a superstar, the face of the Tigers and the face of baseball in his home country, even as he found a home in South Florida.
He works hard to give back to Venezuela through his foundation, but political turmoil makes it hard to visit.
"It's hard to leave your country," he said. "It's hard to go back and stay over there. I mean, when I went back to Venezuela, I went for one week. I used to live there. Now I live here in the United States. When you leave your country, it's hard to leave your family over there. My whole family is in Venezuela.
"I don't want to think about it, because it's hard. People living in Venezuela, they're in hard times right now. I worry about them."