Sano arrives, works out with no restrictions
Twins plan to ease third baseman into spring games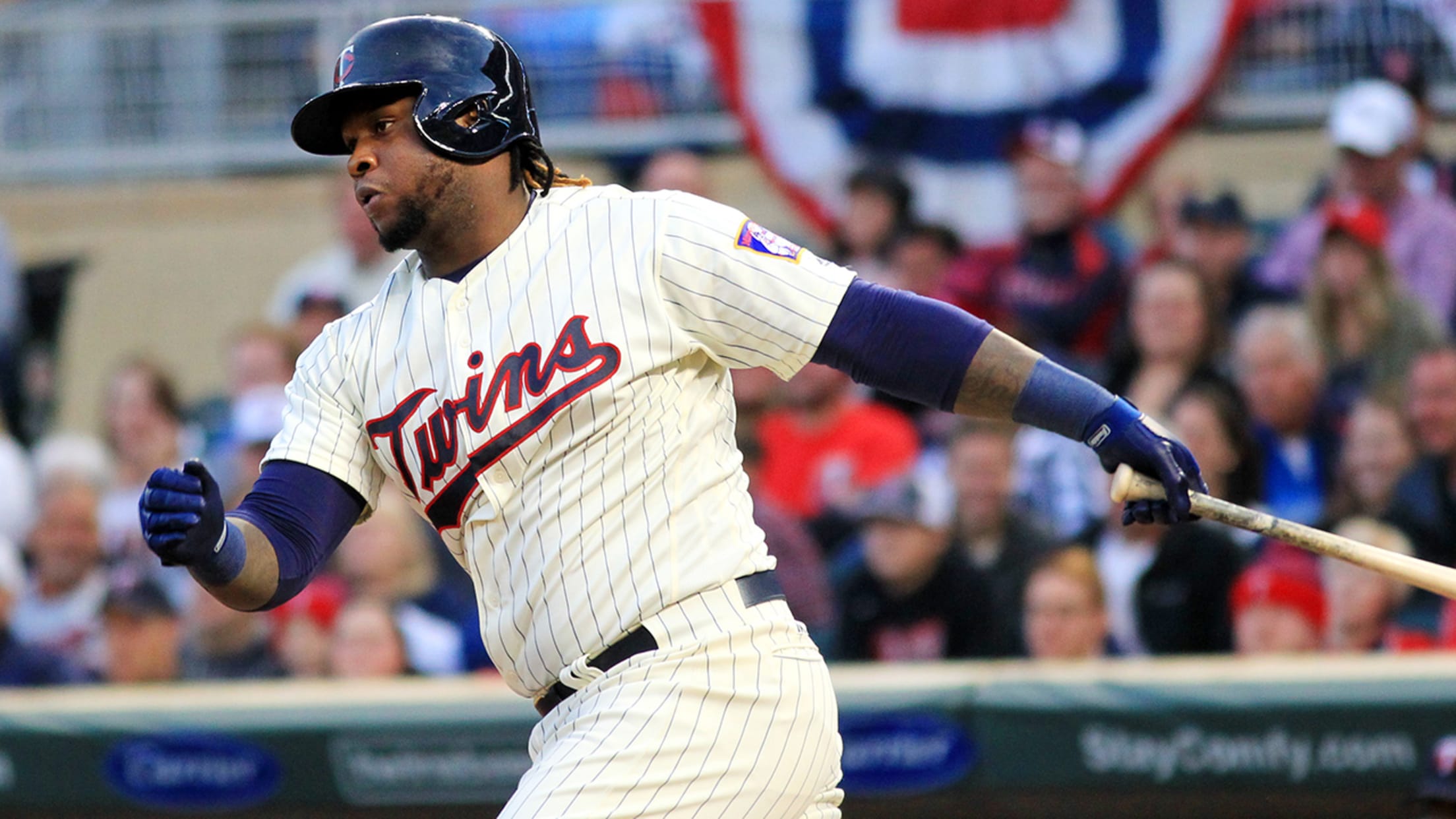 MINNEAPOLIS, MN - SEPTEMBER 30: Miguel Sano #22 of the Minnesota Twins singles against the Detroit Tigers in the first inning during of their baseball game on September 30, 2017, at Target Field in Minneapolis, Minnesota.(Photo by Andy King/Getty Images) (Andy King/Getty Images)
FORT MYERS, Fla. -- Twins third baseman Miguel Sano arrived at camp on report date Sunday, and said he's been working out with no restrictions after his shin surgery in mid-November, but has yet to be interviewed by Major League Baseball about his alleged sexual assault.Sano, who had a titanium
FORT MYERS, Fla. -- Twins third baseman Miguel Sano arrived at camp on report date Sunday, and said he's been working out with no restrictions after his shin surgery in mid-November, but has yet to be interviewed by Major League Baseball about his alleged sexual assault.
Sano, who had a titanium rod inserted in his left shin after sustaining a stress reaction in August, had been training with former Major League third baseman Fernando Tatis in the Dominican Republic in recent weeks and has been cleared for all baseball activities. But he'll be eased into Spring Training games and MLB's ongoing investigation won't affect his playing status.
• Spring Training:Info | Tickets | Schedule
"I've been working really hard," Sano said. "I had my procedure and had everything done. I worked with the trainers here for a few months and then I went to the Dominican Republic and I worked with Tatis. Now, I'm here and it's time to do my job."
:: Spring Training coverage presented by Camping World ::
Sano, who was accused of sexual assault by a Minnesota-based photographer in late December, didn't comment specifically on the allegations or MLB's investigation.
"I haven't heard anything," Sano said. "The investigation is still going on. I have no comments right now."
Sano met with both chief baseball officer Derek Falvey and manager Paul Molitor on Sunday morning, and they went over their plan about when he'll start playing in games this spring.
"We want to make sure his body is in a good place," Falvey said. "He feels good. We'll continue to just progress him slowly. Our goal for him is more Opening Day than it is the opening of games in Spring Training, so we'll just take it slow."
Sano, 24, looked similar physically to the end of last season, and Falvey admitted that conditioning was an issue for Sano early this offseason because of the nature of the surgery. Sano is listed at 6-foot-4, 260 pounds, but appears heavier than that.
"He went a period of time where he was immobilized," Falvey said. "He was up and around quickly, which was a good thing. But really putting pressure on that leg, it's a challenge. We'll just keep progressing. It wasn't an ideal offseason for him clearly from a workload or conditioning standpoint. But we're using the next few weeks to get him up to speed."
Twins Tidbits
• Right-hander Anibal Sanchez arrived at Twins camp on Sunday, but his deal isn't finalized, as he has to pass his physical. Sanchez is expected to be officially introduced on Monday. He'll wear No. 19, which was Kennys Vargas' number. Vargas will switch to No. 30.
• Right-hander Ervin Santana is expected to arrive on Monday after flying to New York for a follow-up exam after undergoing surgery on his right middle finger. Santana had sutures placed in his finger and will wear a cast to keep his finger mobilized. His timeline remains the same, as he's expected to miss the first two-to-four weeks of the season.
• Right-hander Trevor May is a strong candidate to be placed on the 60-day disabled list to make room for Sanchez on the roster. May, who is coming off Tommy John surgery, will be stretched out as a starter and isn't expected to return until late May or early June.
• Second baseman James Dozier also reported to camp on Sunday, so every position player on the 40-man roster has reported.
• Catcher Jordan Pacheco was added to Major League camp, as Willians Astudillo remains in Venezuela with visa issues. The Twins are hopeful to have the visa issue cleared soon.