Sano prepping for season in Dominican playoffs
Slugger focused on conditioning; will miss Caravan, TwinsFest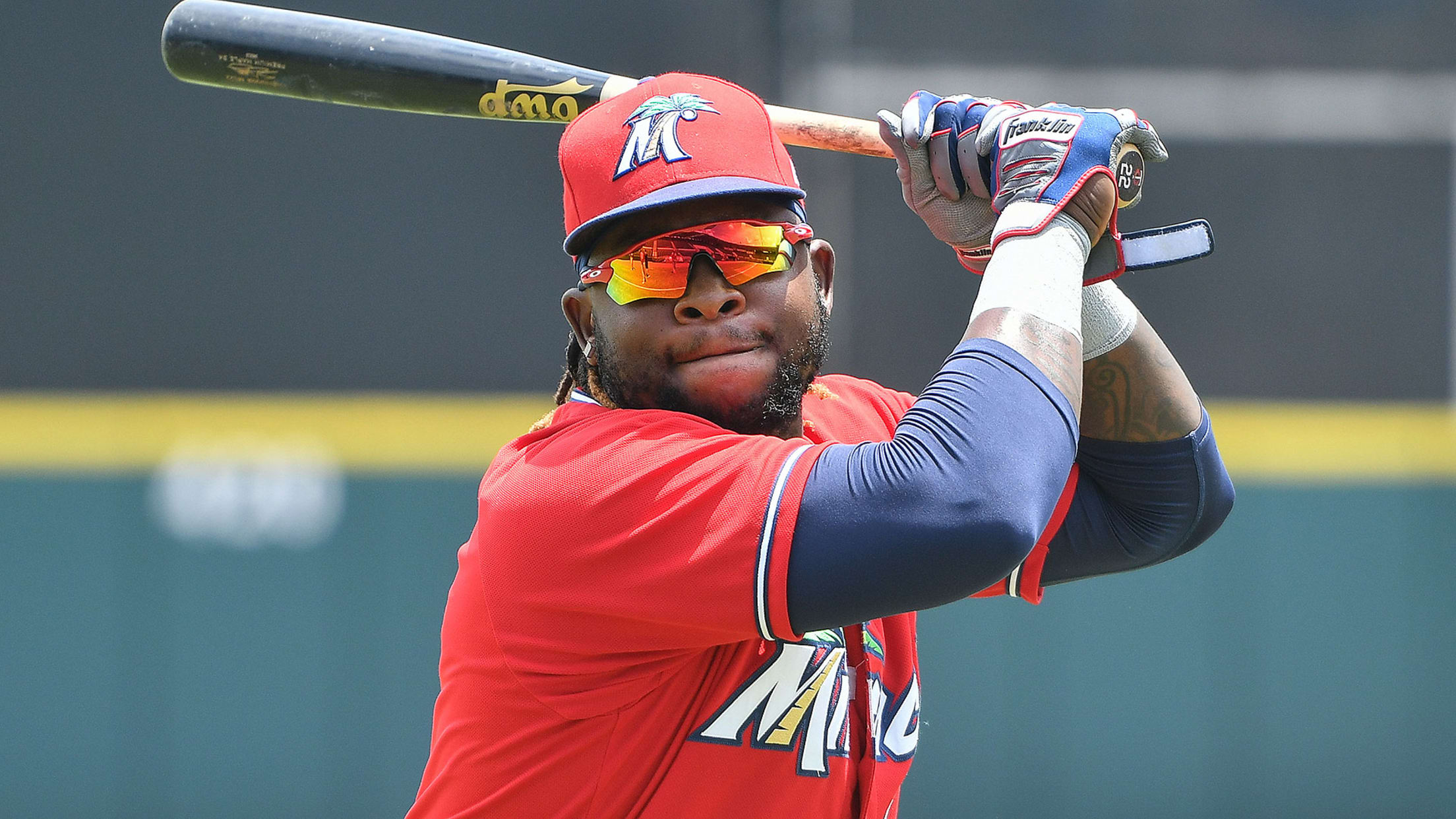 MANKATO, Minn. -- Miguel Sano won't be making his scheduled appearances this week on the Twins Winter Caravan or at TwinsFest while he plays in the Dominican Winter League championship series, but the Twins feel that the slugger will benefit from the game action during his focused offseason of conditioning.The
MANKATO, Minn. -- Miguel Sano won't be making his scheduled appearances this week on the Twins Winter Caravan or at TwinsFest while he plays in the Dominican Winter League championship series, but the Twins feel that the slugger will benefit from the game action during his focused offseason of conditioning.
The Twins had announced Friday that pitcher Kohl Stewart would take Sano's place alongside catcher Mitch Garver on one leg of the second week of the Caravan to allow Sano to compete for the league title with Estrellas Orientales, the team based in his hometown of San Pedro de Macoris.
After a 3-2 win on Monday night, Estrellas held a 3-1 series lead over Toros del Este in the best-of-nine championship series.
"Having him go out playing winter-ball games and getting on the field again, getting on the field again and actually feeling his body and actually having the chance to get out there before he gets to Spring Training was important to him," Twins manager Rocco Baldelli said. "It all made sense. If it was important to him, it was important to us as well."
Baldelli has seen firsthand the positive results of Sano's focused efforts this offseason, having made day trips to visit both the 25-year-old third baseman and center fielder Byron Buxton this offseason as the franchise centerpieces enter a pivotal season coming off difficult 2018 campaigns. Sano struggled at the plate and was sent to Class A Advanced Fort Myers for 19 games, while Buxton dealt with injuries and was upset when the team didn't recall him to the Major Leagues following the conclusion of the Triple-A season.
"I think just giving them the opportunity to talk and letting them know that I really want to know what they have to say, I think that was meaningful to them and I think helpful in a lot of ways," Baldelli said.
"[Sano has] made his body a priority," Baldelli added. "I think coming into camp, once they lay eyes on him and have a chance to see him, they'll be very happy with what they see."
Baldelli doesn't doubt the slugger's ability to bounce back in 2019, noting that Sano's 2017 All-Star campaign has already showed that he can perform at the MLB level and that they're not simply hoping for him to make a first breakthrough.
"I feel like I do know what he's capable of, and I think the rest of our organization does, too," Baldelli said. "He's capable of being an impactful Major League player, as he already has been. It's our job to give him every resource and to put him in a spot where he can use all of his skills and all of his talents."
Greetings from Minot, ND! #TwinsWinterCaravan pic.twitter.com/OgPoN5EdTZ

— Minnesota Twins (@Twins) January 21, 2019
Ice fishing tournament a success
The thermometer read a reasonable 13 degrees, but winds gusting up to 22 mph on the frozen expanse of Madison Lake sent the wind chill plummeting to minus-6.
Needless to say, the two Puerto Ricans on hand for the Week 2 leg of the Twins Winter Caravan were eager to hitch a ride out of the ice-fishing village in the middle of Madison Lake and return to the safety of the restaurant on its shore.
"I enjoy it when I'm only here for a minute, not for an hour," Jose Berrios joked.
Berrios, outfielder Eddie Rosario, Baldelli and Twins radio broadcaster Kris Atteberry joined mascot T.C. Bear on the first day of the caravan leg, which included a stop at the AMF Southtown Lanes in Bloomington before an arrival at Madison Lake, where Baldelli, Atteberry and the players interacted with fans and helped announce the awards for the second annual Twins ice-fishing tournament.

The tournament was more competitive this time around; after only one fish was caught in the inaugural competition, 11 were snared this year, with competitors taking home prizes that included an autographed baseball and tickets to 2019 Twins games.
Proceeds from the $40 entry fee went to the Mankato Area Youth Baseball Association, responsible for summer youth baseball programs for area children.
"Walking over the lake, watching the young kids doing ice fishing, we don't see that in Puerto Rico," Berrios said. "That's a good feeling for us. Like you say, this is crazy. We're out here with this weather over the ice, but with the young kids who are ice fishing, that's a typical thing to do here in Minnesota, so we watch and learn something new from them."