Sano promoted to Triple-A; Motter recalled
Santana approaches return; Morrison, Reed progressing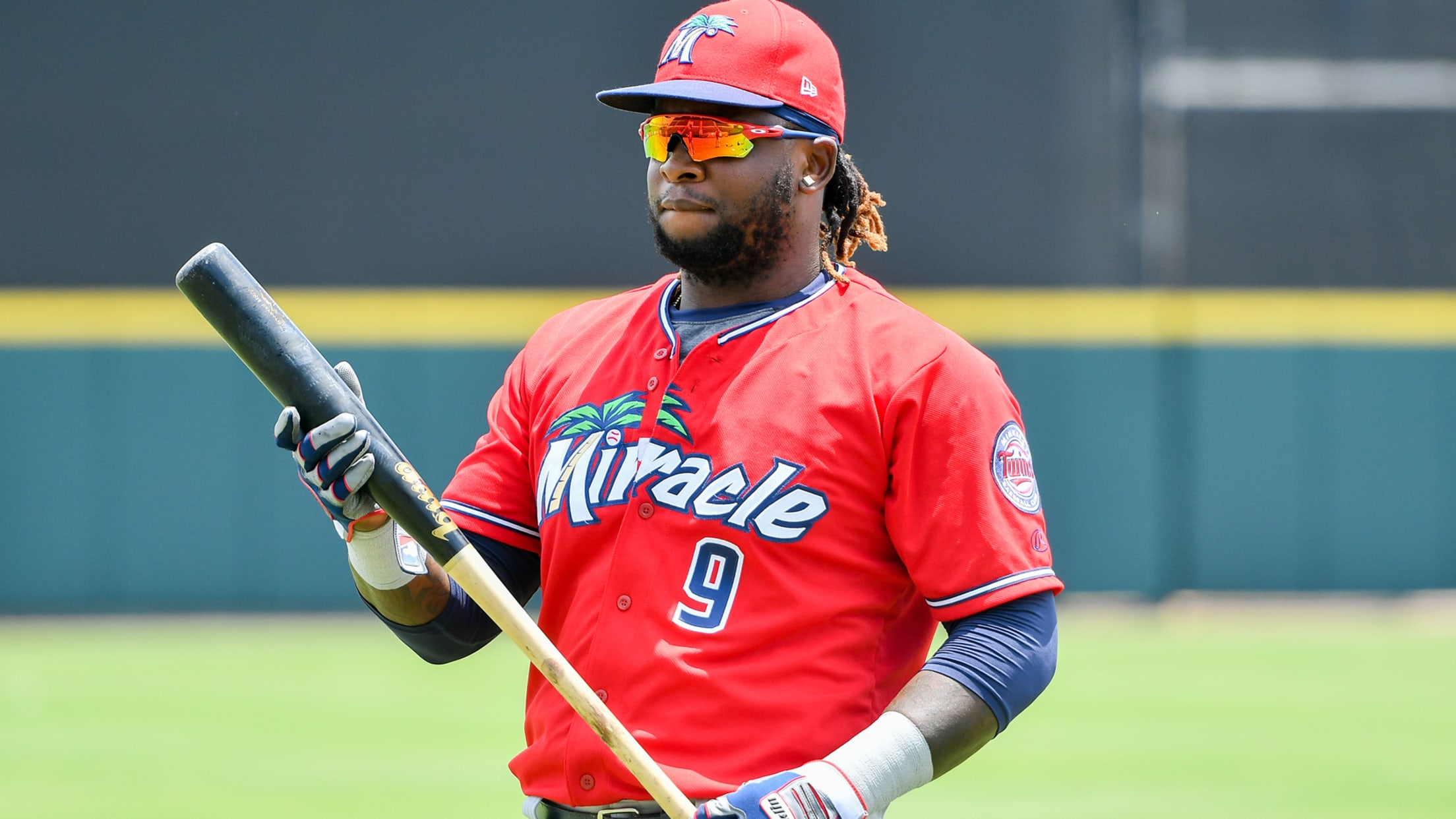 KANSAS CITY -- After leaving Class A Advanced Fort Myers for four days to tend to his mother in the Dominican Republic, third baseman Miguel Sano returned and was promoted to Triple-A Rochester on Friday.Sano hit .328/.443/.453 with two homers, two doubles and 12 RBIs in 19 games with Fort
KANSAS CITY -- After leaving Class A Advanced Fort Myers for four days to tend to his mother in the Dominican Republic, third baseman Miguel Sano returned and was promoted to Triple-A Rochester on Friday.
Sano hit .328/.443/.453 with two homers, two doubles and 12 RBIs in 19 games with Fort Myers. He also struck out 21 times and walked 13 times in 77 plate appearances. He was sent to Fort Myers because it allowed him to work on his conditioning at the club's Spring Training complex, as he was hampered by surgery in the offseason to place a titanium rod in his left shin. Sano reportedly lost 20 pounds, and the Twins felt he was ready to face better pitching.
"We're all pleased with how he's responded to the challenge that we put out there for him to dive into a program which will enable him to be in better position to use his skills, and he got behind in a lot of ways," Twins manager Paul Molitor said. "You can talk about what's happened from last winter with his injury all the way up until where we're at now. But the big thing is that we're trying to move ahead. After visiting his mom down in the Dominican for a few days, he's going to be in Rochester. We think he's at a place where it's time to start playing more against better competition."
Sano, 25, is expected to join the Red Wings' lineup on Saturday. He'll need to produce at the Triple-A level before he rejoins the Twins, much like Byron Buxton, who is also at Rochester but is currently on the 7-day disabled list with a left wrist strain and hasn't started to swing yet.
Sano was playing two out of every three days in Florida -- while working on his conditioning on his off-days -- but Molitor said he expects that to increase in Rochester so that he's ready to return as an everyday player.
"I can't imagine he is going to jump into playing every day here for the next week," Molitor said. "It's going to be increased from Fort Myers, which was roughly four games a week. And start to get into that routine, preparing to play every day. I'm sure it will be a combination of moving around positions and DHing and all those types of things."
Motter recalled
Utility infielder Taylor Motter was recalled from Rochester before Friday's game, taking the roster spot of right-hander Fernando Romero, who was optioned on Sunday. Motter, 28, hit .186/.321/.329 in 22 games with the Red Wings.
MILB Video - Title: Watch: MiLB Video - Url: http://www.milb.com/r/video?content_id=2149810183
Monday's starter TBA
The Twins have yet to announce a starter for Monday's series opener against the Blue Jays, but it won't be right-hander Ervin Santana, who started with Triple-A Rochester on Friday. It's expected to be the final outing for Santana before he rejoins the Twins.
Morrison, Reed nearing returns
Designated hitter Logan Morrison (left hip impingement) is expected to be reinstated from the 10-day disabled list on Sunday. Molitor said Morrison has responded well to treatment and has been able to take batting practice without any issues.
Reliever Addison Reed (right triceps tightness) threw a bullpen session on Friday and is tentatively scheduled to throw another on Sunday. There's a chance he could need a rehab assignment before being activated, but Molitor said he expects the right-hander back sooner rather than later.