Fiers on Stanton: 'Everyone's beyond that'
Pitcher fans slugger in first meeting since 2014 incident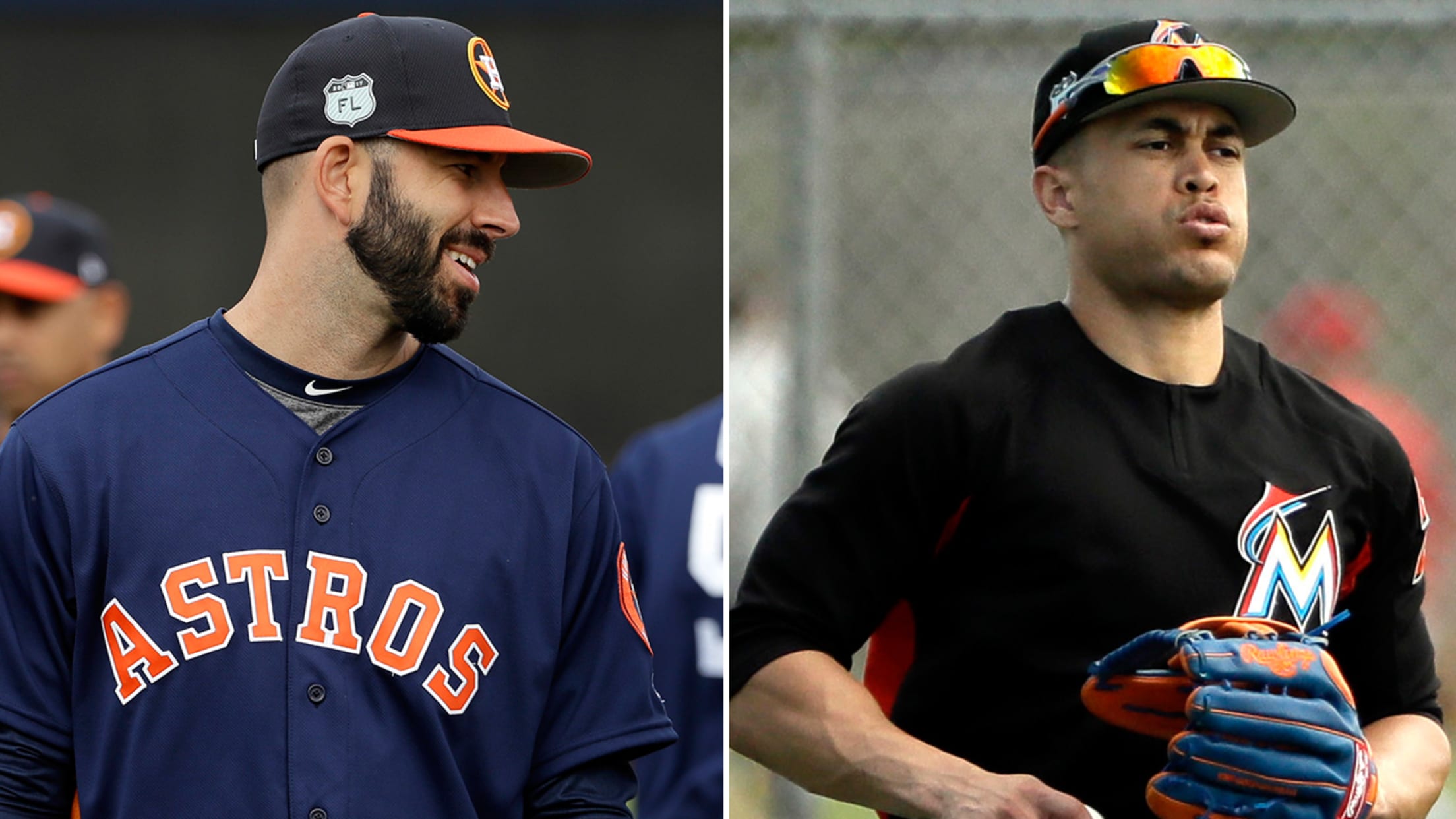 The Astros' Mike Fiers faced the Marlins' Giancarlo Stanton on Sunday for the first time since 2014. (AP)
JUPITER, Fla. -- The showdown was uneventful yet noteworthy when Astros right-hander Mike Fiers struck out the Marlins' Giancarlo Stanton on an 82-mph slider in the first inning on Sunday at Roger Dean Stadium.The encounter didn't impact the outcome, as the game ended in a 7-7 tie. But at the
JUPITER, Fla. -- The showdown was uneventful yet noteworthy when Astros right-hander Mike Fiers struck out the Marlins' Giancarlo Stanton on an 82-mph slider in the first inning on Sunday at Roger Dean Stadium.
The encounter didn't impact the outcome, as the game ended in a 7-7 tie. But at the time, it was a pivotal strikeout for Fiers, because Miami had runners on the corners with one out. It was also the first meeting between the two since Fiers struck Stanton in the face with a fastball while he was with the Brewers on Sept. 11, 2014.
On that day at Miller Park, the pitch had devastating ramifications, because it derailed Stanton's best big league season. The slugger, who paced the National League in home runs with 37 that year, ended up having plastic surgery performed, and he suffered dental damage.
"I think everyone's beyond that," Fiers said. "We're past that and just playing baseball and doing our jobs here and try to put that in the back of my mind."
Stanton downplayed the at-bat. When asked if it was interesting to face Fiers, the outfielder responded, "Not at all."
Stanton was the runner-up in the National League Most Valuable Player voting in 2014. Since then, the three-time All-Star right fielder has worn a face guard on his helmet.
"Obviously, it was an unfortunate thing at the time," Marlins manager Don Mattingly said. "I don't think anybody thinks that was intentional. Obviously, it is something you have to deal with and kind of get over that hurdle, maybe as a hitter. But don't really think about it."
A couple of days after the incident in 2014, Fiers reached out to Stanton, sending his best wishes via text messages.
"It was a day or two after that when I spoke to him," Fiers said. "We had a good conversation. He understands that in baseball things happen, but I don't think we had any hard feelings or any hatred against one another, nothing like that. But it felt normal just being out there and facing him."
On Sunday, Stanton faced Fiers just once, working the count to 2-2 before striking out swinging. In the third inning, they were about to see each other for a second time. As Stanton was approaching the box, the Astros lifted Fiers after 45 pitches.
"It's like facing another hitter," Fiers said. "He's got a lot of power. You've got to make good pitches and hit your spots."