'Kruk and Kuip' land multiyear extensions
Longtime Giants broadcasters entering 24th season as tandem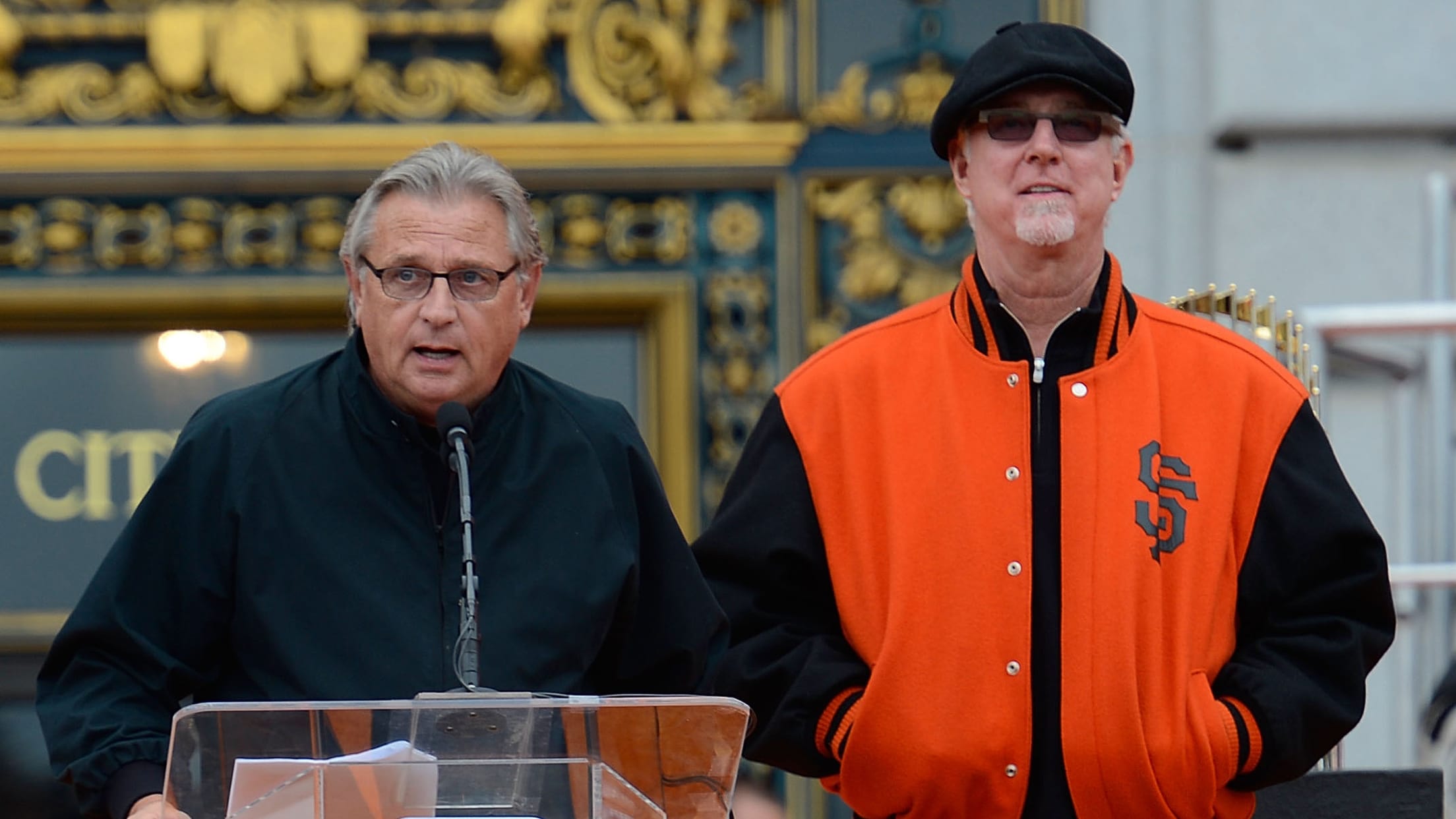 Duane Kuiper (left) and Mike Krukow have a combined 60 years of Major League announcing experience. (Thearon W. Henderson/Getty Images)
One of the game's most iconic broadcast tandems will be staying put for the foreseeable future, as the Giants announced Friday they've agreed to multiyear extensions with both Mike Krukow and Duane Kuiper. Terms of the deals were not disclosed.Entering their 24th season working together, "Kruk and Kuip" have been
One of the game's most iconic broadcast tandems will be staying put for the foreseeable future, as the Giants announced Friday they've agreed to multiyear extensions with both Mike Krukow and Duane Kuiper. Terms of the deals were not disclosed.
Entering their 24th season working together, "Kruk and Kuip" have been the backdrop for Bay Area fans through the Giants' run to three World Series titles, Barry Bonds' historical chase to the all-time home run record and a transition to AT&T Park, among other significant franchise milestones.
"Kruk and Kuip do more than just broadcast our games. They are the connection between the Giants and many of our fans who follow us on our broadcasts," president and chief executive officer Larry Baer said in a statement. "They turn every game into a family get-together and they create a narrative that goes way beyond what happens on the field."
Krukow and Kuiper -- who were Giants teammates from 1983-85 -- have a combined 60 years of Major League announcing experience and have won a combined 19 Emmy awards. They will each remain on NBC Sports Bay Area telecasts and contribute to KNBR radio broadcasts as well. They will be joined by Dave Flemming and Jon Miller, the Hall of Fame Ford C. Frick Award winner in 2010 and known widely as the "Voice of the Giants."
Krukow, a 14-year big leaguer who won 20 games and was an All-Star in 1986 with the Giants, is coming off a season of coverage in which he was honored as one of eight finalists for the Frick Award for broadcasting excellence. He was named California Sportscaster of the Year for his coverage in 2015, as selected by the National Sportscasters and Sportswriters Association.
"I'm thrilled to continue to be able to tell the story of the San Francisco Giants," Krukow said. "I am so proud of our broadcast team and all the people that put on Giants baseball."
Kuiper, who played 11 seasons, was a Frick Award finalist in 2014 and has received 10 local Emmys. He's been on the Giants' broadcast team since 1987, notwithstanding a one-year hiatus when he was a commentator for the Rockies in their inaugural season in '93.
"I am ecstatic about this new contract with the San Francisco Giants," Kuiper said. "I am thrilled to be able to work with three of my best friends and to continue to have the opportunity to be part of a tremendous organization like the Giants."