Moose sad to see Jay go, but knows how it is
Royals veteran says players aren't worried about possible trades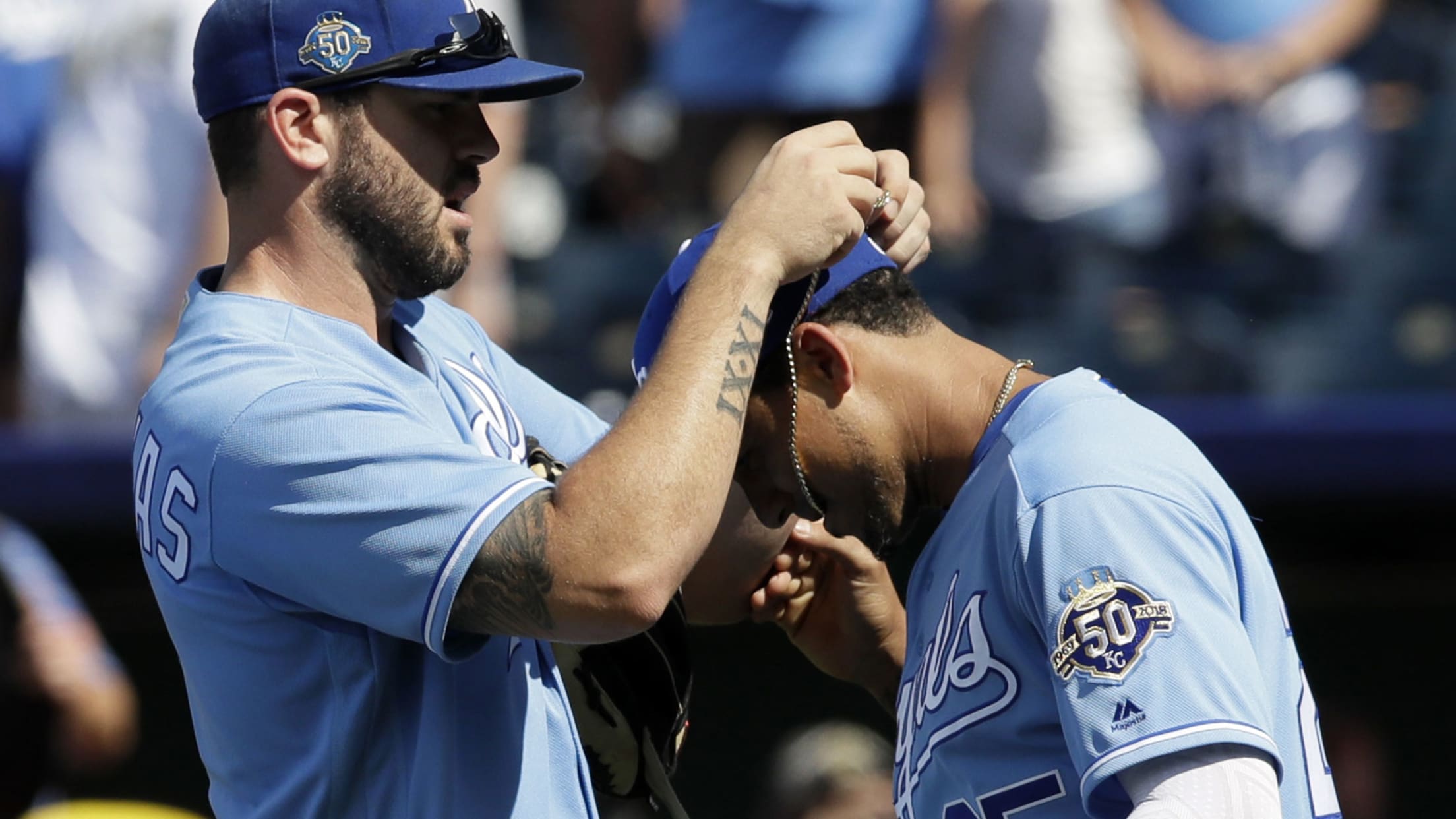 OAKLAND -- Wednesday's trade of center fielder Jonathan Jay to the D-backs for Minor League pitchers Elvis Luciano and Gabe Speier didn't exactly take the Royals' clubhouse by surprise.Kansas City third baseman Mike Moustakas said while it was disappointing to see one of the team leaders traded away, "we weren't
OAKLAND -- Wednesday's trade of center fielder Jonathan Jay to the D-backs for Minor League pitchers Elvis Luciano and Gabe Speier didn't exactly take the Royals' clubhouse by surprise.
Kansas City third baseman Mike Moustakas said while it was disappointing to see one of the team leaders traded away, "we weren't shocked."
"Obviously when you are in this business for as long as a lot of us has been, you learn it's just part of the game," Moustakas said. "For us losing J.J., it's a huge blow to us because of the kind of guy he is and the leadership he provided and the things he was able to do on the field."
Is this a foreshadowing of Moustakas and others in the Royals' clubhouse spending a summer looking over their shoulders wondering whether they're the next to go?
"A lot of us in here don't think like that. Most of us don't," Moustakas said. "We can't think like that. We have to keep our minds on the business at hand. We can't control that stuff. The business stuff, we don't have any control of."
Jay left with a slash line of .307.363/.374 while playing in center and right. Manager Ned Yost said before Thursday's series opener with the A's that Paulo Orlando, who was recalled from Triple-A Omaha on Thursday to take Jay's place on the roster, could get the lion's share of the work in center with Jay gone.
"He'll play some center field, and we'll go day to day with it," Yost said, adding that Abraham Almonte and Whit Merrifield will play there, too. Although Merrifield made his 43rd start at second base Thursday, he also has nine starts in the outfield, five of them in center, including Wednesday in Anaheim after Jay was traded.
Yost seemed unconcerned that his players would spend much time worrying about who might be the next to be traded. The Royals came into Thursday 20 games under .500.
"When we sign guys and we draft guys, we look for guys with character," Yost said. "The character is they love to compete. They all understand what's going on. We could make more deals. We may not make more deals. I don't know what's going to happen, and they don't know either. They are going to go out and play the best baseball they can every single day. That's their mindset."
John Hickey is a contributor to MLB.com.