Mussina eager for Cooperstown weekend
Hall of Fame visit a reminder of his consistent excellence
Mike Mussina had few near misses during his illustrious playing career, but he can now check Hall of Famer off that list. The longtime stalwart starting pitcher, who split his career between the Baltimore Orioles and New York Yankees, made his first trip to the National Baseball Hall of Fame
Mike Mussina had few near misses during his illustrious playing career, but he can now check Hall of Famer off that list.
The longtime stalwart starting pitcher, who split his career between the Baltimore Orioles and New York Yankees, made his first trip to the National Baseball Hall of Fame and Museum since his election by the Baseball Writers' Association of America in January. The Orientation Visit, afforded all recent electees in order to prepare for the upcoming Induction Ceremony, had Mussina putting his career in perspective.
"Gratifying is a good word," said Mussina, sitting in the Hall of Fame's Plaque Gallery at a press conference for local media on Thursday. "I'm an example of someone that didn't win a ton of individual awards, I never won a World Series, and I never won 20 games in one season as a starter until the very last season. There's a lot of players out there who are going to play their careers similar to mine, so it's an example of the fact that you don't have to win five Cy Young Awards and strike out 4,000 people as a pitcher to be able to be thought of as one of the best that ever played.
"I did a lot of almost stuff, but now I get to say that I went to the Hall of Fame instead of almost going to the Hall of Fame. Winning 19 games a couple years and being runner-up in the Cy Young and being in the World Series and not winning the World Series, I wish those things turned out differently. Those things didn't happen, but things turned out OK."
On Jan. 22, the BBWAA announced the Hall of Fame elections of not only Mussina, but also fellow pitchers Roy Halladay and Mariano Rivera, as well as designated hitter Edgar Martinez. Mussina received 76.7 percent of the vote in his sixth year on the ballot. The Induction Ceremony will be held on July 21 on the grounds of the Clark Sports Center, and the six-member Hall of Fame Class of 2019 will also include Today's Game Era Committee electees Lee Smith and Harold Baines, who were elected in December.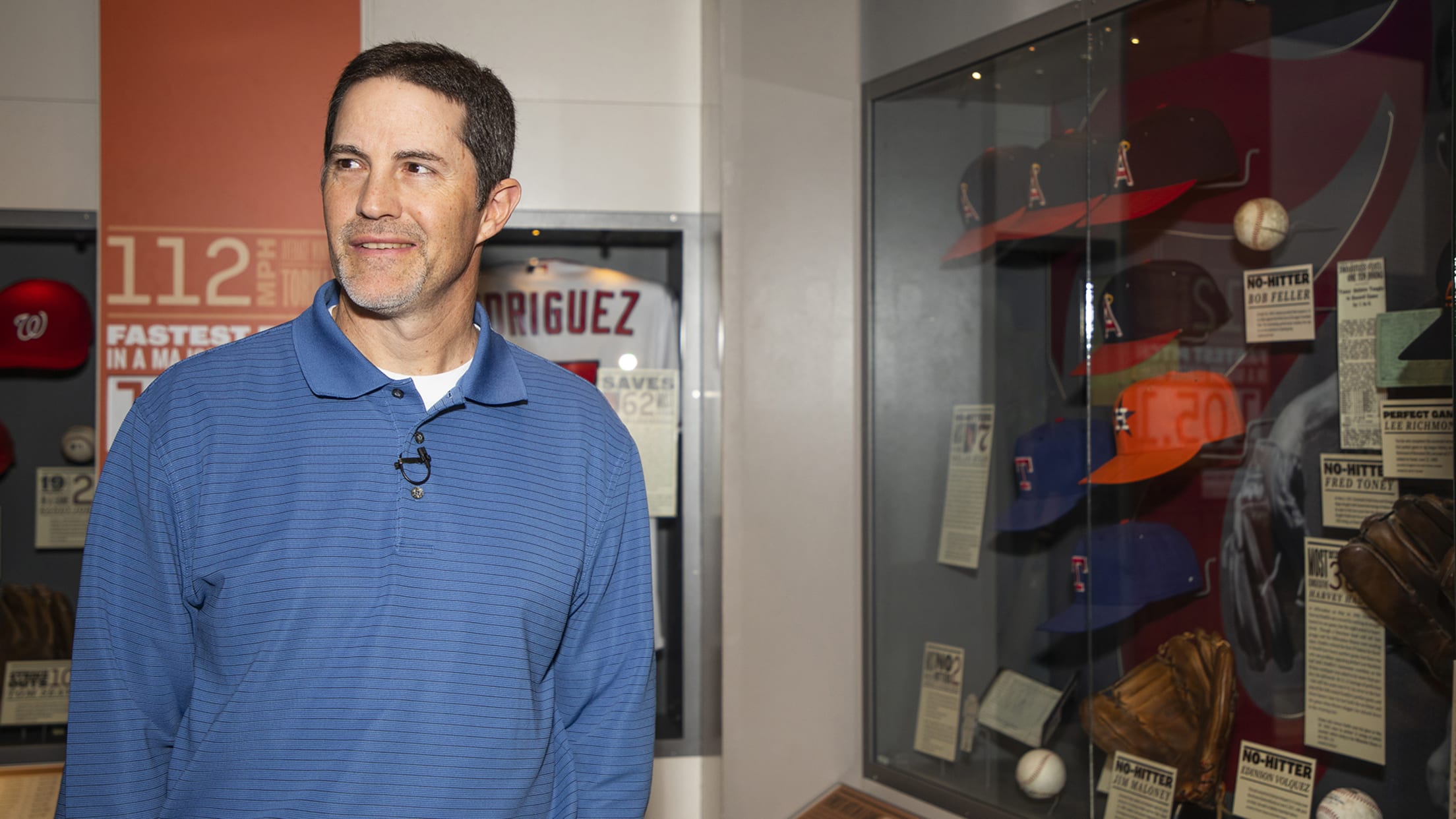 "I haven't really figured it all out yet. To be honest, the whole thing was a surprise this year," Mussina said. "You listen to the guys on MLB Network, and they've been pretty accurate the last few years. And they're making guesses on who is going to make it. Four electees isn't really what they were predicting. I'm smart enough to figure out who the first guy out is going to be. So when they called me at the end of basketball practice -- I was still in the gym -- the phone rang and it said 'New York' on my phone. I was like, 'Oh man, this is … ' It was just surprising to me. I wasn't really mentally ready for it. So it's been a little chaotic and crazy, but that's OK. It's exciting and I'm really looking forward to it, coming back in July and being a part of it."
Mussina was a gifted starting pitcher for 18 big league seasons, the first 10 spent with Baltimore before moving to New York and becoming a Yankee favorite. A five-time All-Star and seven-time Gold Glove Award winner, he finished his career with a 270-153 record -- winning at least 10 games 17 times – while making 60 percent of his starts in hitter-friendly American League East venues Fenway Park, Camden Yards and Yankee Stadium. The dependable righty, whose 2,813 strikeouts ranked 19th on the all-time list when he retired, became the oldest first-time 20-game winner when he reached the milestone at age 39 in 2008, his final season in the Majors.
Accompanied by his wife Jana, Mussina began the morning on a two-hour tour through the Museum, taking in the game's long history over three floors. This would be Moose's first trip to Cooperstown since accompanying the Orioles to play in the 1998 Hall of Fame Game. After the tour, at the press conference, where the 50-year-old Mussina, dressed in black slacks, a blue shirt and sporting a bit of gray stubble on his face, shared with those assembled his thoughts exactly four months to the day ahead of his Hall of Fame induction.
"I'm honored that people feel that way," Mussina said. "I played in an era when there was a lot of good pitchers, and I pitched against a lot of guys that have plaques that are already here, and I probably pitched against guys who are going to have a chance to be here. I'm fortunate that I played in that era, that I played with guys that have achieved a lot in this game. I'm just proud and honored to be considered one of them."
Asked about his induction speech, Mussina smiled and said, "It's going. It hasn't gone very far. I've got four months. I might be a college guy and study late or cram for it. I'm not allowed to wing it, I will tell you that. I can't show up and just talk. They won't let me do that."
After a tour of the Plaque Gallery, and ultimately signing his name to the spot where his bronze visage will soon reside, the right-hander was asked what he hoped his plaque would convey.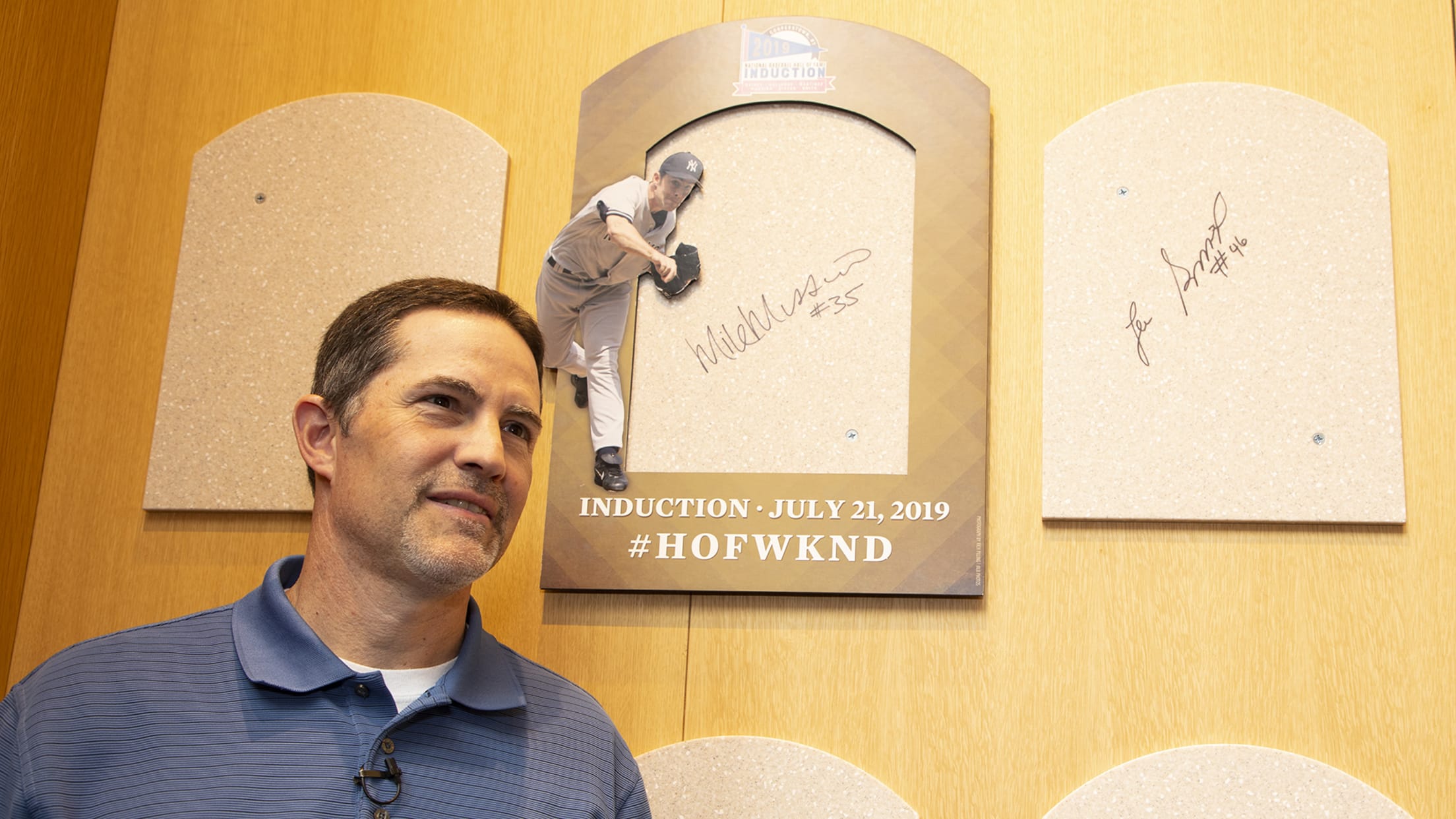 "My best side," he first joked. "Obviously it's unbelievable, but beyond that I don't know really how it's going to go, how I'm going to be, how I'm going to feel. Am I going to laugh the whole time? Am I going to cry? I just don't know. We'll see."
Mussina was also asked about the half-dozen years he had to wait before he knew Cooperstown was beckoning. That BBWAA journey began in 2014 when he received 20.3 percent of the vote and rose steadily over the ensuing elections. His '18 saw him finish with 63.5 percent of the vote.
"I'm really thankful for the 20 percent who voted for me the first time because voters have opinions," Mussina said. "When you're thrown on that ballot the first time there has to be enough people to think that you're a first-ballot Hall of Famer to keep you on the ballot. The 20 percent that kept me on the ballot for another year I'm really thankful for them because there's a lot of good players that I've seen on the ballot that I've faced, that I've played against or with that don't get the five percent the very first time through."
As for being a member of the Hall of Fame Class of 2019 with Rivera, his teammate with the Yankees from 2001-08, Mussina grinned when thinking about the first Hall of Famer elected unanimously by the BBWAA.
"He meant a lot to me as a reliever because I don't finish that many games," Mussina said. "If I could get us deep enough into the game and give us a chance and he was going to finish this thing and we're going to win this game, that's a good feeling to have, knowing that you have that quality of a player like him coming in behind you. It was great playing with him.
"And I still give him grief that I think he's older than I am. He claims he's not, but he's got a lot less [hair] than I do. We still joke about that."
The tour of the Museum, guided by Hall of Fame Vice President of Exhibitions and Collections Erik Strohl, saw Mussina curious and joking throughout. He even was able to see the cap and shoes he donated from his 20th victory in his final season.
"It's been pretty fast. You see a lot of things that remind you how big an event this really is and what an important place this is," Mussina marveled. "I wish I could have spent more time and had a chance to read a lot of what's been written on the exhibit labels describing the artifacts that are there. But it's an exciting place."
The six newest members of the National Baseball Hall of Fame will take their permanent place in Cooperstown on July 21, with the ceremony beginning at 1:30 p.m. ET -- televised live on MLB Network, highlighting four days of celebratory events and programs for baseball fans of all ages, as part of Hall of Fame Weekend 2019, July 19-22.
Hall of Fame Weekend 2019 will also feature the July 20 Awards Presentation_, when J.G. Taylor Spink Award winner Jayson Stark and Ford. C. Frick Award winner Al Helfer will be honored. The Weekend will include family programming for baseball fans of all ages, including the July 20 _Parade of Legends and a July 22 Legends of the Game roundtable discussion event with the five living inductees.
Bill Francis is the senior research and writing specialist at the National Baseball Hall of Fame and Museum. Photographs courtesy of Milo Stewart Jr./National Baseball Hall of Fame and Museum.