D-backs couldn't sign Kinsler twice out of Draft
Four-time All-Star was drafted by future Nats GM Rizzo in 2000 and '01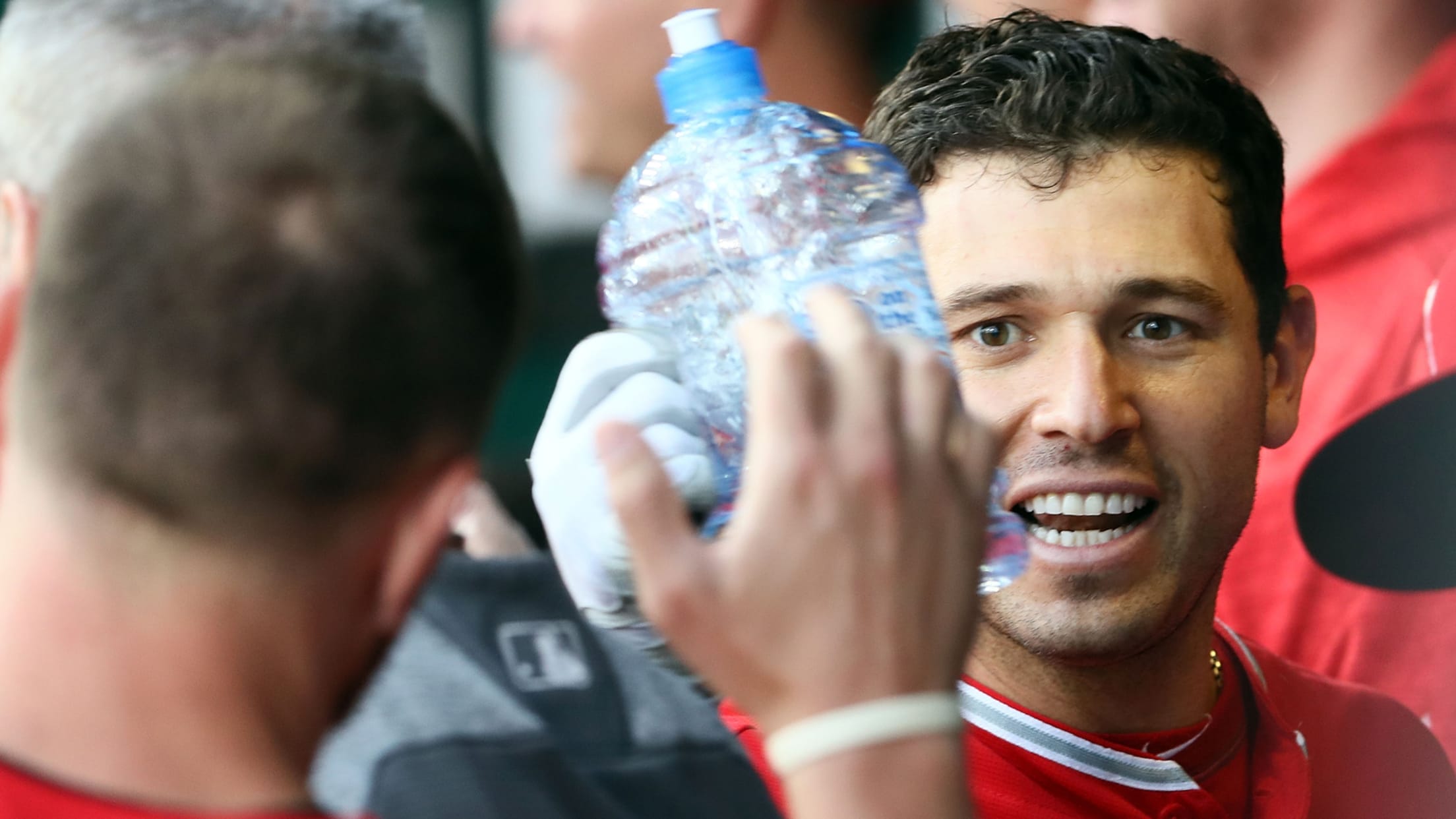 PHOENIX -- Every year around the time of the Draft, Nationals general manager Mike Rizzo will mention Ian Kinsler's name to his staff.It's been almost 18 years since Rizzo selected Kinsler in the 2001 Draft for the second year in a row, and the lesson he learned from failing to
PHOENIX -- Every year around the time of the Draft, Nationals general manager Mike Rizzo will mention Ian Kinsler's name to his staff.
It's been almost 18 years since Rizzo selected Kinsler in the 2001 Draft for the second year in a row, and the lesson he learned from failing to sign him both times is one he has never forgotten.
Back in 2000, Rizzo was a first-year scouting director for the D-backs when he picked Kinsler, who had just graduated from Canyon del Oro High School in Tucson, Ariz., in the 29th round.
"I was about 170 pounds soaking wet maybe," Kinsler recalled recently. "I felt like I wasn't ready to go [to pro ball]."
:: 2018 Draft coverage ::
The D-backs liked him, though, and with Kinsler deciding to go to Central Arizona College, they once again followed him closely. Kinsler played shortstop and hit .405 while teaming up with future Major Leaguers Scott Hairston and Rich Harden.
When the 2001 Draft rolled around, Arizona once again took Kinsler, this time in the 26th round.
"It was an interesting time trying to decide between school and going to the Minor Leagues," Kinsler said. "A lot of interesting talks with scouts and my dad trying to figure out what the best route was."
Kinsler wound up not signing, again, and he went to play at Arizona State University as a sophomore before going on to Missouri for his junior year. He eventually was picked in the 17th round of the 2003 Draft by the Rangers.
"We liked him a lot," Rizzo said. "We identified him early in his high-school career and then in [junior college] again."
Yet the D-backs didn't get Kinsler either time, and for that Rizzo, blames himself.
"With the money we were talking about, it was ridiculous that we didn't get him signed either time," Rizzo said. "These are not astronomical dollars that we're talking about."
Said Kinsler, "There was some negotiation going on. And yeah, it was a lot of back and forth. It got to a point where it was almost too much of a headache. At that point, honestly, in my life, I really didn't know if I was ready. I wasn't sure. I knew I wanted an opportunity to play professional baseball, but I wasn't sure I was ready."
After losing out on Kinsler twice and watching him go on to make it to four All-Star Games and win an American League Gold Glove Award, Rizzo made sure he never made the same mistake with a player.
"It was a good lesson for us as a young scouting staff at the time," Rizzo said. "I've used it from those years on: If you like a player, you've got to sign the player. Those two times that we drafted him, we loved Ian, we loved his ability, we thought he was going to be a great player, but we couldn't get together on the terms of the deal. That was a mistake that I made twice in a row with him and I've never made since."
Each year, Rizzo reminds his scouts and scouting director of the lesson.
"And I use Ian's name every time," Rizzo said. "When they say, 'He's looking for this, this and this.' I say, 'Do you like him? Do we have it in the budget to do it? Then sign the player.'"