Schmidt recalls historic 500th career home run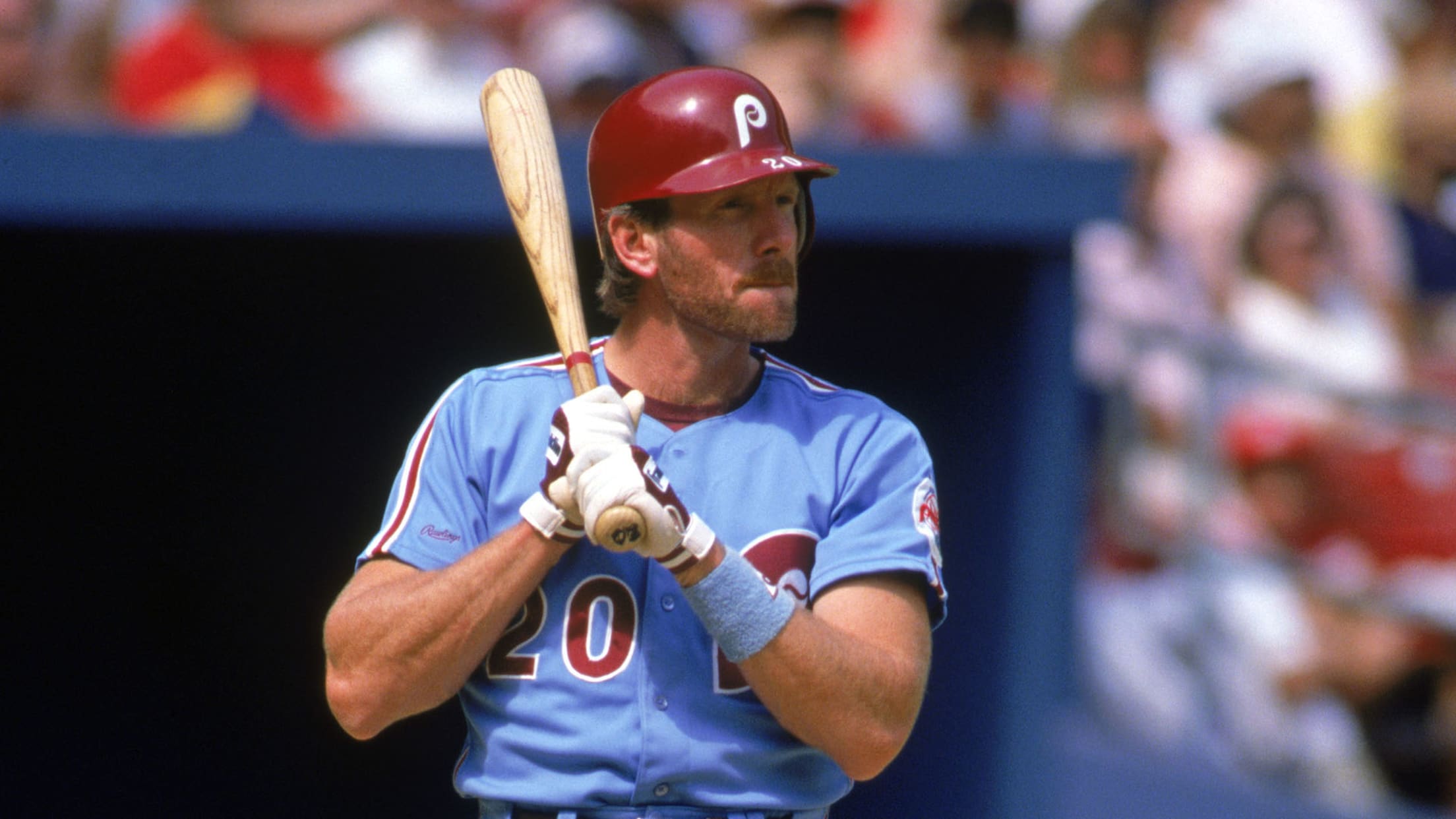 PITTSBURGH - 1987: Mike Schmidt #20 of the Philadelphia Phillies stands at the plate as he is intentionally walked during a 1987 season game against the Pittsburgh Pirates at Three Rivers Stadium in Pittsburgh, Pennsylvania. (Photo by Rick Stewart/Getty Images) (Rick Stewart/Getty Images)
As a 23-year-old rookie in 1973, Mike Schmidt hit .196 with 18 home runs in 132 games. Not the greatest start. When his 18-year career with the Phillies ended in 1989, he had amassed 548 home runs.April 18, 1987 Schmidt couldn't have written a more dramatic script for his 500th
As a 23-year-old rookie in 1973, Mike Schmidt hit .196 with 18 home runs in 132 games. Not the greatest start. When his 18-year career with the Phillies ended in 1989, he had amassed 548 home runs.
April 18, 1987
Schmidt couldn't have written a more dramatic script for his 500th home run. The 37-year-old unloaded his historic home run on a 3-0 pitch with two runners on base and two out in the top of the ninth inning and the Phillies losing, 6-5, to the Pittsburgh Pirates. Schmidt drilled Don Robinson's pitch into the sand-colored wall behind the Phillies left-field bullpen, giving the Phillies an 8-6 win in Pittsburgh's Three Rivers Stadium. Only 13 other players had reached that level in baseball history.
• Phillies Alumni
"I started 1987 needing five home runs for No. 500," Schmidt recalled years later. "It was scary as the possibility of choking on those five was real as everyone was focused on how long it would take me. The team was having a rough start, I believe 1-8, as we went to Pittsburgh for a three-game series. I had hit three in the first seven games and was rolling, feeling pretty good myself."
Schmidt moved to within one of 500 by homering off Bob Patterson in the first game of a series on Friday night. It came in the second inning. He was hitless in three more at-bats, adding a 10th-inning walk.
The next afternoon, Schmidt popped out in the first with two runners on base, walked in the third, flied to left in both the fifth and seventh innings. "We were behind by two in the top of the ninth as a rally started," Schmidt said. "Got two men on base, Juan Samuel beat out a double play, and Von Hayes walked on four pitches. I came up with two on and ran the count to 3-0 and got the green light. A little known fact is that I finished the game at shortstop."
The greatest personal thrill for Schmidt and his good friend, Harry Kalas, came precisely at 4:53 p.m. Kalas' emotional call was brief but filled with goose bumps, "Swing and a long drive, there it is! Number five hundred. The career five hundreth home run for Michael Jack Schmidt!"
"Schmidt pumped his arms and legs for a giddy moment before he reached first base, then continued his tour of the bases in his normal, stately majesty," wrote Paul Hagen, Philadelphia Daily News baseball writer. "It's a relief," Schmidt said in Hagen's article. "I had a lot of pitches to hit lately but all those at-bats I was fighting that adrenaline, fighting the image of the ball flying out to left field."
Going into the season, it was a guessing game for many as to when Schmidt would reach the milestone. He did in only 11 games. Schmidt's prediction? "Without looking at the schedule or even knowing who we're playing, I'd say around April 20, give or take a couple of days."
Hagen indicated Schmidt had threatened to kiss home plate after the historic trip around the bases. "There were two reasons I didn't: One was that all my teammates were standing there," said the beaming Schmidt. "The other was that the plate looked kind of dirty."
Larry Shenk is editor/author of the Alumni page.