Trout is taking his power to new heights
Here are two things Mike Trout has never done: Win a home run crown, and reach the 50-homer milestone. Now he might just do both. Trout is crushing the ball this season like he's never done before in his nine-year career. Trout's 33 home runs lead the American League by
Here are two things Mike Trout has never done: Win a home run crown, and reach the 50-homer milestone.
Now he might just do both. Trout is crushing the ball this season like he's never done before in his nine-year career.
Trout's 33 home runs lead the American League by three over Edwin Encarnacion. The Angels' superstar is on pace for a 52-homer season with 59 games left to play.
But it's not just that Trout is hitting tons of home runs. It's how he's hitting tons of home runs -- harder and farther than anyone in baseball, and harder and farther than he ever has.
Home run No. 33 for Trout, a 111.0-mph, 454-foot shot at Dodger Stadium on Tuesday, breached two big power thresholds: 110-plus mph exit velocity and 450-plus foot distance. That's no ordinary home run. And it put Trout in the Major League lead in both of those categories.
Trout has hit 14 home runs 110 mph or harder.
That's the extreme range of exit velocity. Trout has hit more of those rocket homers than anyone in the Majors.
Most 110+ mph HR, 2019

1. Mike Trout: 14 (🎥)

2-T. Gary Sanchez: 13
2-T. Pete Alonso: 13
4. Ronald Acuña Jr.: 10
5. Joey Gallo: 9 pic.twitter.com/tQB4fO8nnf

— David Adler (@_dadler) July 24, 2019
Trout has also hit five home runs 450 feet or longer.
Those are monster big flies. Trout is tied for the most in MLB there.
Most 450+ foot HR, 2019

1-T. Mike Trout: 5 (🎥)

1-T. Josh Bell: 5
3-T. Bryce Harper: 4
3-T. Pete Alonso: 4
5-T. [7 hitters tied with 3] pic.twitter.com/xHoDxOCXMz

— David Adler (@_dadler) July 24, 2019
He's also hit 12 homers at least 425 feet, tied with Joey Gallo and Pete Alonso for the most of any hitter, and 23 at least 400 feet, second behind Christian Yelich.
Trout already has six more 110-plus mph home runs this season than he's had in any full season since Statcast was introduced in 2015, and there are more than two full months to go in 2019. He hit eight in 2016, seven apiece in '15 and 18, and four in '17.
Meanwhile, Trout's five 450-plus foot bombs this year are more than he hit in the first four years of Statcast tracking combined -- he hit four total from 2015-18.
Trout's average home run this season has been hit 107.8 mph and traveled a projected 418 feet. That more than a full mph harder and six feet farther than his previous season highs under Statcast tracking.
Trout's avg. HR exit velo / distance by season
2015: 106.5 mph / 410 feet
2016: 106.3 mph / 412 feet
2017: 106.3 mph / 411 feet
2018: 106.5 mph / 407 feet
2019: 107.8 mph / 418 feet
You might not get extra points for hitting monster home runs -- but they sure are fun to watch. Trout's putting on a show.
And even beyond the eye-popping homers, this is, by the numbers, Trout's best power-hitting season.
Trout is barreling the ball -- hitting it with an ideal combination of exit velocity and launch angle -- one out every five times he hits it. That 20% barrel rate is his highest in any season. He's hitting a barrel over 8% of the time he swings the bat, the highest barrel rate per swing in MLB. And Trout's 52 total barrels lead the Majors.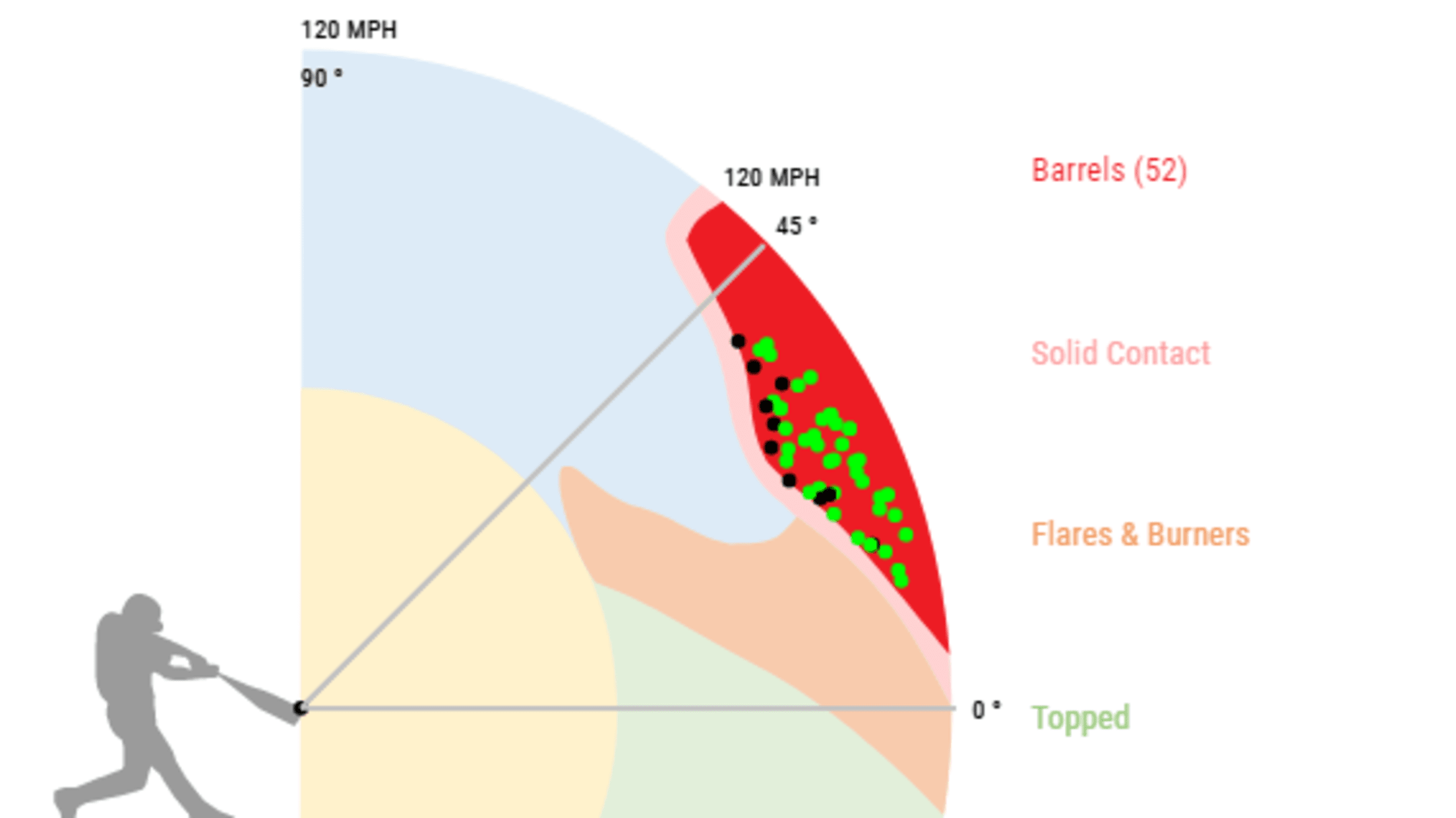 Trout's making tons of the best kind of contact, even by his standards; the kind of contact that results in home runs, and extra-base hits.
That's why Trout is in position to lead the AL in home runs for the first time, when the closest he's come is four shy of Nelson Cruz's AL-best 40 in 2014. That's why Trout has a shot at 50, when his personal best is 41, four seasons ago.
As the season enters the stretch run, we could be watching the best player in baseball taking his hitting to new heights. All eyes on Anaheim.